The first words I ever wrote about Silverton, Colorado were: "Everything is either magnificent or quaint in a great visual contradiction that immediately makes sense." And while, At first glance, Silverton meets all the requirements to be called a 'quaint mountain town' a little longer look reveals that utilizing 'hardy' as the description is nearer the truth. The same adjective can be applied to the runners who showed up to compete in this past week's Silverton 1000.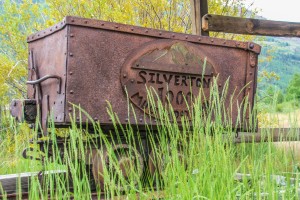 It was amazing to have a front row seat to this year's event and the performances that unfolded. I had heard the passion and the stories of the race's creation from Jamil all year long and I was anxious to see it come together. Setting up race-central at the base of Kendall Mountain and looking up the ski slope only began to bring to life the almost sadistic notions that were behind the conception of the mile loop. I hiked the loop that afternoon to mark the course with Jamil, Patrick Sweeney, and Cody Braford – trying hard not to start visibly panting at the top of the ski lift just over ¼ mile in for the clockwise direction (which also marks the high point of the course) but honestly decided that it wasn't 'that bad.'
I wasn't sure exactly what my plans were as they related to the event but knew that I wanted to get in some miles while I was there. However, for everyone else who started to show up and make camp there was no uncertainty. Instead, there was determination. A theme I would watch play out over and over again throughout the 6 days. Veterans of the event, locals, and newbies all circuited the course with energy, then resolve, then finally a mind-numbing grit that was the only thing left pushing them forward.
Day one began with all the 6-day participants, the 72-hour women, and a handful of runners in the other events (24 and 48 hour). Steven Smith established right away that he had big goals and ran his beginning miles alongside Patrick Sweeney who was entered in the 24-hour but only running for 12 due to the need to line up at Leadville 100 a week later "well-rested" – nothing like a 40 mile jaunt with 10,000 feet of gain a week before a 100 to make sure you're rested. Mike Garcia, Patricia Carroll, and Mae Martinez from Hawaii (who also helped us set up all the equipment the day before) began their races like the veterans they were: steady and consistent.
The 72-hour 'race' between the women was not so much a race but a celebration. All three women were also Silverton 1000 veterans with many miles already under their belts on the course. In fact, 72-hour women's record holder (153 miles), Colleen Zato, would achieve her 400th mile. This year, however, they were there to celebrate Rachel Spatz in an ultra-running bachelorette party. Rachel's mother, Susan, completed her first ultra distance over 48-hours and Rachel, Colleen and Kristin would each obtain their 100 miles before moving on to what I believe was their main goal: Ouray Hot Springs.
With the start of the second day the vast majority of the 24-hour runners toed the line, adding a fresh energy to an already slightly-drained participant field. Kevin Hadfield and Cody Braford flew around the course with Cody clocking the fastest mile of the 6 days in just over 9 minutes. Kevin eventually solidified his win with 65 miles. Cody holds the course record (but from a slightly different event held on the same loop) with 91 miles. There is yet to be a 100 mile finish within 24-hours. Diane and Ferdinand De Souza were two of the few athletes that just kept moving with, as far as I could tell, no sleep throughout the 24 hours and were rewarded with Diane's 1st place female finish and 58 miles.
Day three also added new blood with Cameron and Brandon Plate, 14 and 15 years old respectively, beginning the 72 hour. While seemingly unsure if they actually wanted to be there they soon found a rhythm and ran almost the entire event together with Cameron finding some extra energy on the last day of his race to edge his brother by a few miles for a total of 129 besting the duo's 2014 mileage of 127.
As I was quickly finding out the course was more than just demanding… it was menacing even after just a few loops. Each day I was getting in a couple early miles, spending the day getting some work accomplished, before heading back out to get in a few more before my body begged for sleep. Pati Coury was in the same, if not more demanding, boat: working the aid station and ensuring that runners were fed morning, noon and night while going for her 100. I decided that I might as well try to get in 100 also but what, at first, felt like plenty of time to accomplish the distance soon turned into a race to balance duty vs goals. However, each loop seemed to reward me and the other runners with something spectacular. We all became well acquainted with the 2 baby bunnies that lived at the top of the switch backs, the larger rabbit who lived by the pond and eventually stopped fleeing the crazy runners, a large and grumpy hedgehog (who seemed to avoid me as I never saw him), and some deer. Thankfully, besides a brief sighting by Cameron and Brandon, the bear population left us alone. We also got serenaded by a waterfall just off the clockwise climb, which cannot be seen without a hundred feet of detour but definitely makes itself heard. Wild raspberries and strawberries could be found along the entire course and made for a sweet treat. Of course, if you stayed out late, the milky way and starlit nights were reward enough.
As time marched on, so did the runners. Israel Archuletta showed up on Monday to hit 66 miles (one better than Kevin) but found himself the sole 24-hour runner that day and a tough and cold road ahead of him overnight. He finished his race with 63 miles. By that point the 6 day runners were either in their groove or simply moving. Mae Martinez had made it back to the course by Monday having to overcome a few days off due to not feeling well. Patricia Carroll and Mike Garcia were consistently on the course at 1am every morning and making quick work of the miles until around 6-7pm each evening. Joe Ninke looked like death warmed over (Sorry, Joe!) but nevertheless showed us that simply putting one foot in front of the other still got the job done. Steven Smith was still making good work of the course and his downhill speed never seemed to diminish.
For each runner the goals of the week came down to the last day. Criss Furman, with a 6-day best of 191 on the course, wanted the 200 mark but had to listen to his body for 185 (Keeping in mind that at age 68 he was the oldest runner out there and is quite the inspiration!). Criss also topped 400 lifetime miles this week. Steven Smith found a firm hand on his back to push him out of the aid station in the wee hours of the last morning to achieve his 261 before sleeping and returning to finish with 269 and Joe got his 200 (finishing with 207). Watching all of these performances unfold has only left me with one desire: coming back for the 2016 edition. Something about the race already holds a special place in my heart. Register now for 2016!