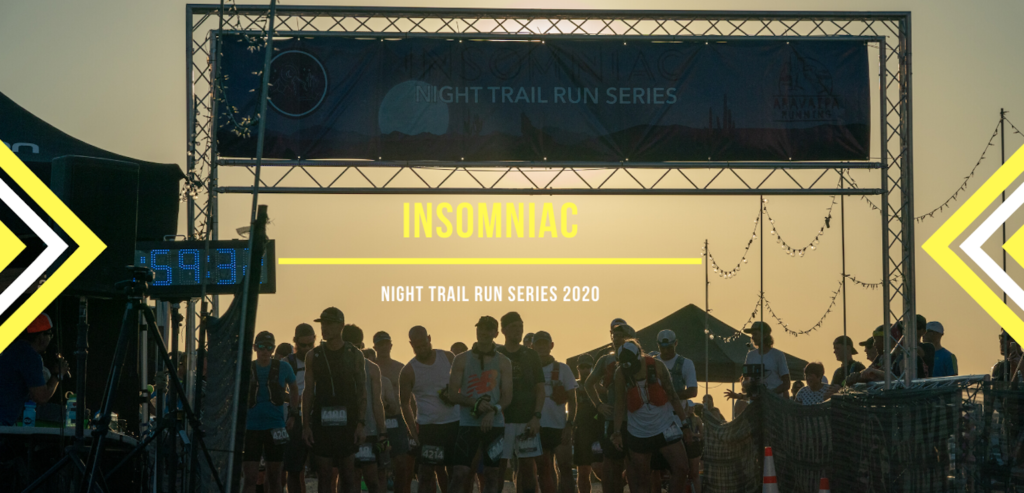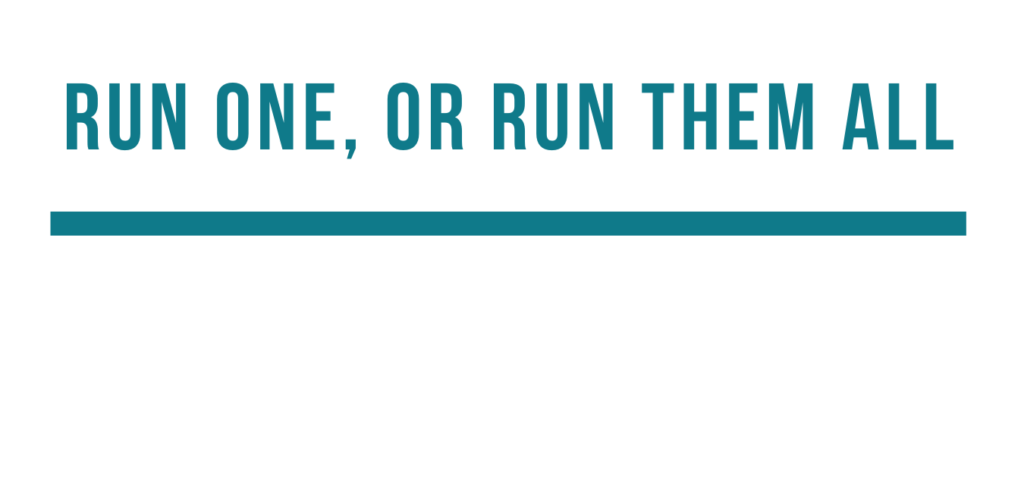 The Insomniac Night Trail Run Series consists of five night runs throughout the Maricopa County Regional Parks. The series runs from April through September. It's our way of escaping (some of) the summer heat while continuing to race at distances ranging from 5 kilometers to 75 kilometers and experiencing both familiar and unfamiliar trails in a different light. Whether it's under the glow of a full moon, or under a blanket of sparkling stars, we want you to join us in seizing the desert night in all it's beauty. While some of the race courses in the Insomniac Night Runs share a few of the same trails as the Desert Runner Trail Series, we have made sure nearly all of the running you'll do for this series is different from the day time counterpart.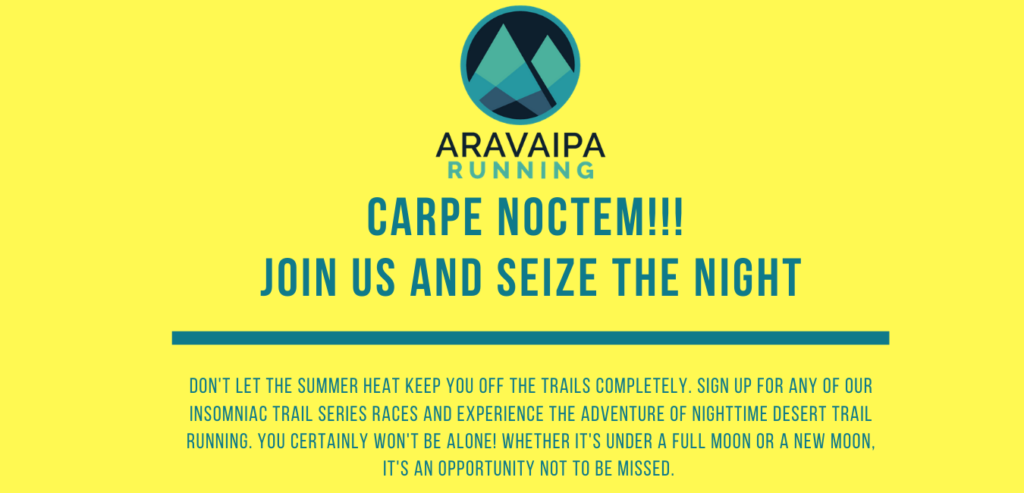 Back by popular demand, our fantastic Insomniac Series Passes are here to save you some money, win some extra schwag, and explore more of the great trails around the valley–all at night! Check out the series pass below!
In addition to the current race perks, a unique Insomniac finisher medal will be awarded to anyone who completes all five of the summer Insomniac Night Trail Run Series!!
Each Series Pass has it's own unique challenge, so find the one that fits you best and come run through the night with us!
We've included the five core Insomniac trail runs that fall during the hottest parts of the Phoenix summer into a Series Pass once again.
Finishers of all five races within each respective pass will earn an exclusive Insomniac custom finisher medal! If you happen to miss one of these "series" races you can substitute* one of our other insomniac events (Blackout, Thrasher, Punisher, or Mayhem) to still earn the Insomniac medal.
*Race substitution requires an additional entry fee to the above listed events*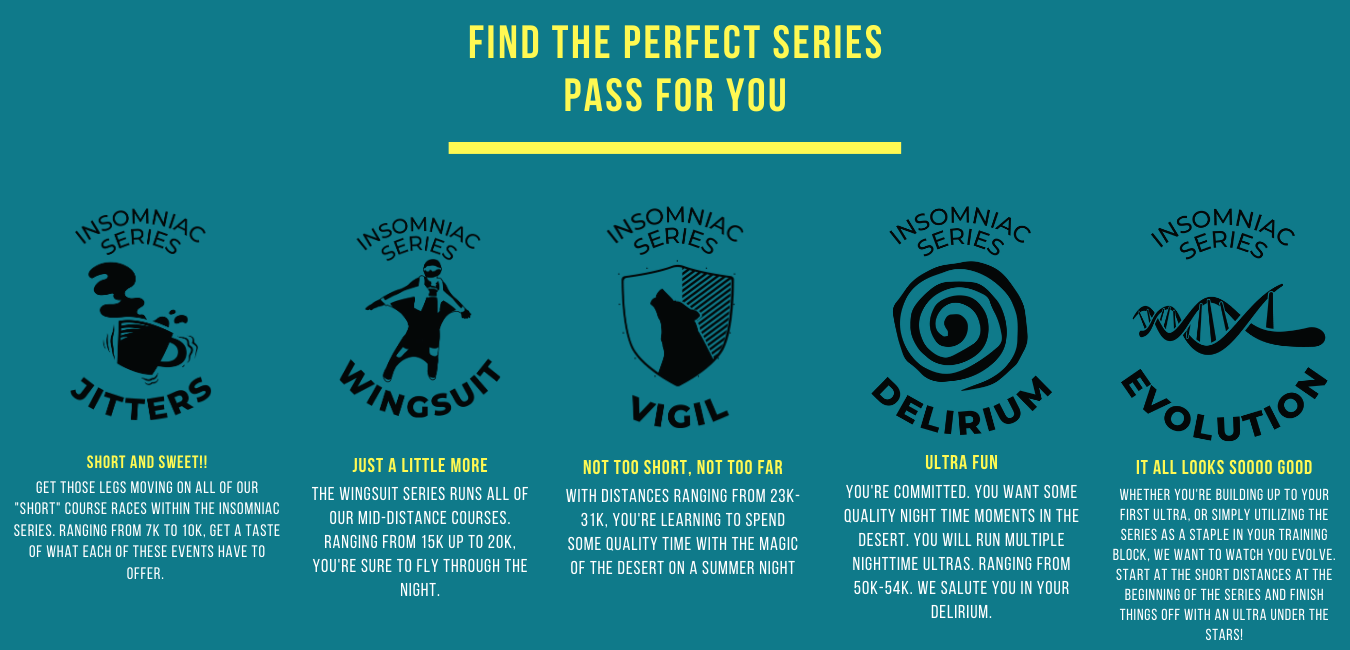 Register Here
**Pass Pricing Registration is Available up to Midnight of 04/21/2020**
RACES
Sinister 04/25
Adrenaline 05/16
Hypnosis 06/20
Vertigo 08/15
Jangover 09/28
Price Before 03/22/2020
Price
After 03/22/2020
Jitters Pass
9KM
10KM
8KM
10KM
7KM
$149.65
$172.59
Wingsuit Pass
18KM
15KM
15KM
20KM
15KM
$168.36
$210.45
Vigil Pass
27KM
27KM
23KM
31KM
25KM
$192.40
$231.78
Delirium Pass
54KM
54KM
54KM
54KM
50KM
$299.26
$363.39
Evolution Pass
9KM
15KM
23KM
31KM
50KM
196.62
$230.82
*Fine Print: When registering for the Insomniac Night Trail Run Pass options (Jitters, Wingsuit, Vigil, Delirium, Evolution), there is no refund for missing one or more races in the series, whether notified before or after the event. Additionally, the option to substitute one or more of the three races not included in the pass is solely for the finisher medal within the Insomniac series and requires additional entry to that respective race. For more information visit our FAQ page.
We are also excited to announce that all of our Insomniac Series Trail Runs will again be CUP FREE! We have teamed up with UltrAspire to offer Aravaipa branded reusable cups that will be available for purchase during registration and on race day or feel free to bring your own! If you'd like to read more about why this is important to us, check out our "Glass Half Full" article.