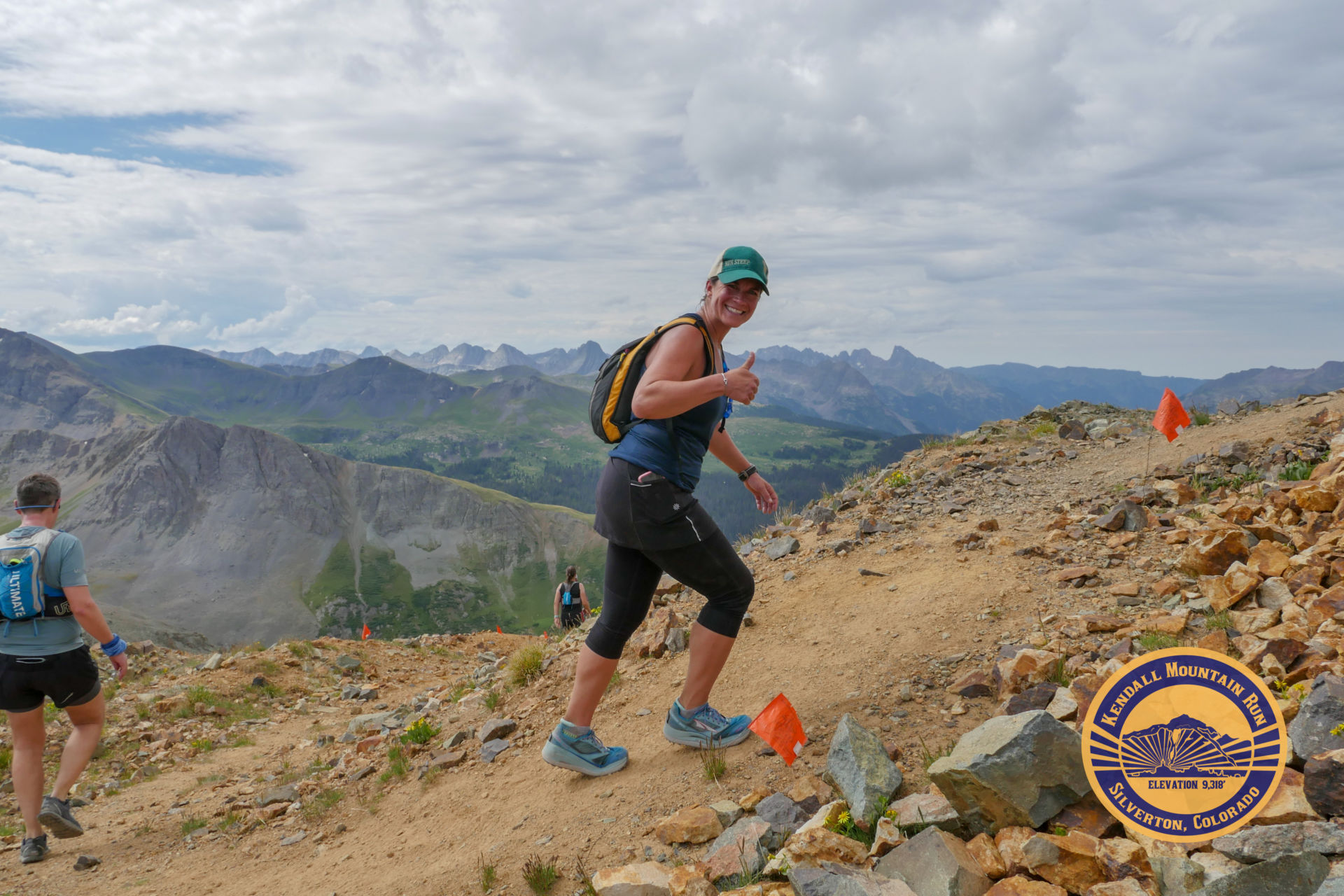 July 13, 2019
Kendall Mountain Run
12 Mile and 11 Kilometer
Silverton, Colorado
Meet the mountain this summer in Silverton, Colorado! The Kendall Mountain Run starts in downtown Silverton and traverses jeep roads to within a final 300 vertical foot scramble to the summit of Kendall Mountain overlooking town and the majestic San Juan Mountains. Ascend from 9,318 feet to 13,066 feet to tag the summit! Experience the classic challenge that dates back to the 1908 bar bet!
Online Registration for the 2019 event closes on Tuesday, July 9, at Midnight.
Register Now
Start Location
12th Street and Greene
Silverton, CO 81433
Start Time
8:00AM – Start
Both Distances
MOUNTAIN DUO CHALLENGE
Make the most of your weekend

Spend the weekend in Silverton testing your endurance limits! Sign up for the Mountain Duo Challenge: Race the 12 Mile Kendall Mountain Run on Saturday, and then keep living the Steep Life by running either the Silverton Alpine Marathon or 50K on Sunday. Get out on the Alpine Loop to see some of the far off towns you can spy from the top of Kendall Mountain!
REGISTRATION
Register Now
Entry Fees*
Until 03/16
Until 06/08
Until 07/02
Race Week
12 Mile
$60
$80
$100
$120
11 Kilometer
$40
$50
$60
$70
Mountain Duo Challenge Kendall 12M & Silverton Alpine 8 Miler
$90
$117
$144
$171
Mountain Duo Challenge Kendall 12 M & Silverton Alpine Marathon
$115
$128
$153
$178
Mountain Duo Challenge Kendall 12 M & Silverton Alpine 50K
$120
$149
$193
$217
*Prices include Tax
Registration Options
Online via Ultra Signup
Mail-in Entry
Registration will be available at packet pickup on Friday and on race morning
Packet Pickup
Friday July 12
Location TBD
———————————-
Saturday, July 13
Race Day Pickup 7:00-7:45AM
Location TBD
Silverton, CO 81433
Online registration closes on 07/09 at 11:59 PM. If spots are available, registration will be available at packet pickup and on race day.
COURSE INFO
Course Summary The 42nd Annual Kendall Mountain Run features a jeep road climb starting from the mountain town of Silverton, Colorado at 9,318 feet to within 300 vertical feet of the summit. The course features a final scramble to the top of 13,066 Kendall Mountain and then returns back down to the finish in Memorial Park where runners are greeted with a post race meal & beer garden! There will be a shorter 11 kilometer option that will turn around at Deer Park.
Aid Stations There will be two aid stations along the course that are each accessed twice. They will feature water, carbohydrate drinks, fresh fruit and other snacks. Aid Station Distance Chart
Mileage Chart
12 Mile
11 Kilometer
Notes/Cutoff
Start
0.0
0.0
Deer Park
3.3
3.3
Notch
5.7
– –
11:30 AM Cutoff (Weather Permitting*)
Summit (Turnaround)
5.9
– –
No Aid Station
Notch
6.1
– –
Deer Park
8.5
– –
Finish Memorial Park
12
6.6
1:30 PM Cutoff (5.5 hours)
*If summit conditions deteriorate due to weather or there are predicted incoming storms, race officials will turn runners around at the Notch prior to 11:30 AM.
COURSE RECORDS
Kendall Mountain Run (current course)
1:31:05 Jim Walmsley (2017)- Men
1:55:27 Stevie Kremer (2015)- Women
Old Course (Finish at City Hall)
1:34:55 Sheldon Larson (1988)- Men
K2 Double (not held since 2013)
4:09:26 Erik Skaggs (2013)- Men
4:38:15 Keri Nelson (2010)- Women
RACE PERKS
Soft tri-blend race shirt (register before June 7, 2019 to guarantee a race shirt)
Scenic and challenging course
Chip timed race results displayed at the finish line
Post Race Meal in Memorial Park at the finish
All finishers will receive a lunch ticket, additional tickets for family & friends may be purchased on site.
Beer available for purchase at the finish line from SKA Brewing of Durango!
All proceeds from the meal & beer sales benefit San Juan County Search & Rescue.
AWARDS

RACE & COURSE HISTORY

LODGING OPTIONS
RESULTS
PHOTOGRAPHY
We'll see you on the trails!