Saturday, April 13, 2019
Presented by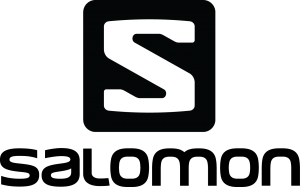 88(ish)K | 60K | 33K | Half-Marathon | 10K
Prescott Circle Trail
Prescott, AZ
The Whiskey Basin Trail Runs take place in and around the mile city of Prescott, Arizona along the scenic Prescott Circle Trail which encompasses the entire town. The 88ish kilometer trail run runs the entire circle loop starting and finishing at Watson Lake Park. Our shorter events (33K & 60K) start at various points along the circle trail and return via point to point courses back to the stunning finish at Watson Lake with the majestic Granite Dell rock formation serving as the finish line view.
Join us for one of the most scenic and most diverse trail run experiences in the country as you tour from the desert grasslands, through Ponderosa Pine forests, past lakes and around the granite dells with sweeping views across Central and Northern Arizona.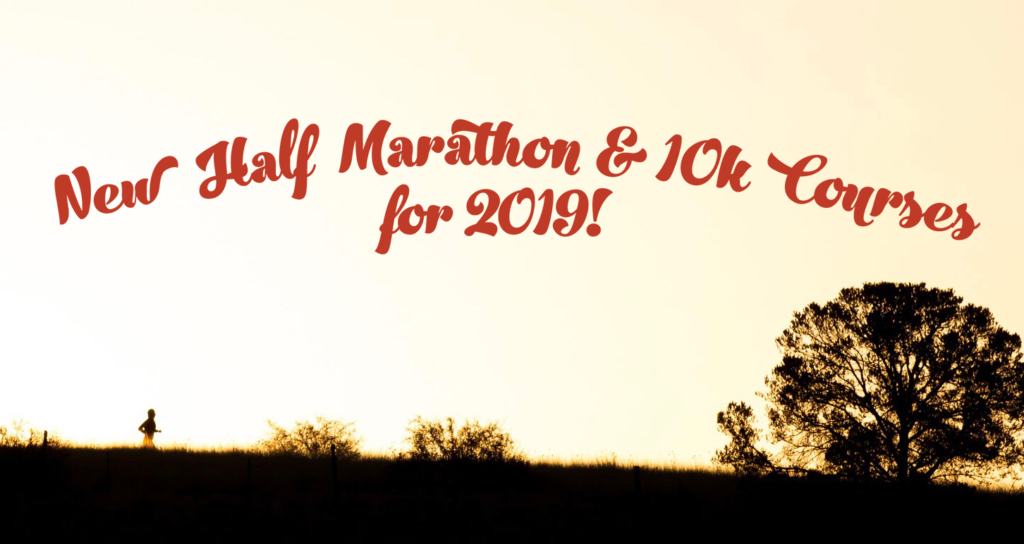 PLUS! New this coming spring, runners will have the opportunity to experience some of the newly built trail system surrounding Watson Lake Park. Run among the Granite Dells and take in the amazing lakeside views with a choice of the Half-Marathon or shorter 10K course!
Watch our 2018 film "Racing The Whiskey" for an inside look at runner Sion Lupowitz's journey into ultra running and how his race played out along the way:
If you want more in the Prescott area, check out the Whiskey Man Series which links up three prominent endurance events in less than a month's span.
Start Times
5:00 AM – 88 Km Start
7:00 AM – 60 Km Start
8:00 AM – 33 Km Start
9:00 AM – 1/2 Marathon Start
9:30 AM – 10 Km Start
Finish Line Location
Watson Lake Park
3101 Watson Lake Park
Prescott, AZ 86301
Course Summary
Welcome to the 4th annual Whiskey Basin Trail Runs! These point to point endurance foot races will take place along the Prescott Circle Trail in beautiful Prescott, Arizona. Featuring a perfect mix of high desert trails, pines, and junipers this route takes you completely around the City of Prescott on some of their best trails all while never being more than a few miles from the heart of downtown and Whiskey Row.
The 10K and new 1/2 marathon courses will also start and finish at Watson Lake Park. With a mix of fast single track, technical slickrock, and steep scrambles, don't expect the same easy 10K like years before. This adventure will keep you on your toes, take your breath away, and capture your heart as you circumnavigate around Watson Lake!
Reserve a campsite right at the 88K start/finish line for Friday and Saturday nights of the event in scenic Watson Lake Park and join us for a post-race bar crawl on the infamous Whiskey Row!
Weather
Expect beautiful race day conditions with an average high of 67 degrees and an average low of 37 degrees. Forecast for Prescott, AZ
Bib/Shirt Pickup
Friday, April 12, 2019
Packet Pickup 3:00-6:00PM
Location: Watson Lake Park
Saturday, April 13, 2019- Race Day Pickup
4:00-9:00AM
Watson Lake Park
Aid Stations
Aid stations every 4 to 9 miles including water, electrolyte drink, sweet snacks, salty snacks, and fruit. Please plan to run with at least one bottle of water. Please note, the aid station at Badger Mountain is remote and minimal aid including water and a few salty/sweet snacks will be hiked up by volunteers. Please prepare accordingly.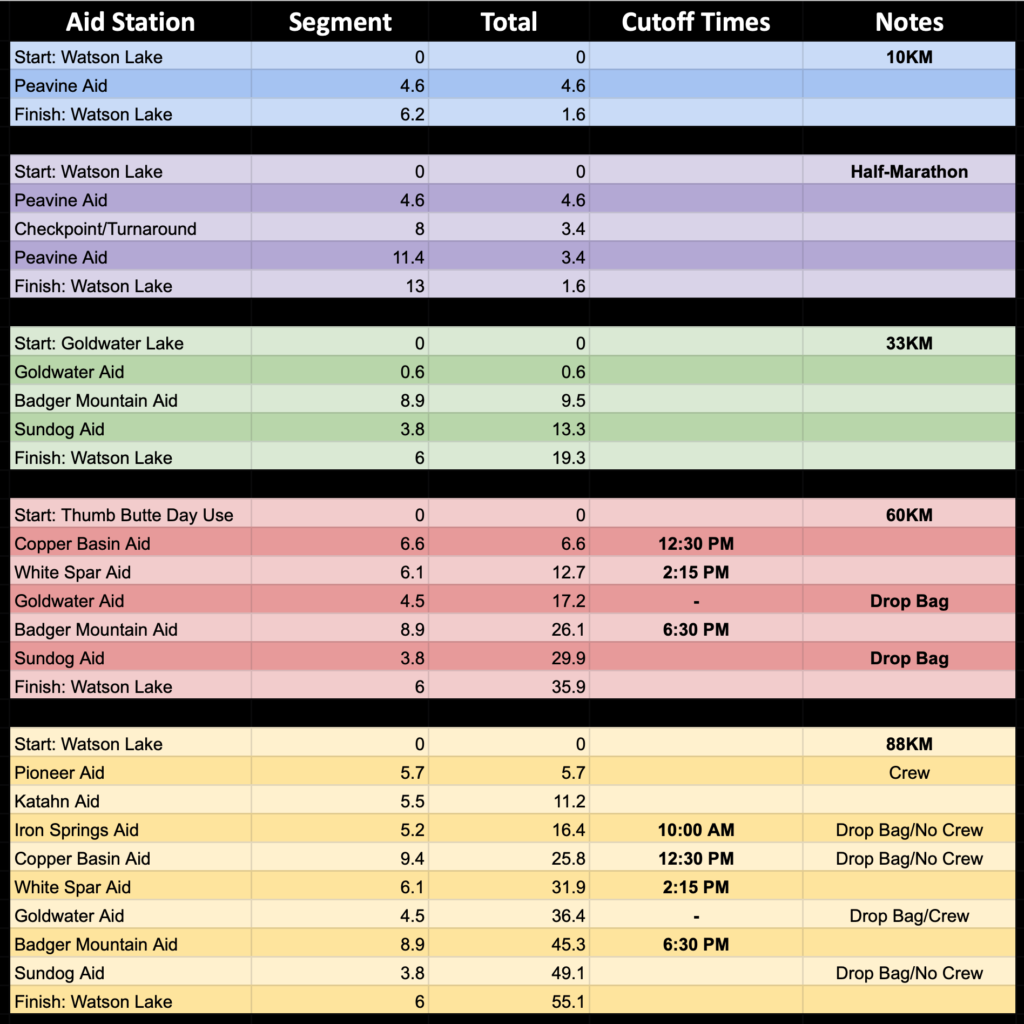 Race Perks
Gender specific cut race shirt
Chip timed race results displayed at the finish line
Scenic and challenging courses
Well stocked aid stations every 3.6 to 12 miles (Minimal Aid at Badger Mountain)
Post race food, beer garden, &  socializing
Free Finisher Photos (Download Online Post Race)
Finisher Whiskey Tumbler for 60K, 33K, Half-Marathon, & 10K
Finisher Buckle for 88K
Training Runs 
We hosted two training runs leading up to the 2019 race, running the last two thirds of the Prescott Circle Trail. Follow our Whiskey Basin Trail Runs Facebook page to stay up to date on future training runs offered on the Prescott Circle Trail.
Training Run #1: Thumb Butte Rec Area to Goldwater Lake | February 24, 2019
Training Run #2: Goldwater Lake to Watson Lake | March 17, 2019
Crews & Pacers
Crews are welcome to support runners at the finish line, Pioneer Park and Goldwater Lake. Goldwater Lake has a $2 parking charge and will require that crew hike a 1/2 mile to meet runners at the aid station.
Pacers are allowed for the 88K only starting at Goldwater Lake aid station (mile 35.5). Pacers will need to pay $2 to park at Goldwater Lake and hike a 1/2 mile to meet their runner on the course.
Awards
Awards to the top 3 male & female finishers at each distance.
All finishers will receive a finisher award.
Volunteer Helpers
If you would like to join our volunteer team, we are looking for help with event setup, aid station captains, aid station helpers, timing, photography, videography, social media, course sweep and event breakdown. Volunteer perks include a piece of Aravaipa merchandise or race goody and Aravaipa Race Credits. You can see our current opportunities and sign up here: Whiskey Basin Volunteer Form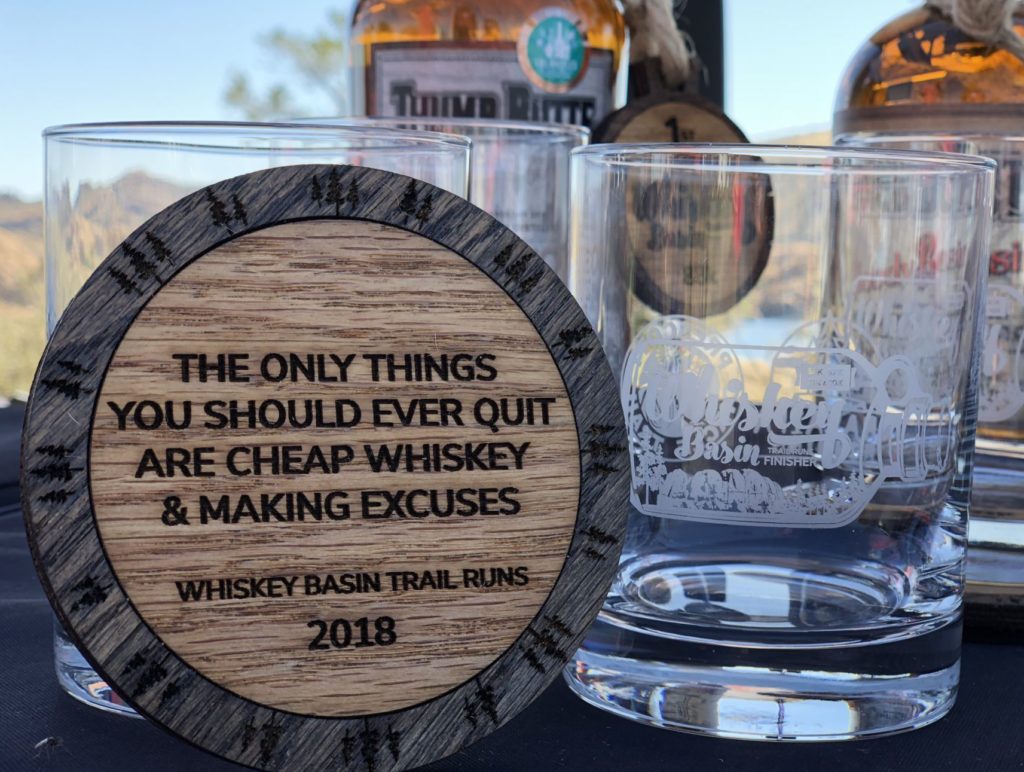 REGISTRATION
Entry Fees
| | | | | |
| --- | --- | --- | --- | --- |
| | Until 11/30 | Until 3/22* | Until 4/9 | After 4/9 |
| 88KM | $154.94 | $160.80 | $165.78 | $176.61 |
| 60KM | $111.35 | $117.02 | $122.44 | $133.27 |
| 33KM | $75.10 | $84.51 | $89.93 | $100.77 |
| Half Marathon | $68.26 | $73.68 | $79.10 | $89.83 |
| 10KM | $46.59 | $52.01 | $57.43 | $68.26 |
Prices include applicable sales tax based upon location (8.35% Prescott, AZ)
Save $10 with our no-shirt option!
Race shirts guaranteed on race day if ordered by 3/22. Race shirt is NOT included in the price for runners who register AFTER 3/22 and will be sold race day only if available.
Entrant Limit
500 Runners Total
Registration Options
Online registration closes on 4/9 at 11:59PM. Registration will be available after online registration closes at all packet pickup locations and race day as long as we have not reached our capacity.
Cut-Offs
10:00 AM – Iron Springs Aid Cut-off
12:30 PM – Copper Basin Aid Cut-off
2:15 PM – White Spar Aid Cut-off
6:30 PM – Badger Mountain Aid Cut-off
9:00 PM – Overall Cut-off at Watson Lake
**Please reference the aid station chart above for distances for each race at these aid stations**
COURSE INFORMATION
Courses
Our course can now be accessed on TrailRunProject! Find detailed GPS information, elevations profiles, photos, and more on all the Whiskey Basin runs!
Download the app and keep your course with you on your run!
88K | 60K | 33K | Half Marathon | 10K
Course Map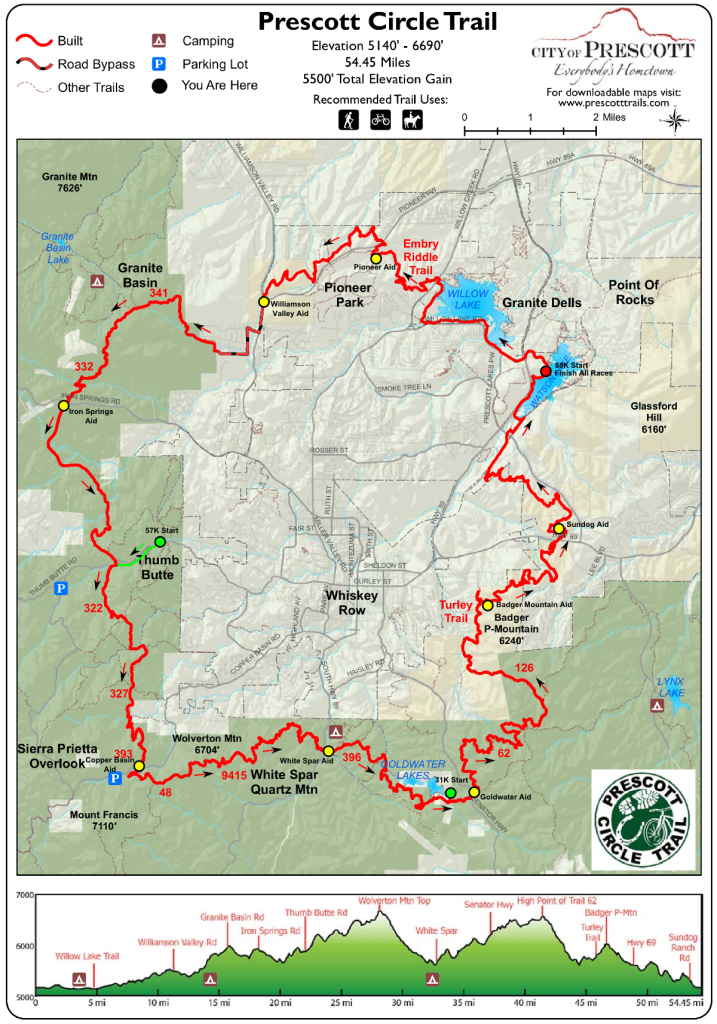 Map of the entire Prescott Circle Trail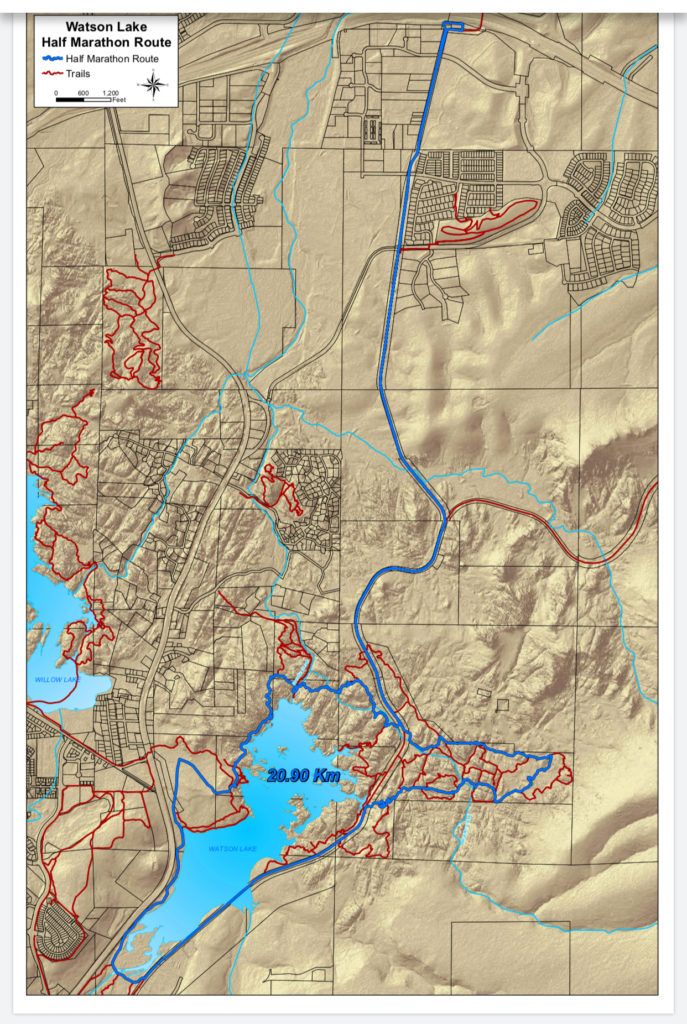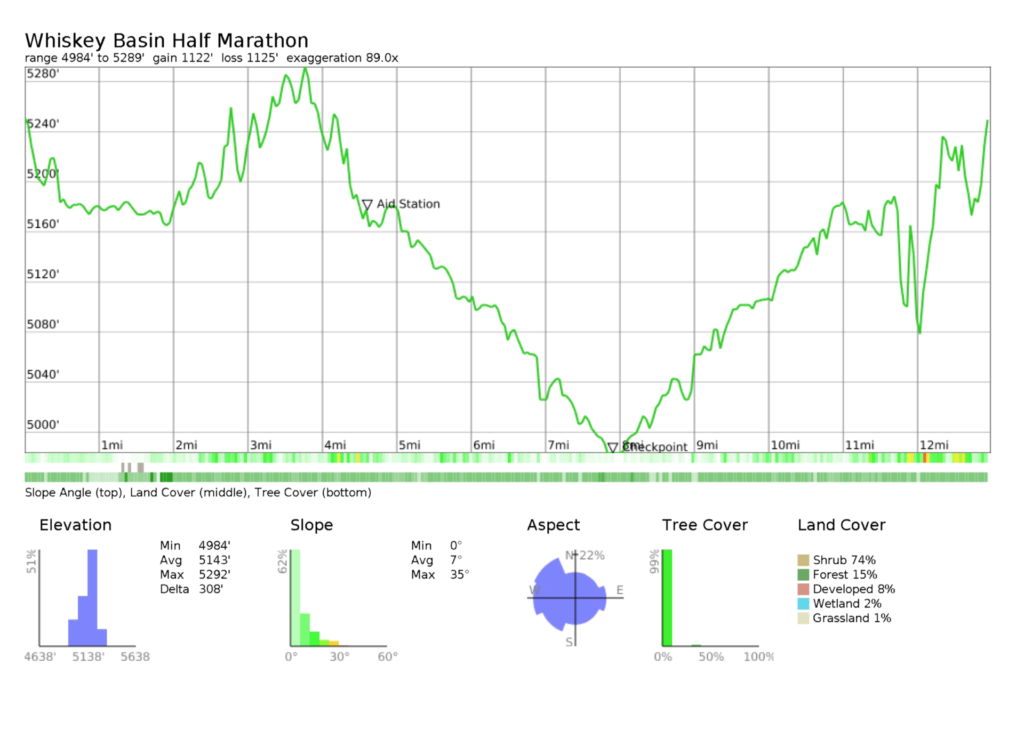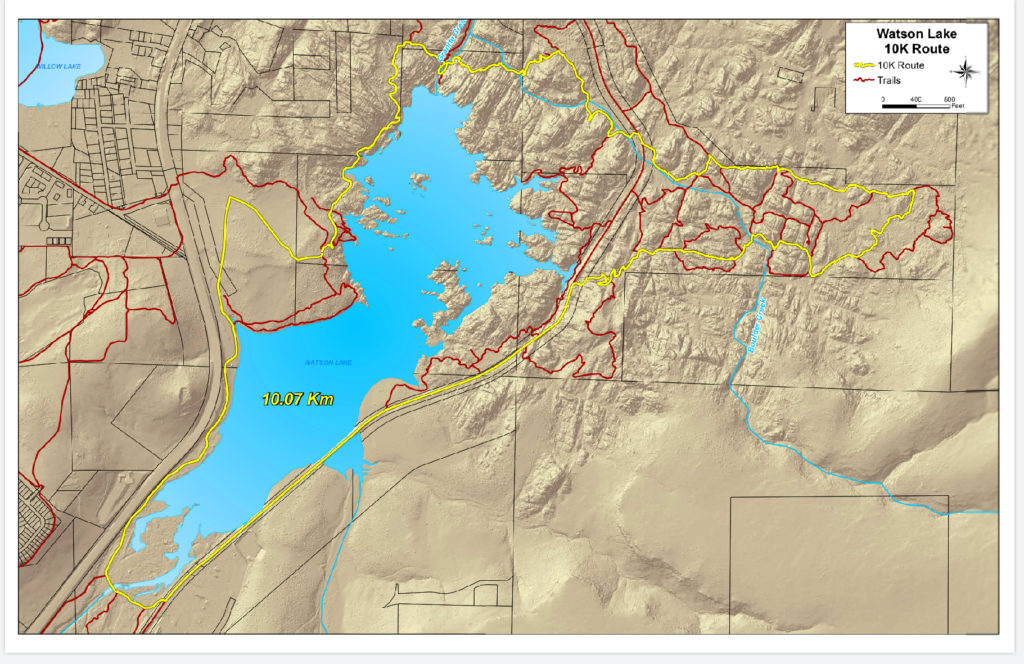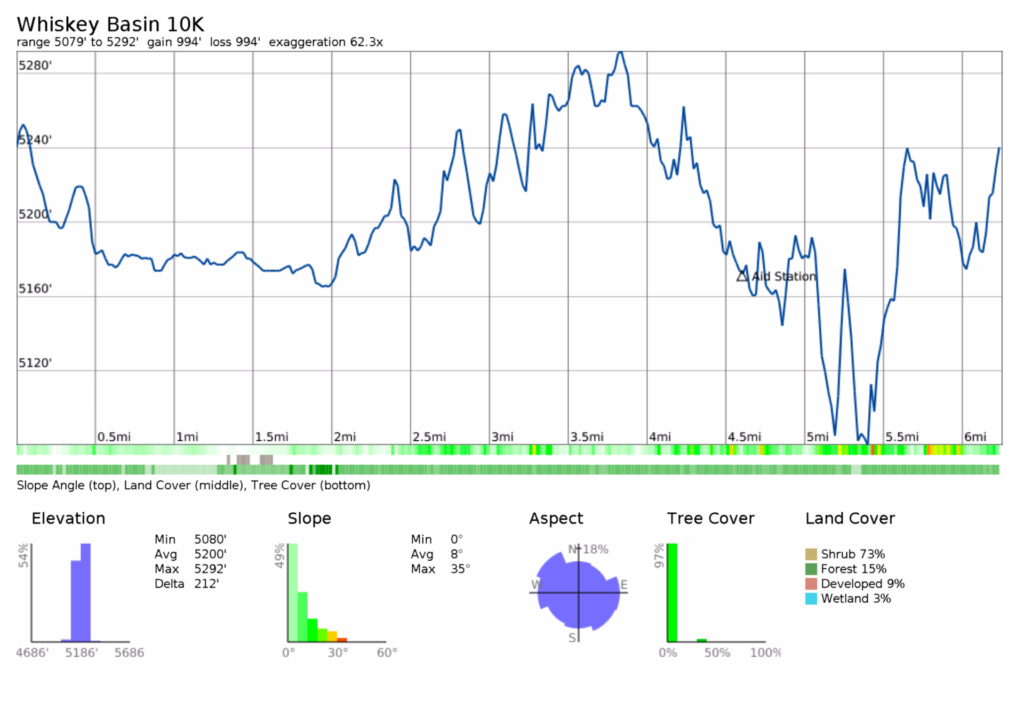 RESULTS
Race Day Tracking
Live updates will be available race day on ultracast.
Course Records 
88K | Male – 7:47:22 – Zach Bitter ('18) | Female – 9:16:27 – Nicole Kalogeropoulos ('18)
57K | Male – 4:41:25 – Arthur Degraw ('18) | Female – 5:14:32 – Jessa Hackman ('18)
31K | Male – 2:09:07 – Charlie Ware ('18) | Female – 2:42:42 – Kelly Wolf ('16)
10K | Male – 41:29 – Marvin Makus ('18) | Female – 42:25 – Sara Trane ('17)
Results
2019 | Results
2018 | Results
2017 | 88KM | 57KM | 31KM | 10KM
2016 | 88KM | 57KM | 31KM | 10KM
PHOTOS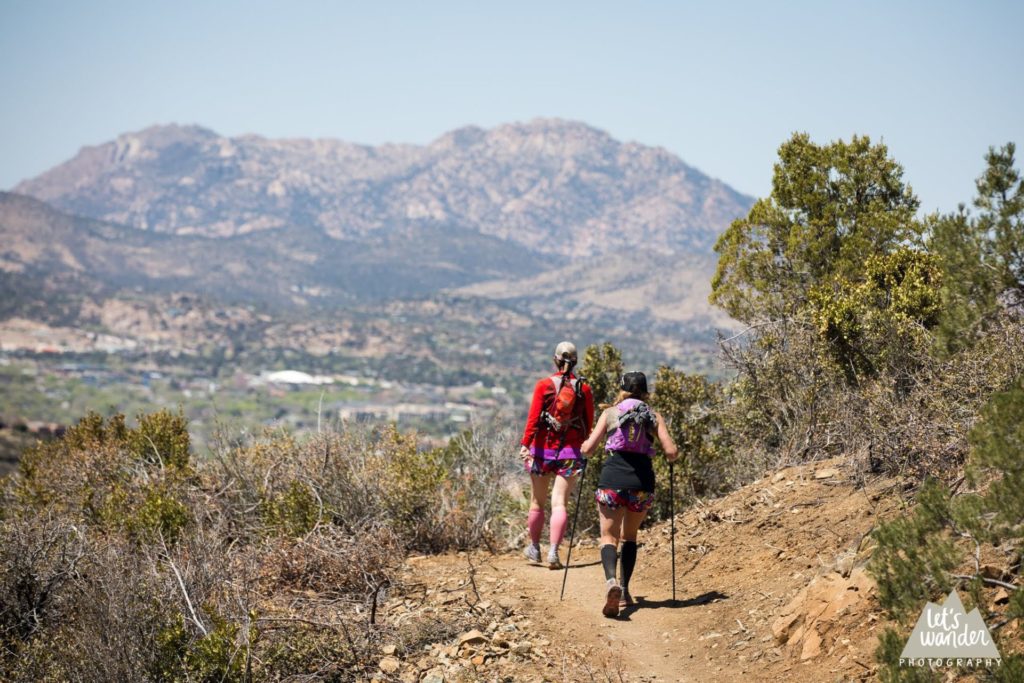 To capture both your pain and euphoria along the way there will be a professional photographer out on the course.
2018 | Let's Wander Photography | Aravaipa Photo Gallery
2017 | SweetM Images | Aravaipa Photo Gallery
2016 | SweetM Images | Aravaipa Photo Gallery
RACE DAY INFORMATION
Race Day Schedule
Please arrive early to park, check in and warm up prior to your run.
Portable restroom facilities will be located at the start line.
Timeline
4:30 AM – Packet pickup/race day registration begins at Watson Lake
5:00 AM – 88K Start
5:33 AM – Begin Civil Twilight
5:58 AM – Sunrise
6:15 AM – 60K Shuttle Bus leaves Watson Lake
7:00 AM – 60K Start at Thumb Butte Day Use Recreation Area
7:15 AM – 33K Shuttle Bus leaves Watson Lake
8:00 AM – 33K Start at Goldwater Lake
9:00 AM – Half-Marathon Start at Watson Lake
9:30 AM – 10K Start at Watson Lake
9:00 PM – Overall cut-off at Watson Lake / Races End
10:00 PM – Night out at Whiskey Row in downtown Prescott!
Park Entry Fee
Watson Lake Park charges a $3 park entry fee per vehicle. To streamline the entry process on race morning, parking is now included for all registered runners. Runners will pick up their parking pass at registration along with their bib and race packets. Crews and additional spectators with additional vehicles will find parking passes at registration on race morning.
Trail Running & Trash
Please respect the trails and the beauty of the forest by disposing of any trash at one of our aid stations.
Cupless Race
We are so lucky to make the outdoors our passion and we want to continue to keep the beautiful trails we enjoy beautiful and free from trash. In our continued effort to reduce our races footprint and preserve the trails we love, the 2019 Whiskey Basin Trail Runs will be a cupless event. What does that mean? There will be no paper cups at the aid stations at this race. Runners will be responsible for carrying their own container to refill along the way. UltrAspire reusable cups may be purchased with registration or on race day OR we encourage you to bring your own! Grab a cup, a hydration vest, pouch, or water bottle and we will fill it at each aid station along the way. We ask you to help us in our efforts by preparing for a cup-free race day and thank you in advance for being good stewards of the trails!
Race Timing
We will be utilizing a chip timing system at this event to record your time at the finish. You will be provided with a timing chip attached to the back side of your race bib. It is important to not crease, or fold the timing chip to ensure your finish time is read. Additionally, you will be required to check in to all aid stations by prominently displaying your bib number for volunteers to record. If you drop from the race you must notify race management.
Drop Bags
A drop bag will be allowed at Iron Springs Aid, Copper Basin Aid, Goldwater Aid and Sundog Aid. Please limit the size of your drop bags to be no bigger than a small duffle. Large suitcases or oversized duffles will not be transported.
Aid Station Helpers
We cannot produce these trail runs without the help of our amazing volunteer team. You can even help and run on race day. If you would like to join our volunteer team, we are looking for help with event setup, aid station captains, aid station helpers, timing, photography, videography, social media and event breakdown. Volunteer perks include a piece of Aravaipa merchandise or race goody and Aravaipa Race Credits. You can see our current opportunities and sign up here: Whiskey Basin Volunteer Form
Course Markings
The race courses will be well marked with orange plastic ribbons with black polka dots. Trail junctions and turns will be well marked with colored laminated signs. Please pay attention to these signs at each junction as there are multiple race distances and race courses! In addition, blue & white checkerboard plastic flagging will be hung to designate non-race or "WRONG WAY" trails. All runners are responsible for understanding the layout of the courses. Please familiarize yourself with the course maps on our website prior to race day and/or print a map to bring along with you.
Parking / Start Area
The finish line for all races and parking for shuttle buses will be at Watson Lake Park.  91K runners will also start at Watson Lake Park. For those running the 60K or 33K, there will be a shuttle bus available or you can be dropped off by a crew member. Vehicles are not allowed for the duration of the race at either Thumb Butte Day Use area (60K Start) or Goldwater Lake (33K Start).
Hotel
N/A
Camping
***WATSON LAKE PARK CAMPING SITES FOR 2019 ARE SOLD OUT! Please visit Prescott.com for more information on camping within the Prescott National Forest and surrounding Prescott Valley***
We are excited to offer camping options at Watson Lake for the Whiskey Basin Trail Runs. Watson Lake Park has some amazing amenities which should make for a really great weekend including:
Two boat launches
Picnic ramadas
Restrooms
Showers for campers
Horseshoe pits
Barbecue grills
Playground equipment
Frisbee golf course
Picnic tables
Fishing (license required)
The camping area opens Friday, April 12 and we have reserved spaces for two nights through Sunday, April 13. A camping site consists of one RV and one tent or two camping tents and cost is $35 for the weekend. These are all numbered and will be assigned once you purchase a camping site through race registration. There are a total of 35 camping sites and will be on a first come first serve basis through the registration process. We will send out campsite assignments after online registration closes (emails will go out the Wednesday before the race) and will have further details for you at that time.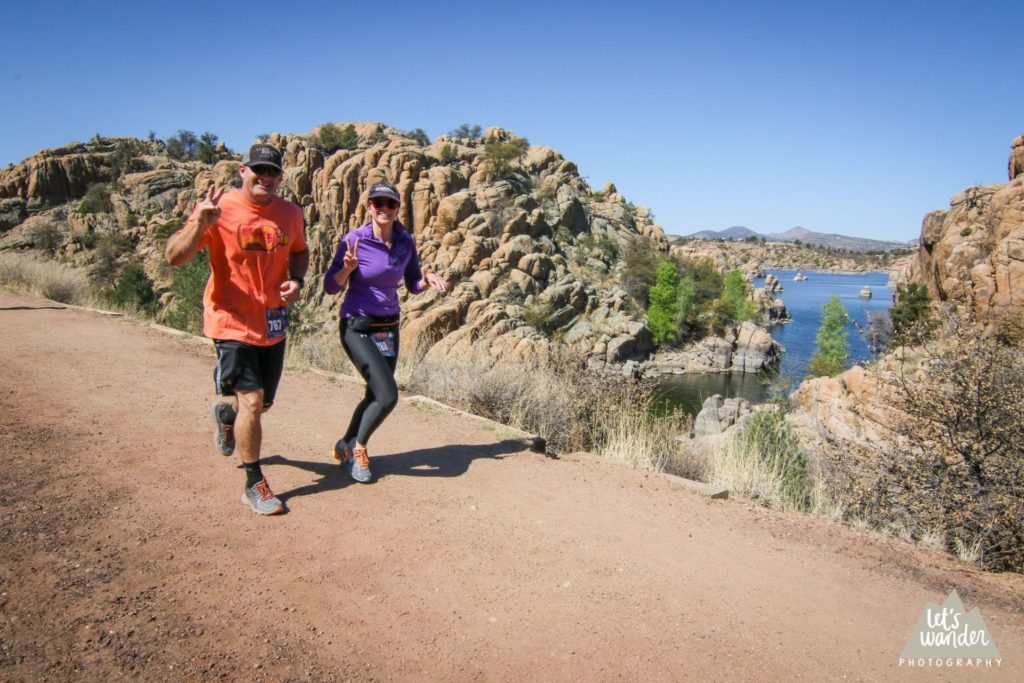 Directions to Watson Lake Park
Address
3101 Watson Lake Road
Prescott, AZ 86301