December 14-15, 2019
A competitive ultrarunning track meet.
Central High School Track
Phoenix, AZ
Schedule of Events
December 14, 2019 8:00 AM – 24 Hour and 100 Mile
National Records set at Desert Solstice: 74
World Records set at Desert Solstice: 13
The Desert Solstice Track Invitational is an elite level event for record setting and as an ideal qualifier for the national 24 Hour team.
2019 USATF 24 Hour National Team Selection Procedures & Performance List
This event is by invitation or qualification only.
For the 24 Hour/100 Mile, entry is limited to 30 runners total.
Runners interested in applying should inquire: hayley@aravaiparunning.com
Spectators are welcome and encouraged for the duration of the event.
Qualification Standards and Entry Fees
Runners meeting one of the listed qualifying standards may apply for acceptance into Desert Solstice. The entry fee applies to all runners regardless of qualification time, and all runners are eligible to earn prize money for their performances as listed below. Runners may request acceptance at other race lengths (e.g. 100k, 12 Hour) for comparable performances.
Runners who have met the "A" Standard can gain entry at any point until the race reaches the 30 person max capacity. Runners who meet the "B" Standard will be granted entry until the race reaches 20 entrants. At which time the remaining 10 spots will be held until 4 weeks prior to the race. Any B Standards applying after the 20-person capacity limit will be placed on a wait-list and notified 2-4 weeks prior to race day.
Runners not meeting listed times may petition acceptance to a given standard for other circumstances (e.g. course difficulty). A one-time one-year exception may be made. If the runner has attempted Desert Solstice in the past and has still failed to achieve a standard, no further exceptions will be made. However, keep in mind the best way to demonstrate competence for a fast ultra is to run a fast ultra, not a difficult one.
Qualifying marks should be recent, preferably in the last three years.
A portion of proceeds will benefit the Central High School running clubs.
Invited Runners
Prize Money
One of the goals of Desert Solstice is to encourage records and top performances by American athletes and others from around the world. Prize money will be awarded to athletes achieving certain performance standards, as listed below. Only the winner in each race category is eligible for the "Winner" award, and all other runners are eligible for the "Non-Winner" award. Runners meeting several categories are eligible only for the greatest award amount.
Records
Pending records may not be listed on the charts below.
Data taken from the American Ultrarunning Association website.
Marks for other distances and masters age groups available at the above webpage.
World records ratified by the IAU are no longer separated by surface (all surface records were frozen as of 2015).
Event Records
Accomodations
Handlers will be available for all runners if prior notice* is given to the race directors that one is needed. Lodging and transportation assistance from local runners is also available. Please let us know your needs and we will do our best to accommodate them.
*Requests made within one month of race day are much more difficult and may not be accommodated.
Race Schedule
7:00am Sat – Packet/Bib Pickup
8:00am Sat – 24 Hour & 100 Mile Start
8:00am Sun – 24 Hour & 100 Mile End
There will be a brief race meeting approximately 5-10 minutes before the start of the race to announce any last minute information.
Track Etiquette
Track etiquette is EXTREMELY important at Desert Solstice. With so many runners going for high performances at different paces, it is critical to avoid wasted energy and collisions. ALL runners must obey the following rules. Anyone not following these rules will be reminded directly during the race. Anyone blatantly disregarding them to the detriment of other runners will be disqualified.
ALWAYS hug the inside lane if you are running at a reasonable pace relative to other runners. Never try to predict another runner coming from behind or make room for them on the inside because they are going faster than you. Runners waste way more energy trying to predict an unexpected movement than moving 1 foot to the right.
Leave room for other runners to pass in the outside of lane 1, not all the way in lane 2.
Runners passing from behind will always move to the outside lane to make a pass.
If multiple runners are passing at the same time at different speeds, the inside of lane 2 is reserved for double passes.
If you are taking an extended walk-break or have slowed enough to disrupt the flow of the rest of the race, please use the outside of lane 2 or inside of lane 3.
If you are getting aid or using the restroom and need to get to the outside of lane 2, always check that you will not cut off another runner by doing so.

Runners who are using short walk-breaks as a strategy for hitting their goals are permitted to do so without moving to the outside of lane 2. The event is meant for runners to have their best performance in hopes of reaching a National or World Record or making a National 24 hour team. If still on pace to do so, and using strategic walk breaks to get there, runners may remain in the inside of lane 1. This rule is meant to impact runners who have slowed to the point of missing their stated goals or records and are taking an extended walk break and thus disrupting the flow of the event.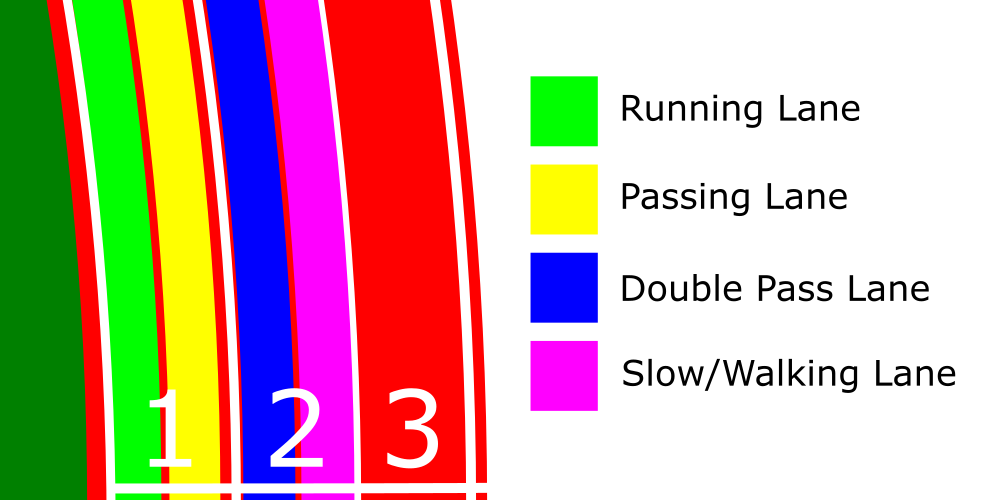 Timing
Laps will be recorded by electronic chip timing and will be submitted for USATF and IAU record purposes.
You may leave the track at any point in time during the race, but you must return to the same place before continuing. You may not leave and return directly by the timing equipment, to avoid double counting a lap. Your number of laps, distance, and race will be shown on an electronic display near the start.
Results
For timed events, there is no DNF. Results will show the furthest distance reached via timed checkpoint. Desert Solstice results will indicate a separate 100 mile split but all results will be listed under 24 hour.
Awards
Awards will be given in Male and Female categories for the 24 Hour and 100 Mile. Runners in the 24 Hour/100 Mile are eligible for both awards.
Weather
Average highs for mid-December in the Phoenix area are 67 during the day and a low of 43 at night. Record highs are in the upper 70's and record lows are in the upper 20's for this time of year.
Important – Weather in Phoenix in December can be sporadic. Though the weather is usually clear and mild, we experienced light but steady rain for much of the 2011 and 2012 events. Be prepared with clothing to handle a wet and cold event. In case of rain, we will have tents available for crews to keep dry during the race.
Personal Space
We will have tables and chairs for runners to share. There is ample space around the track available to set up your own tables and chairs, blankets, or tents.
Aid Station
We will have a fully stocked aid station throughout the event with water, electrolyte drinks, and food. Volunteers can prepare food upon request and assist runners in every reasonable way.
Race Course
The race route is a 400 meter all-weather track located at Central High School in Phoenix. The direction of travel will change every four hours. Portable restrooms will be available on the course, and showers will be available nearby.
Volunteers
We cannot produce this event without the help of our amazing volunteer team. If you would like to join our volunteer team, we are looking for help with event setup, main aid station, timing, and event breakdown. Volunteer perks include a race shirt or other goody and Aravaipa Race Credits. You can see our current opportunities and signup here: Desert Solstice Volunteer Form
Location
Central High School track is located at:
4500 N 7th St
Phoenix, AZ 85014