Important Update: Due to concerns surrounding COVID-19 and in accordance with CDC recommendations, this event has been postponed. We are currently working with permitting agencies to find alternate dates. Please check back for updates! Entrants: please check your ultrasignup email for details.
NEW DATE: October 17, 2020
Crown King Scramble 50K
From the Spines to the Pines!
Lake Pleasant to Crown King, AZ
Crown King Scramble 50K From the Spines to the Pines! Lake Pleasant to Crown King, AZ. Run Arizona's classic 50K footrace from Lake Pleasant to the old mining town of Crown King. You'll start on the shores of beautiful Lake Pleasant, run through the heart of the Sonoran Desert and climb your way through scrub brush, junipers and ultimately to the cool pines of the Bradshaw Mountains! The finish line at the historic Crown King Saloon awaits you! Online Registration for the 2020 event is now OPEN!!
RACE SUMMARY
Start Location
Castle Creek Boat Ramp within Lake Pleasant Regional Park
Morristown, Arizona 85342
Start Time
This event will be utilizing wave starts for 2020. The first wave will be at 5:00AM until 7:45AM. Wave starts will be assigned based on several factors, such as Ultrasignup ranking, past results, etc. You will have the opportunity to request a wave partner. Wave assignments will be posted on Tuesday, October 13th.
Finish Location
Crown King Saloon
7219 Main Street
Crown King, Arizona 86343
Registration
| | | | | |
| --- | --- | --- | --- | --- |
| Entry Fees* | Until 11/22 | Until 01/31 | Until 10/10 | Race Week |
| 50 Km | $141.83 | $152.74 | $163.65 | $174.56 |
*Prices include Tax
**Race shirt guaranteed on race day if registered by 09/28/20. Race shirt is not included in the registration price after 09/28 and runners who register after 09/28/20 may purchase a shirt if available on race day.**
Registration Options
Online via Ultra Signup
Mail-in Entry
Entrant Limit
300 Runners
Packet Pickup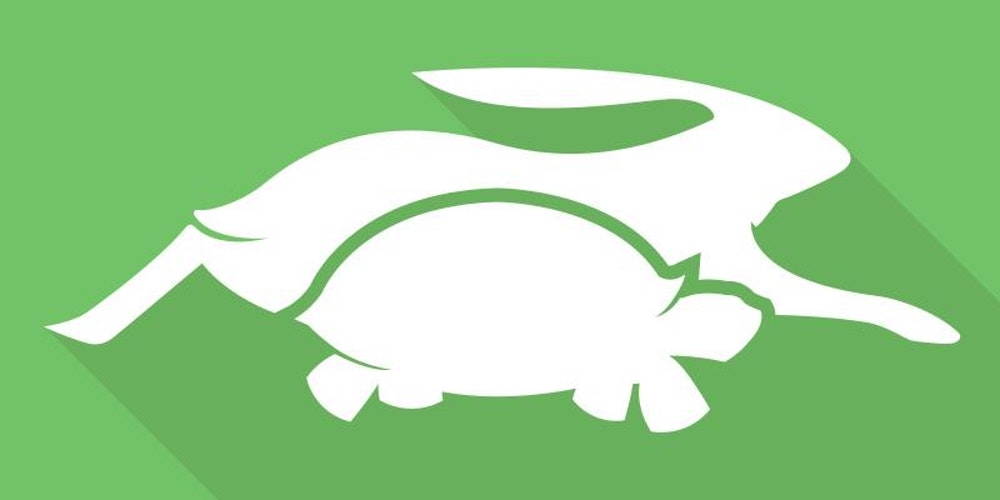 Tortoise and Hare
17570 N 75th Ave #605
Glendale, AZ 85308
Friday, October 16, 2020
4pm-7pm

———————————-
Saturday, October 17
Race Day Pickup 5:15-5:45AM
Castle Creek Boat Ramp
Lake Pleasant Regional Park
Morristown, AZ 85342
Online registration closes on 10/13 at 11:59 PM. If spots are available, registration will be available at packet pickup and on race day.
COURSE INFO
Course Summary
The Crown King Scramble is a point to point uphill 50 kilometer foot race from the shores of Lake Pleasant in the heart of the Sonoran Desert to the town of Crown King in the ponderosa pines of the Bradshaw Mountain Range. The trail traverses through several climate zones that takes you from "spines" to "pines". The first half of the race is on rolling smooth dirt forest roads and the back half is on rough four wheel drive jeep trail that climbs steeply up into the mountains. You'll watch Lake Pleasant grow smaller and smaller in the distance as the promise of cooler temperatures drives you forward. The race starts at 1700 feet elevation and tops out at mile 28.7 at 6520 feet elevation before a final 600 foot descent into the finish. This is a race that has it all!
Course Maps
View the Caltopo map here. Download the gpx file for use with an app like Gaia.
Course Detail Maps
Lower Map
Castle Creek Boat Ramp to Cow Creek Aid Station
Middle Map
Cow Creek Aid Station to Silver Mine Aid
Upper Map
ELEVATION PROFILE
Crown King 50K – 6528 Feet of Climb / 2841 Feet of Descent

COURSE TURN SHEET
(Int = Intersection)
Start Lake Pleasant Regional Park – Castle Creek Boat Ramp (Elev 1700)
Mile 0.0 – West on Castle Creek Drive
Mile 1.1 – Straight onto Castle Hot Springs Road
Mile 4.1 – Turn right onto Cow Creek RoadMile 8.5 – COW CREEK AID- On Cow Creek Road
Mile 11.3 – Straight on Cow Creek Rd
Mile 13.2 – Straight on Upper French Creek Rd – (Cow Creek Rd Ends)
Mile 15.3 – FRENCH CREEK AID – Int – Right onto Crown King Tr (Elev 2900)
Mile 19.1 – SILVER MOUNTAIN AID (Elev 4100)
Mile 21.2 – Enter Prescott National Forest – Begin FR711 (Elev 4260)
Mile 22.3 – FORT MISERY AID (Elev 4340)Mile 25.3 – Int – Go Right on FR192
Mile 27.0 – ORO BELLE AID (Cattleguard above Oro Belle Mine) (Elev 5700)
Mile 28.7 – Summit (Elev 6520)
Mile 29.3 – Int – Right on FR52 (Elev 6330)
Mile 30.4 – Int – Left on FR259 (Crown King Rd) (FR 52 turns right)
Mile 30.9 – Int – Left – Enter Town of Crown King
Mile 31 – Finish (Crown King Saloon) (Elev 5900)
RACE PERKS
Soft tri-blend race shirt
Scenic and challenging course on dirt roads
Well stocked aid stations every 3.2-8.5 miles
Post race barbecue included with entry, live band, party & socializing
Beer available for purchase at the finish line! (bring cash & support the town)
AWARDS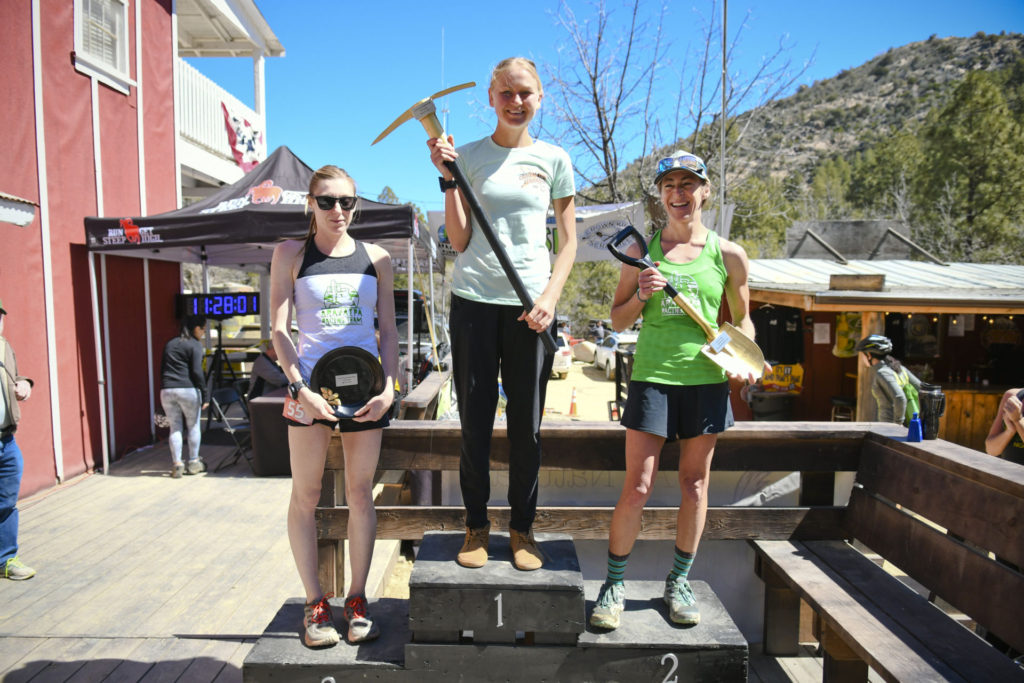 Awards to top 3 male & female finishers
Awards to top masters male & female
All finishers receive a custom finisher award
*** There will NOT be a cash prize for overall winners/new course records in 2020 ***

COURSE RECORDS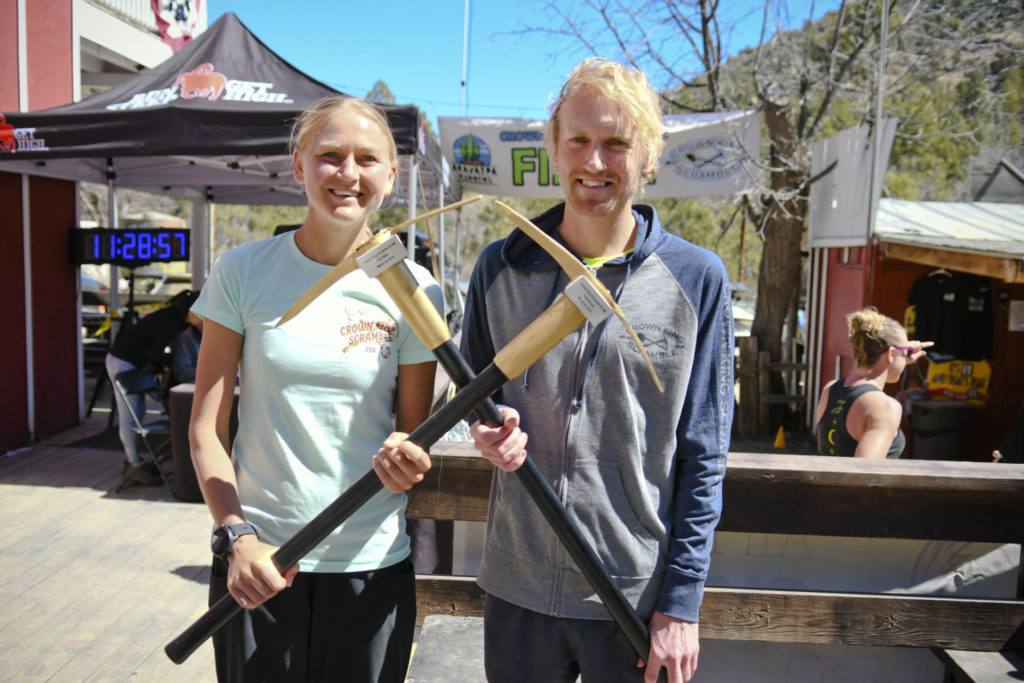 FEMALE
2019 Ida Nilsson: 4:26:44
MALE
2019 David Nilsson: 3:47:10
UTMB POINTS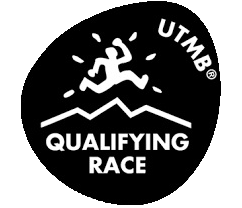 Crown King Scramble 50K will be 2 points for the 2020 UTMB
CUT-OFFS
All cutoffs will be strictly enforced. With the point-to-point nature of this event, our medical, aid station and communications volunteers must stick to the following schedule for the overall safety of all runners on the course.
12:00 PM at French Creek – Mile 15.0
5:45PM at Finish in Crown King – Mile 31.1
Race Day Schedule
Please arrive early to park, check in and warm up prior to your run. Restroom facilities are located at the start line at Lake Pleasant Regional Park.
4:15 AM – Check-in begins
5:00 AM – ALL DROP BAGS MUST BE AT START!
5:00 AM – First Wave Start
5:54 AM – Begin Civil Twilight
6:00 AM – 50 K Race Start
6:19 AM – Sunrise
7:45 AM- Last Wave Start
10:30 AM – Cutoff – French Creek Aid (Mile 15.3)
11:00 AM – BBQ Lunch begins in Crown King
5:45 PM – Final Cutoff – Crown King Saloon (Mile 31.1)
Evening – Party & music at Crown King
Trail Running & Trash
This race is permitted by multiple land agencies. Please respect the trails and the beauty of the land by disposing of any trash at one of our aid stations. Do not throw trash on the ground–runners caught littering will be disqualified. There will be no restrooms along the trail. Please plan ahead and carry a ziploc of TP 🙂 We ask that you practice "Leave No Trace" along the course to ensure the race continues for many years.
Cupless Race
In our continued effort to reduce our races footprint and preserve the trails we love, the 2020 Crown King Scramble will once again be a cupless event.
What does that mean? There will be no paper cups at the aid stations at this race. Runners will be responsible for carrying their own container to refill along the way. UltrAspire reusable cups may be purchased with registration or on race day OR we encourage you to bring your own! Grab a cup, a hydration vest, pouch, or water bottle and we will fill it at each aid station along the way. We ask you to help us in our efforts by preparing for a cup free race day and thank you in advance for being good stewards of the trails! Want to read more about why going cupless matters? Click here!
Race Timing
All runners will be provided with a race bib that must be worn at all times during the race. You will be checked in and out of all aid stations on the course. There will be chip timing at the finish line and your result will show up on the display screen.
Drop Bags
Drop bags are only permitted at French Creek Aid Station and the Finish. Please label your drop bag with the appropriate aid station name, your bib number, last name and place next to the aid station signs at the start on race morning. ALL DROP BAGS MUST BE AT THE START LINE BY 5:00AM! Drop bags will be returned to the finish line in Crown King when French Creek Aid Station closes down. Please limit the size of your drop bags to that of a small duffle. Large suitcase or oversized duffles will not be transported
Crewing & Pacing
Due to the remote nature of the course, neither crews nor pacers are allowed.
Runner Tracking
Amateur radio volunteers from Maricopa County Emergency Communications Group wearing orange vests will be located at each aid station along the course. They will be recording runner bib numbers as they pass through aid stations and be in contact with the finish line throughout the day. If there is a problem somewhere along the trail, please report to the next aid station team.
Aid Stations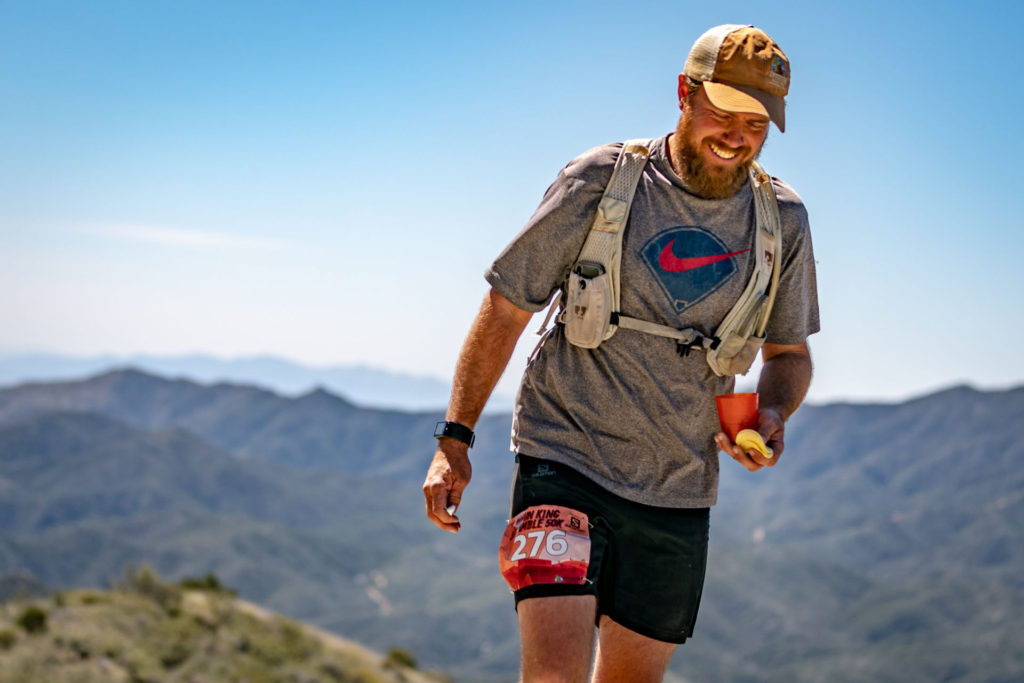 Five aid stations on course providing water, Gnarly Hydrate electrolyte drink, fruit, sweet snacks, & salty snacks.
#1 – Cow Creek Aid – Mile 8.5
#2 – French Creek Aid – Mile 15.3 (Drop Bags)
#3 – Silver Mountain Aid – Mile 19.1
#4 – Fort Misery Aid – Mile 22.3
#5 – Oro Belle Aid – Mile 27.0 Finish – Crown King Saloon – Mile 31.1 (Drop Bags)
There will be a best aid station contest! All finishers of the race will vote on their favorite aid station along the course.
Aid Station Helpers
This event would not be possible without the help of dozens of volunteers who will be working aid stations, staffing medical checkpoints, operating amateur radio for communications, hauling supplies and runners in 4×4 vehicles and offering hospitality in the town of Crown King itself. Sign Up Here!
Course Markings
The course will be well marked with orange plastic ribbons with black polka dots. Trail junctions and turns will be well marked with yellow laminated signs. Please pay attention to these signs at each junction. In addition, WRONG WAY flagging (blue & white checkerboard) and pink signage will be posted to designate non-race trails. All runners are responsible for understanding the layout of the courses. Please familiarize yourself with the course maps on our website prior to race day. Bonus!! Keep your eye out for "Choose Your Own Adventure" sections. Will you take the slightly longer tangent, or the steeper scramble? It's up to you!
Transportation
This is a point to point course and no transportation is provided by Aravaipa Running. All participants are responsible for getting themselves to the start line and home from the finish line. You may be able to car pool with other race participants to and from the start/finish lines, otherwise plan on having a support person help you with transportation.
Camping
Camping is permitted near the start in Lake Pleasant Regional Park. Please contact them for fees and permitted areas.
Lodging
We encourage all runners to make a weekend out of their Crown King Scramble experience and stay in Crown King with us after the race. There will be plenty of stories to share over a beer or two at the Saloon! Lodging options:
Chris's Cabin & AirBnB's: 602-722-5753
Ore Belle Cabin: 928-303-4754
Cozy Crown King Cabins: 623-523-3362
Bear Creek Cabins: 928-899-2031
Bradshaw Mountain Guest Ranch – Also ask about the Crown King Bunk House! (sleeps 4 to a room for $125/room)
Cedar Roost Inn: 928-899-2031
Crown King Saloon: 928-632-7053
RESULTS
2019 | Results
2018 | Results
2017 | Results
2016 | Results
2015 | Results
2014 | Results
2013 | Results
Historical Results (1987-2009) can be found on the event's ultra signup


Photo Galleries
2019| Aravaipa Photo Gallery
2018 | Aravaipa Photo Gallery
2017 | SweetM Images | Aravaipa Photo Gallery
2016 | SweetM Images | Aravaipa Photo Gallery
2015 | SweetM Images
2014 | Aravaipa Photo Gallery
We'll see you on the trails!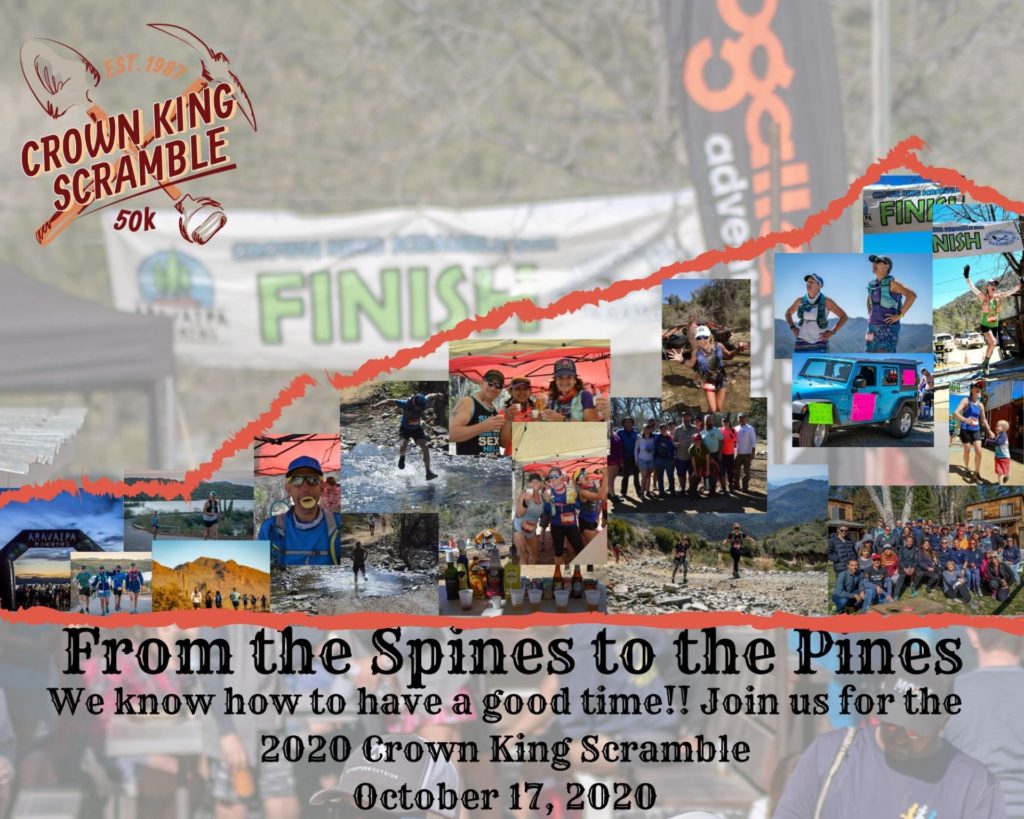 Crown King Scramble Video