It is with great pleasure that we introduce the 2018 Aravaipa Racing Team! Of course we may be exhibiting bias but our team is incredible. Aravaipa is also proud to announce a partnership with rabbit Apparel for the 2018 season.

The Aravaipa Racing Team consists solely of Arizona-based ultra-runners who are performing at a high local and national level. However, they are more than just fast runners, they embody the community and values that Aravaipa Running expects of its representatives.
Look for the Aravaipa Racing singlet to make appearances at our events as well as races around the country. Help us welcome these athletes who will be representing Aravaipa this coming year:
New to the 2018 racing team, Emily Torrence is a 2x U.S. Olympic Marathon Trials contender with a marathon PR of 2:32:55, 2x winner of the JFK 50 mile, course record holder of Moab Red Hot 55 KM, and 2014 50KM World Champion. Emily is a long-time coach and co-owns Sundog Running with husband, Ian Torrence.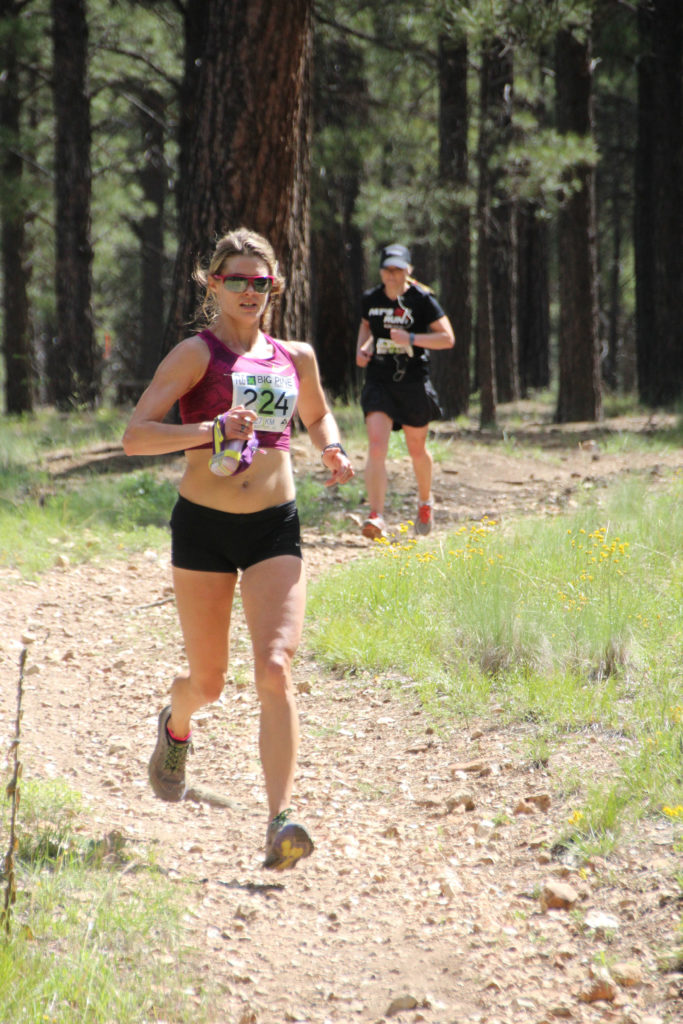 Ian Torrence will be returning to the 2018 team. Ian has finished more than 200 ultra marathons in his career, winning 53 of them. In addition to running competitively, Ian also race directs stellar events in Arizona with Flagstaff to Grand Canyon Stagecoach 100 mile, 55KM and relays becoming an ever more popular destination race. Ian is the other half of the Sundog Running coaching team with his wife, Emily Torrence.
Kristina Pham had another record-setting year in 2017 with 8 USATF national age-group track records at Desert Solstice which including smashing the F 45-49 50KM record in 3:57:18. Kristina also won Ian's Flagstaff to Grand Canyon Stagecoach 55KM, put up 69.28 miles at Hotfoot Hamster 12 Hour, and won Dam Good Run 40KM in 3:33:14.
Lauren Coury seems to fly under the radar but is a force on the trails. In 2017 Lauren placed 6th at the highly competitive Lake Sonoma 50-mile in 8:16:20 and won AND set course records in each of her other trail races (Pemberton Trail 25K, Mesquite Canyon 30K, Vertigo Night Runs 31K, and Pass Mountain 50K). Lauren will be racing Black Canyon 100KM in February and will travel to race OCC 55K in France at the UTMB series in August.
Nick Coury will be representing the Aravaipa Racing Team for 2018. Nick had quite the successful 2017 on the trails (and road) with a win and course record in the Pemberton 25Km, 5th place finish at Hardrock 100, and a win and 3rd best time ever at Colossal Vail 50 Mile. Previous to 2017, Nick represented USA at the 2013 World 24 Hour, holds a 100 mile personal best of 15:14:10 and holds the 50KM course record at Born to Run with a 3:17:15. Nick can often be found at road events around Phoenix and will be joining his wife, Lauren, at OCC 55K in France next August.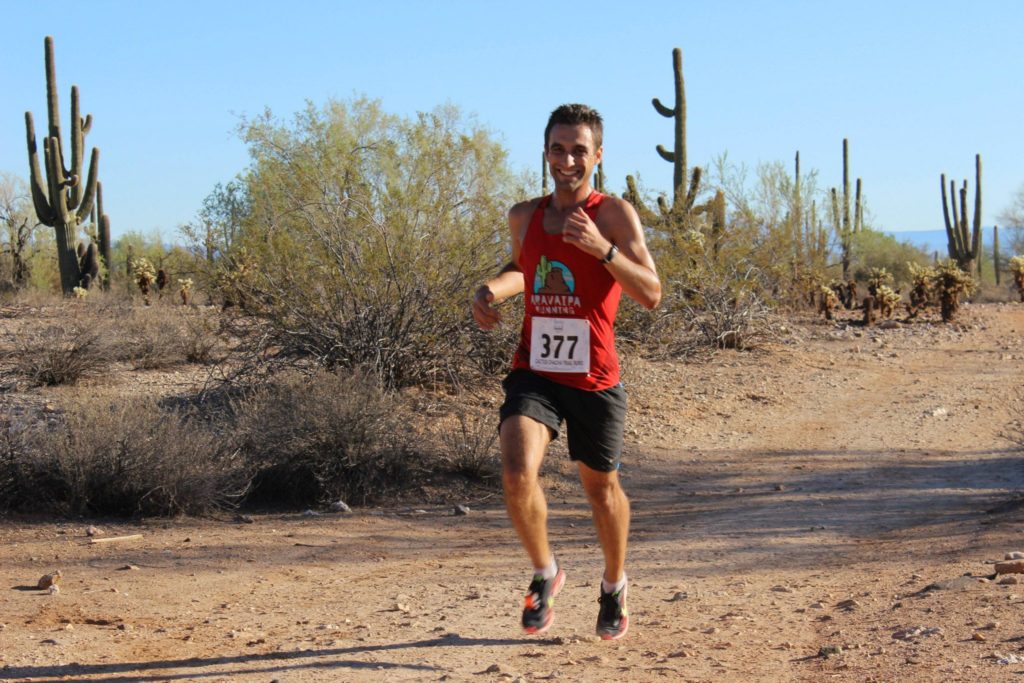 Art DeGraw is another new addition to the team but not new to Aravaipa. Art first ran with Aravaipa at the 2013 Flagstaff Sky Race with a win in the 50km and has since won our Black Canyon Ultras 50km, Crown King Scramble, and Flagstaff Extreme Big Pine 54km (course record) all in 2015 and is back on the racing scene with wins at the 2017 versions of Cave Creek Thriller 24k (course record) and McDowell Mountain Frenzy 25km.
Charlie Ware returns in 2018 as part of the incredibly strong Tucson-contingent. Charlie's 2017 included a 4th place finish at Golden Ticket Race, Black Canyon 100K, 3rd place at Run Rabbit Run 100 miler, and 1st place Men's Open Team division at Trans Rockies 6 with Catlow Shipek. Look for Charlie to be a top contender at Sean O'Brien 100KM in February!
Del Salt-Smith is back for 2018 and just ran to an overall win at Across the Years 24-hour with 129 miles! Del raced 13 times with Aravaipa last year with 8 victories, 5 course records, and 12 podium finishes including a win at the Mogollon Monster 100.
Michael Versteeg also came away victorious at Mogollon Monster 100 in 2017 and with a new course record to boot. Michael also won the highly difficult John Cappis 50KM in Silverton, Colorado this past summer and won the Hideaway Hundred 100KM in course record time in September.
Susan Kramer is all about the tough races – she came away with a 2nd place finish at Bigfoot 200 Endurance Run this past August and then turned around a month later to place 3rd at Mogollon Monster 100! Susan also won the Mesquite Canyon 50KM (3rd overall) earlier in 2017. Look for her at Black Canyon 100KM in February and Zane Grey 50 in April!
Catlow Shipek had a huge 2017 and will return to the 2018 racing team. Among his victories last year, Catlow took home the 1st place Men's Open Team division at Trans Rockies 6 with Charlie Ware, 1st place Old Pueblo Endurance Runs 25-miler, 1st place and course record at Whiskey Basin Trail Runs, and 1st at Flagstaff Extreme Big Pine 54KM. Can't wait to see what 2018 has in store!
Nadine Haluszczak is returning to form after a few injury setbacks last year while still claiming a podium finish at the Whiskey Basin 31km this past April. Her return to racing is highly anticipated and look for her to toe the line at Zane Grey 50 this coming April!
Sion Lupowitz had a seriously impressive 2017 capping his year off with a 16:15:15 finish at Javelina Jundred for 5th place in a highly competitive field! Sion's 2017 also included wins at Oracle Rumble 50 mile, Old Pueblo 50 mile, 3rd at Zane Grey 50, and 2nd at Flagstaff Extreme Big Pine 54km!
Michael Carson is one of those runners who seems to be able to seamlessly mix it up between trail 100s and flat, fast road events. In 2017 Michael won the Sedona Marathon, placed 2nd at Crown King Scramble 5okm, and 2nd at the San Diego 100.
Kori Krichko will be on the Aravaipa Racing Team for her 2nd season in 2018. This past year Kori won the Coldwater Rumble 20 mile, the Mogollon Monster 35K, and has already started off her 2018 with a win at the La Cuesta Ranch Trail Run 14-miler. Kori also took 2nd last year at Behind the Rocks 30km and raced her way across the US Sky Running Series for 3rd place in the Sky Classic Series!
Travis Swaim is also joining the racing team for his 2nd season. In 2017 Travis won the Coldwater Rumble 20 mile, Elephant Mountain 50km in course record time, Mesquite Canyon 30kM (course record), Bryce Canyon 50km, and the Jackrabbit Jubilee 6 hour with 42.87 miles. For the first part of 2018 Travis will be participating in the West Coast National Relay from Seattle to Dallas.
Look for the Aravaipa Racing Team on trails near you in 2018!