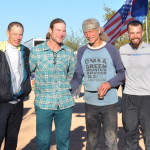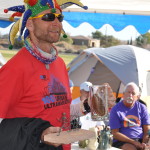 By the 144th hour, world record holder Ed Ettinghausen ran 481.86 miles, marking the furthest distance he'd run in six days, and breaking an American age group record.  There are hundreds of individual stories of epic endurance that occurred on the course over the past week it's hard to condense them all into a short update. David Johnston came back after having stomach problems for 3 days, and still ran 450 miles in 5.5 days for 2nd overall. As put out in an earlier update, David planned only to running 450 miles for his 1,000 mile jacket – in two years record time at ATY.  He'd passed Ed getting to 450, but stopped with 12 hours to spare.   3rd place goes to the ever dominant John Geesler with 437.77 miles including a 7:58 minute last lap racing me as time expired on our 144 hours!  For the women,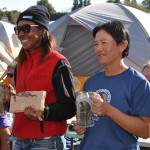 Sue Scholl and Yolanda Holder both finished with 403 miles, extremely good performances in such difficult conditions on the course. This is the 2nd time Sue has put in the top miles at ATY. This marks Yolanda's 3rd Six Day race over 400 miles – all through power walking.
I think possibly the breakout performance of the event was 26 year old Sarah Emoto, who gave it her all and by the time expired had run 338 miles and 3rd place woman, 9th overall. She quietly ran day and night always seemed to just keep going.  Mark McCaslin also made up quite a bit of ground in the last 3 days and finished with 323 miles and 7th male. Marie Boyd & Robert Andrulis were both going for 500km, they both reached their goals – 311.79 miles.
---
In the 72 hour race, two people went over 200 miles –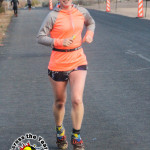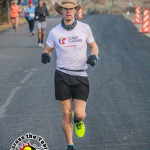 Jill Hudson an Dave Proctor, but Dave got most of his miles in the first day before his knee blew out on him.  Chrisian Riegel ran strong on the last night to finish 2nd of the men, but did so after the 1st when the awards were given out. The 72 hour is a unique race that tends to see the same pattern of performance: good first day, terrible 2nd day where you feel like you want to give up on life as a runner, and a strong 3rd day again.  Jordan Wirfs-Brock seemed to follow this as she came back on the 3rd day placing 2nd woman.  80 year old Eugene Bruckert finished with an astounding 106 miles!  24 people ran over 100 miles in the 72 hour.
---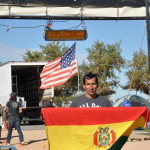 In the 48 hour race, Iso Yucra from Bolivia came to run in the last 48 hours and actually posted more miles than Kelly Agnew, but didn't know the awards were only given out on New Years day. He ran 173 miles in the 48 hours. He told me he came to run on the last 2 days to run with Ed and see his performance.  At the same time Iso posted a solid 173 miles!  I sent him the links to all the results and photos, so his friends back in Bolivia really believe he 'won' the race.
Kelly Agnew repeated for the 2nd year his win of the 48 hours with 171 miles but compared to the 200+ he ran last year, he wasn't completely satisfied. Eric Roberts posted a solid 154 miles for 2nd, and Davy Crockett 3rd with 151 miles. Debra Horn was the winner on the women's side with 170 miles and an American Age group record, Rochelle Garnanez was 2nd with 148 miles, & Jeannie McDaniel 3rd with 132. 38 people ran over 100 miles in the 48 hour.
---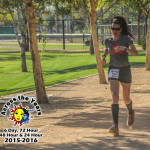 As mentioned on Day 5 update, Eileen Torres  had the standout performance of the day running 127 miles in 24 hours qualifying herself to possibly complete on the USA 24 Hour National Team. She also won the 24 race outright.  Adela Salt ran an impressive 116 miles, and Chavet Breslin ran 110 for 3rd her post race interview is here: Chavet Breslin Post Race Interview.  Vlad Henzl won the men's race with 115.48 miles.  Rob Raguet-Schofield  and Van Petterson round out the top men with 112 & 108 miles respectively.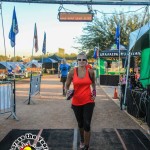 24 people earned a 100 mile buckle  in the 24 hour. I know there are many more extraordinary achievements but this is what I've written for now.  Well done to everyone and volunteers who came out and gave so much of their time and energy.
Until next time, Keep on Running. Israel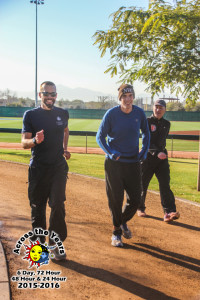 ---
Results screenshots.
Six Day final Standings 144 hours
| | | | | | | | | |
| --- | --- | --- | --- | --- | --- | --- | --- | --- |
| 1 | 1M | Ed Ettinghausen | 53 | 481.86 | 775.48 | 143:51:28 | 814 | – |
| 2 | 2M | David Johnston | 45 | 450.37 | 724.8 | 141:19:56 | 1418 | – |
| 3 | 3M | John Geesler | 56 | 437.77 | 704.52 | 143:57:34 | 346 | – |
| 4 | 4M | Christer Svensson | 46 | 411.52 | 662.28 | 143:49:20 | 308 | – |
| 5 | 1F | Sue Scholl | 43 | 403.13 | 648.77 | 141:19:56 | 1471 | – |
| 6 | 2F | Yolanda Holder | 57 | 403.13 | 648.77 | 143:13:38 | 307 | – |
| 7 | 5M | Greg Salvesen | 29 | 402.08 | 647.08 | 143:45:07 | 1635 | – |
| 8 | 6M | George Biondic | 63 | 350.64 | 564.29 | 143:01:23 | 804 | – |
| 9 | 3F | Sarah Emoto | 26 | 338.04 | 544.02 | 143:48:42 | 1400 | – |
| 10 | 4F | Martina Hausmann | 55 | 329.64 | 530.5 | 143:47:53 | 195 | – |
| 11 | 5F | Kimberley Van Delst | 45 | 329.64 | 530.5 | 143:59:53 | 1656 | – |
| 12 | 7M | Mark McCaslin | 46 | 323.34 | 520.37 | 143:41:11 | 1609 | – |
| 13 | 8M | Michel Gouin | 55 | 320.19 | 515.3 | 143:51:07 | 314 | – |
| 14 | 6F | Karen Vollan | 47 | 312.84 | 503.47 | 143:55:57 | 958 | – |
| 15 | 7F | Marie Boyd | 67 | 311.79 | 501.78 | 143:33:03 | 996 | – |
| 16 | 9M | Robert Andrulis | 48 | 311.79 | 501.78 | 143:56:50 | 365 | – |
| 17 | 10M | Chris Smith | 58 | 308.64 | 496.71 | 141:54:48 | 1643 | – |
| 18 | 8F | Claudia Newsom | 65 | 301.29 | 484.89 | 143:05:40 | 1455 | – |
| 19 | 11M | Bobby Keogh | 66 | 300.24 | 483.2 | 142:53:38 | 1423 | – |
| 20 | 12M | Bill Heldenbrand | 69 | 277.15 | 446.03 | 143:40:06 | 870 | – |
| 21 | 13M | Daro Ferrara | 54 | 275.05 | 442.65 | 143:38:47 | 1674 | – |
| 22 | 14M | Bob Davidson | 68 | 260.35 | 419 | 143:54:38 | 1340 | – |
| 23 | 15M | Israel Archuletta | 36 | 249.85 | 402.1 | 143:57:34 | 1336 | – |
| 24 | 9F | Francesca Carmichael | 56 | 235.16 | 378.45 | 143:24:32 | 1143 | – |
| 25 | 16M | Richard McKnight | 46 | 233.06 | 375.07 | 143:47:55 | 909 | – |
| 26 | 17M | Andy Noise | 52 | 228.86 | 368.31 | 141:19:56 | 309 | – |
| 27 | 18M | Georgijs Jermolajevs | 73 | 226.76 | 364.93 | 143:52:35 | 1592 | – |
| 28 | 19M | Timothy Trine | 54 | 225.71 | 363.24 | 143:50:03 | 1316 | – |
| 29 | 20M | Karl Michel | 53 | 225.71 | 363.24 | 143:53:07 | 911 | – |
| 30 | 10F | Shelley Devere | 40 | 221.51 | 356.48 | 143:51:39 | 843 | – |
| 31 | 21M | Joe Cleary | 75 | 217.31 | 349.73 | 143:46:17 | 1508 | – |
| 32 | 11F | Susan Glesne | 53 | 212.06 | 341.28 | 141:19:56 | 1029 | – |
| 33 | 22M | Ben Benjamin | 68 | 212.06 | 341.28 | 141:19:56 | 993 | – |
| 34 | 23M | Emilio Larrazabal | 21 | 212.06 | 341.28 | 143:05:41 | 1602 | – |
| 35 | 24M | Reed Glesne | 64 | 211.01 | 339.59 | 141:19:56 | 1028 | – |
| 36 | 25M | Bill Dickey | 76 | 208.91 | 336.21 | 141:19:56 | 157 | – |
| 37 | 26M | Robert Holland | 54 | 207.86 | 334.52 | 143:46:26 | 310 | – |
| 38 | 27M | Bill Schultz | 63 | 205.76 | 331.14 | 143:42:07 | 940 | – |
| 39 | 28M | Criss Furman | 69 | 202.61 | 326.07 | 143:54:02 | 1526 | – |
| 40 | 29M | Jean-Jacques d'Aquin | 76 | 201.56 | 324.38 | 141:19:56 | 608 | – |
| 41 | 30M | Michael Thurston | 33 | 200.51 | 322.69 | 141:19:56 | 1314 | – |
| 42 | 12F | Shirley Kolakovich | 44 | 200.51 | 322.69 | 141:19:56 | 1600 | – |
| 43 | 13F | Midnight Tenenbaum | 45 | 200.51 | 322.69 | 141:19:56 | 1358 | – |
| 44 | 31M | Joe Dana | 79 | 200.51 | 322.69 | 141:30:26 | 248 | – |
| 45 | 32M | Dan Baglione | 85 | 183.72 | 295.66 | 143:29:39 | 71 | – |
| 46 | 33M | Mike Campbell | 61 | 145.92 | 234.84 | 141:19:56 | 1385 | – |
| 47 | | Harold Sieglaff | -1 | 125.98 | 202.74 | 141:19:56 | 3 | – |
| 48 | 34M | Karsten Solheim | 78 | 120.73 | 194.29 | 141:19:56 | 95 | – |
| 49 | 35M | Josh Irvan | 45 | 112.33 | 180.78 | 141:19:56 | 1050 | – |
| 50 | 36M | Frank Johnston | 69 | 112.33 | 180.78 | 141:19:56 | 1419 | – |
| 51 | 14F | Vanessa Jones | 54 | 106.03 | 170.64 | 141:19:56 | 1055 | – |
| 52 | 37M | Burke Painter | 69 | 106.03 | 170.64 | 141:19:56 | 332 | – |
| 53 | 38M | Tom Lucky Devil Hallee | 74 | 100.78 | 162.19 | 141:19:56 | 1585 | – |
| 54 | 15F | Amy French | 36 | 100.78 | 162.19 | 141:19:56 | 1525 | – |
| 55 | 16F | Lori Christ | 58 | 100.78 | 162.19 | 143:17:08 | 834 | – |
| 56 | 39M | Joel Gat | 40 | 76.64 | 123.33 | 141:19:56 | 1408 | – |
| 57 | 17F | Hayley Pollack | 29 | 71.39 | 114.89 | 141:19:56 | 1554 | – |
| 58 | 18F | Lori Musico | 40 | 70.34 | 113.2 | 141:19:56 | 1082 | – |
| 59 | 40M | Peter Livingston | 43 | 67.19 | 108.13 | 141:19:56 | 1071 | – |
| 60 | 19F | Christina Uriarte | 33 | 60.89 | 97.99 | 141:19:56 | 1654 | – |
| 61 | 41M | Paul Bonnett | 54 | 55.64 | 89.54 | 141:19:56 | 139 | – |
| 62 | 20F | Erin McKnight | 38 | 55.64 | 89.54 | 141:19:56 | 1078 | – |
| 63 | 42M | Josh Uriarte | 33 | 46.19 | 74.34 | 141:19:56 | 1655 | – |
| 64 | 21F | Tiffany Skoyen | 32 | 41.99 | 67.58 | 141:19:56 | 1641 | – |
| 65 | 43M | Paul Pollack | 34 | 34.64 | 55.75 | 141:19:56 | 1686 | – |
| 66 | 44M | Dave James | 37 | 12.6 | 20.27 | 141:19:56 | 1158 | – |
Photos form the last day