The Zane Grey 50 Mile Endurance Run spans the length of the historic Highline trail beneath the Mogollon Rim, an escarpment on the edge of the Colorado Plateau.  The entire Mogollon Rim stretches for over 200 miles across Arizona, but our little run along the highline trail spans a mere 51. While dense Ponderosa Pine forests cover much of the land above and beneath the rim (pretty much as far as the eye can see), the 1990 Dude Fire burned over 28,480 acres of land beneath the rim (affecting many miles of the highline trail between Washington Park and See Canyon), destroyed 63 homes and claimed the lives of 6 firefighters. This fact is important to the toughness of the race as the trail is now exposed to the beating sun, dead-fall and major erosion.
I've been camping beneath the Mogollon Rim since I was a kid, attending scout summer camp at Geronimo, backpacking into Horton Creek and even a couple of winter time "snow" camps at Geronimo. I hiked several of the trails leading out of Geronimo to earn patch segments, went horseback riding along parts of the Highline and even drew water from Horton Springs. But my first encounter with the legendary course and ultra that is Zane Grey came in 2007. I was coming off my first "100 miler" which I completed at the '06-'07 Across The Years 24 hour race and suffered from an intense case of Iliotibial Band Syndrome that plagued me from January, through my trip down to the Copper Canyons in March all the way up until Zane. That year the race was run "in reverse" so we started at the 260 Trailhead and I suffered my way through an intense 12:50 finish at the Pine Trailhead.
I would have run in 2008, but I was in the midst of an 800 mile long hike the length of the Arizona Trail. I actually made it to the Highline Trail  section of the AZT just days after the race and remember seeing all of the footprints from the race still fresh in the dirt. I returned in 2009 with a few more miles under my feet as well as some extensive course knowledge (I spent 4-5 days doing trail work on all parts of the course leading up to the race that year) and ran easy for the first 30 miles before taking the lead and cruising on to my first ultra victory in 9:34. This of course filled my head with all sorts of grand visions of success going into the 2010 race. I took off fast from the start and imploded by the time I hit the Fish Hatchery at mile 33, limping in for an 11:49 finish (2 hours 15 minutes slower than the previous year).  I then decided I needed a break from the race, from the pounding rocks and beating sun. I continued to do trail work in 2011 and 2012, cutting away all the fallen trees between Geronimo and Washington Park, but on race day I instead manned the Washington Park aid station with Aravaipa Running.
I knew I had to return in 2013 as the trails were calling my name, especially after my 2012 victory at the inaugural Mogollon Monster 106. My training since MM106 had been less than ideal. I limped along through October and November, running through a lot of pain and took off almost 6 weeks between Thanksgiving and early January completely from running. I raced a 50K in Central America in February, Old Pueblo in March and Crown King in April, but my mileage has been quite low (30-50 mpw) compared to last year(100+ mpw). I went in with a casual attitude and a determination to run a smart race.
Race Day
I camped out at the Pine Trailhead the night before the race, which was a surprisingly popular spot this year. I pitched my tent a few feet from the start line and rolled out of bed at 4:30am just in time to hit the restrooms, check-in (after they started calling my name), stuff about 10 gels into my shorts and eat a few bites of cold mashed potatoes from the previous nights dinner.  I walked up to the start line with less than a minute to race start sporting my most ridiculous race day outfit to date – a circa 1999 Scott Jurek style cut-up belly shirt (I chose my bright yellow Mogollon Monster shirt), devil monkey board shorts and bright pink knee socks. Not sure how I've evolved to this point, but there I was….
As Joe counted down from 10, I stepped right up to the start line and shot out into the lead for abut the first 50 yards before letting Dominic Grossman take over in the early morning darkness. I quickly felt my heart rate shoot up, my breathing become labored, so I just eased off the pace and let what seemed like 20 guys and gals pass me. I knew the first few miles don't matter all that much and I focused on keeping my breathing under control, thinking about all of the tough, hot miles ahead. I was just ahead of James Bonnett for the first short climb, but as I continued to hike as we neared the top, he passed by and I was by myself. I just jogged along as I took a few glances over to the right to catch a view of the early morning glow hit the ponderosa pine forest below. I passed two more runners along the section of trail to the first aid station at Geronimo, but was mostly just alone. I ate 3 gels along this section and drank about a half bottle of water.
Coming into aid stations is always a huge mental boost for me. I tend to go into a tunnel vision, focusing on getting exactly what I need and getting through as quick as possible.  I had my bottle topped off and was off to make the climb out of Geronimo, still running alone. Just 5 days prior, I had been running along the same stretch of trail lugging my chainsaw to clear any downed trees. It was much nicer to be running with just a couple of bottles of water on race day! The Highline Trail through this segment has been receiving some extra attention over the past year and several sections of the trail have been rerouted past some bad erosion. The new trails were nice and smooth, but seemed to meander more than the old "direct" route. I passed David Metzler and Anthony Culpepper through here and caught up to Van Patterson as I was entering Washington Park.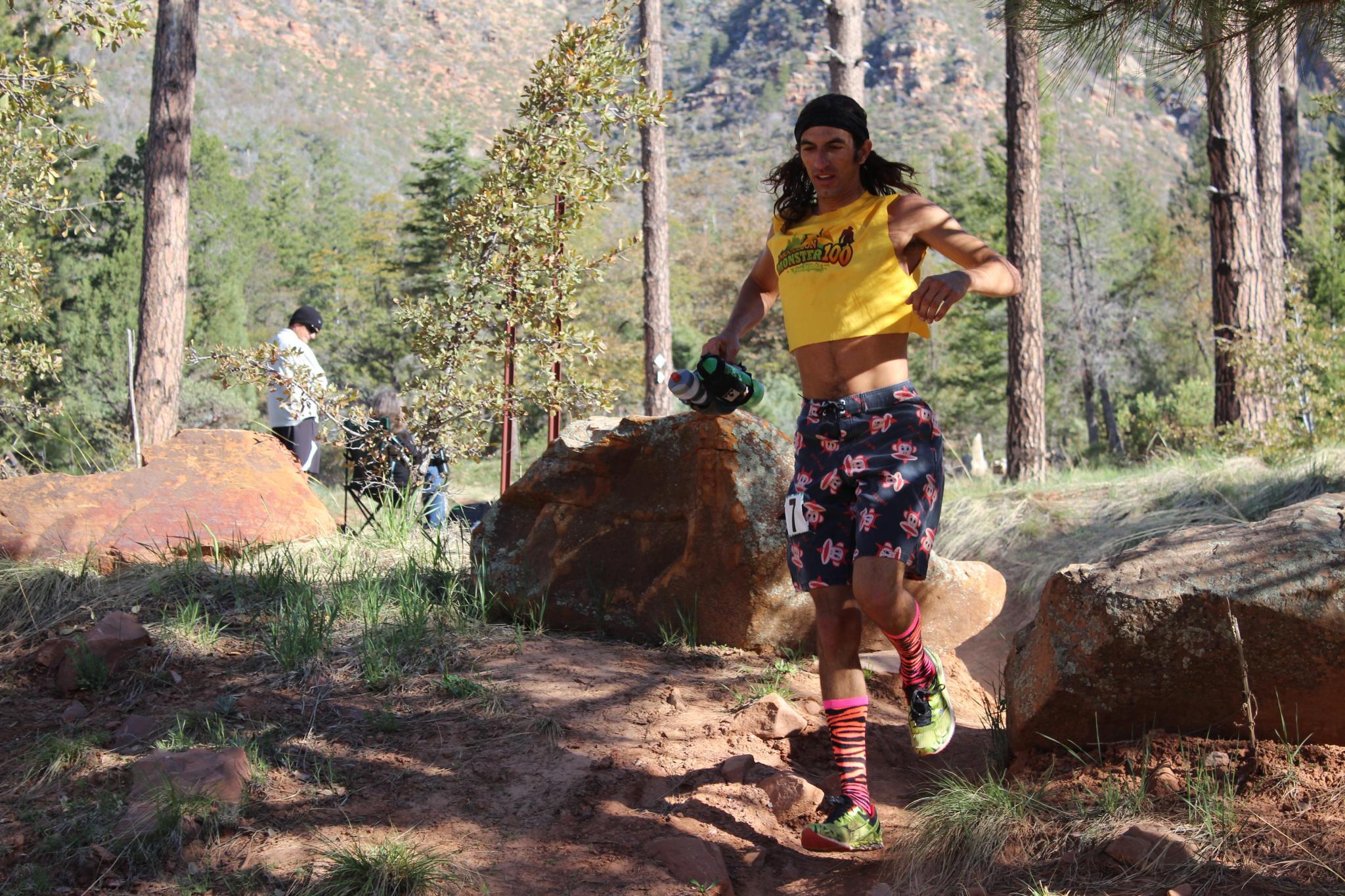 I exchanged bottles with Sabrina here and finally took off my "belly shirt", not breaking stride. I was pumped, feeling great from taking the early miles so easy and sprinted towards the creek crossing, noticing that I had passed Michael Carson and Kerrie Bruxvoort at the aid station. Michael yelled ahead to me, and honestly it would have been nice to run with him, but I was in the zone at this point. I kept a solid pace of running and speed hiking the uphills as I made my way towards Hell's Gate. This section had been in the dark for me at the Monster in September and super overgrown with thigh high grasses so it was nice to see it in the day. I continued to drink well and I was eating gels or chomps about every 20 minutes. I started to feel the heat through this part as it becomes more and more exposed. About a mile out from Hell's Gate aid I passed by Jason Leman and Dominic Grossman (who was having some knee troubles).
I still felt good, chugged an entire bottle of water, filled up both of my 24 ounce bottles I was carrying, grabbed one potato chip and headed up the short but steep climb out of the aid. I glanced back and saw Jason Leman coming into the aid before I crested the top, but that would be the last time I would see him. I suspected I was now likely in 5th place behind Chris Price, Mike Foote, Scott Jaime and James Bonnett. I had a pre-race goal of top 3 and sub 9 hours and was feeling like I might be able to pick off a couple more runners before Fish Hatchery.
Those next miles between Hell's Gate and Fish Hatchery are always a blur to me… it is hot, rocky and nothing really changes all that much to me. I just focused on running as much as I could, hike as efficient as possible when my effort level rose, drinking water and eating gels. My knee was beginning to give me some trouble here, but never got too bad. I approached one of the radio checkpoints 2 miles out from Fish Hatchery and one gentleman asked me if I had seen bib number 8. I told him I hadn't passed anyone and figured someone out of the top 4 was lost… one down. I rolled into Fish Hatch soon enough, sucking the last few ounces of my water bottle dry and quickly ate 3 potatoes with salt and drank two big cups of GU Brew. Sabrina helped me with my one bottle waist pack, handed me two fresh water bottles and I was off to chase down the leaders. Joe informed me somewhat confusingly that I was now in 3rd place, but I wasn't sure if he said Chris Price or Mike Foote had somehow dropped behind me.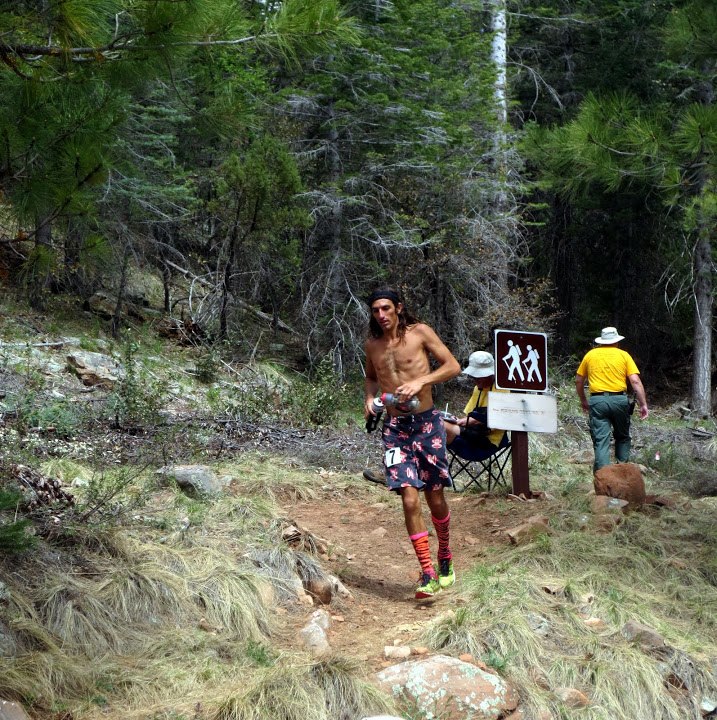 I ran strong through the next section and the miles flew by quickly, especially after hitting a Red Bull Energy Shot. I crossed Horton Creek with news that #9 was 10 minutes ahead and #6 was up by 20. This gave me a boost now that I had a confirmation that I was in 3rd and some solid numbers to go by. A couple miles later another radio operator let me know that I was now only 4 minutes back of the next runner. I surged ahead at this point, hoping that I was also closing in on the lead runner.  I didn't wear a watch in the race, so I had no way to gauge how I was doing split wise between sections. About a mile before the See Canyon aid station at mile 44 I saw Mike Foote ahead and after a while passed him up. He wasn't looking all that good and said he was just kind of out of it. I hit the final descent into See Canyon and bombed down to the aid station, switching bottles for the last time and took off without even grabbing a bite to eat (like I had planned). I called out "How far behind am I?" as I was leaving and received the devastating news of "21 minutes". I hadn't gained at all and with only about 6 miles to go, it was almost hopeless…
I still continued to run strong for the next 2 miles, wanting to be done more than anything at this point.  I had forgotten about Mike since he was looking so bad when I passed him and figured 2nd would be a wrap at this point. I had quit eating gels before the last aid and thought maybe I could just go off adrenaline. Well that plan fell apart when all of a sudden Mike shows up and surges past me. Crap. I quickly slurp down 3 more gels and feel a noticeable boost.  I run as well as I can, but my knee continues to bother me and only worsens… I finally see the 1 mile to go sign and before long turn the corner on the finish line to cross in 9:04:59, just 2 minutes behind Mike.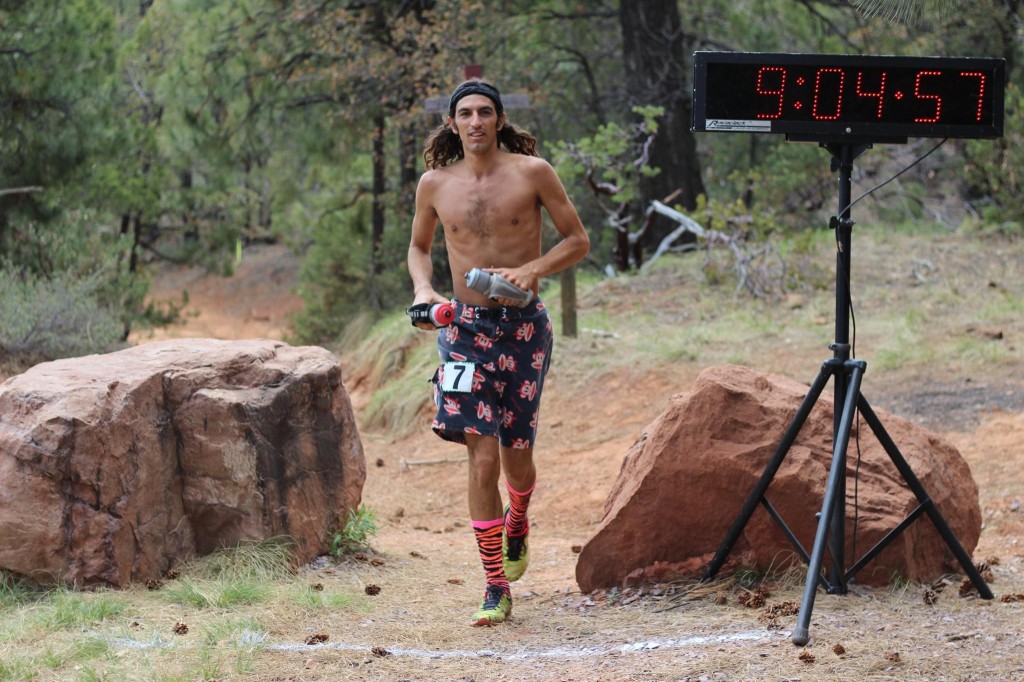 In the end, I came away with a 30 minute personal best on the course, and a 3rd place finish and I'm pretty damn happy about that. The post race finish line festivities were a lot of fun, with beer drinking, antics and some great finish line food. Not sure I will make a repeat appearance at next year's Zane, but I will be back for my sub 9 in some year to come.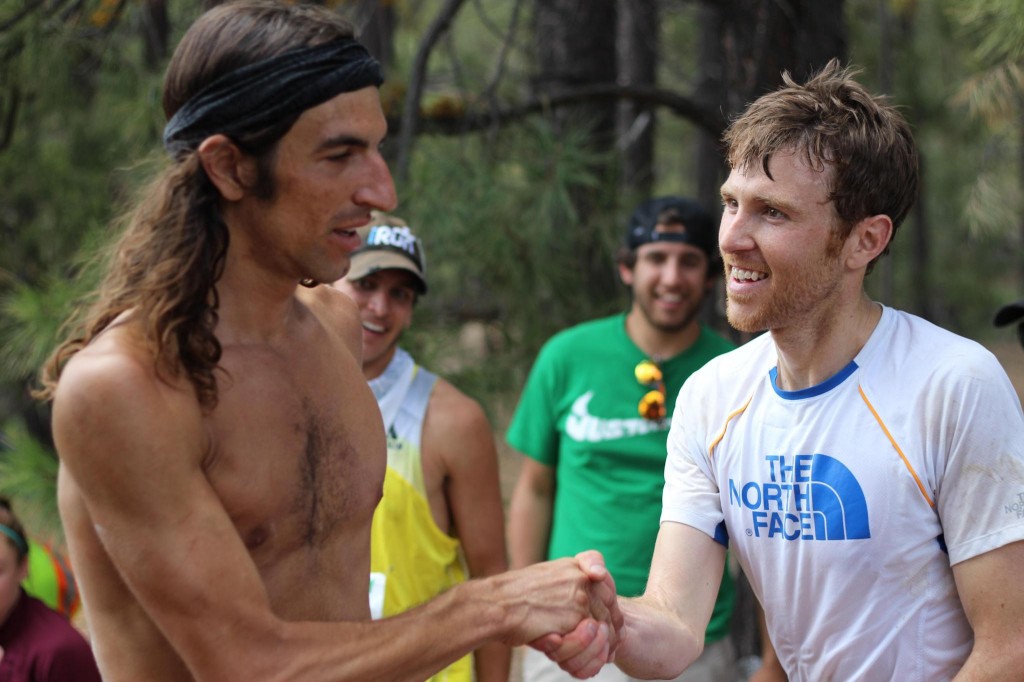 Jamil Coury