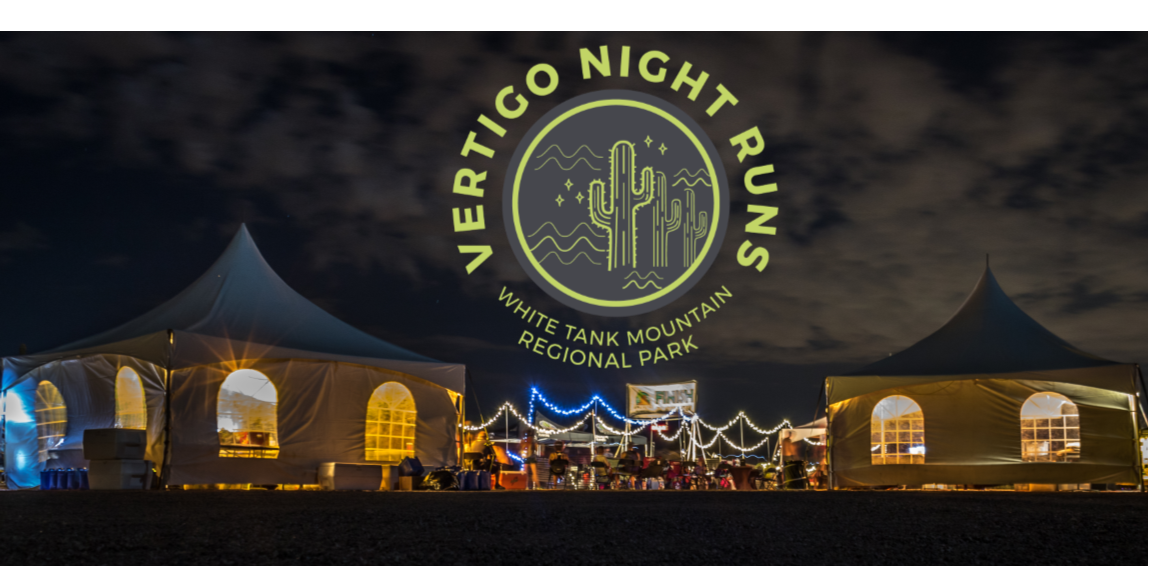 August 15, 2020
52K | 31K | 20K | 10K | 6K
2020 INSOMNIAC Waves: 20K | 10K
White Tank Mountain Regional Park
Waddell, AZ
Experience the beauty of White Tank Mountain Regional Park on an array of fun and fast courses at the Vertigo Night Runs. Our new 6K distance is perfect for first time night trail runners and the challenging 10K course will push those ready for a new distance.
INSOMNIAC Waves: No Full Moon for this year's Vertigo, but don't worry!! We still want you to feel free to run late into the night if your heart desires such an adventure. Vertigo will land on a waning crescent moon this year, so we are offering runners a unique opportunity to run under darker skies and really give the stars above a chance to shine. Do both normal and Insomniac waves and earn a double down medal!
This race is part of the 2020 Insomniac Night Trail Run Series with events all across the state of Arizona. Join us and "Carpe Noctem" to "seize the night"!
Registration for the 2020 event closes on Tuesday, August 11 at Midnight.
Start Times
7:00PM – 52K Start
7:15PM – 31K Start
7:45PM – 20K Start
8:00PM – 10K Start
8:15PM – 6K Start
11:00PM – 20K Insomniac Wave Start
11:30PM – 10K Insomniac Wave Start
Moon Phase
Waning Crescent
16% Illumination
REGISTRATION
Register Now
Entry Fees*
| | | | | |
| --- | --- | --- | --- | --- |
| | Until 4/28 | Until 7/12 | Until 8/11 | Race Week |
| 52 Km | $74.01 | $85.04 | $95.67 | $104.17 |
| 31 Km | $51.02 | $59.53 | $68.03 | $76.54 |
| 20 Km | $44.65 | $53.15 | $63.78 | $72.28 |
| 10 Km | $37.21 | $44.65 | $53.15 | $60.59 |
| Insomniac Wave 20 Km! | $44.65 | $53.15 | $63.78 | $72.28 |
| Insomniac Wave 10 Km! | $37.21 | $44.65 | $53.15 | $58.47 |
*Prices include Tax
*Race Goodie only guaranteed if registered before 8/3.
Registration Options
Online via Ultra Signup
Mail-in Entry
Entrant Limit
400 Runners
Packet Pickup
Friday, August 14 5:00-7:00 PM
Tortoise & Hare Sports
17570 N 75th Ave #605
Glendale, AZ 85308
———————————-
Saturday, August 15
Race Day Pickup 6:00-7:45PM
White Tank Mountain Regional Park
20304 W White Tank Mountain Park Dr.
Waddell, AZ 85355
Online registration closes on 8/11 at 11:59 PM. If spots are available, registration will be available at packet pickup and on race day.
COURSE INFO
Course Summary
Vertigo is our fifth race in the 2019 Insomniac Night Trail Run Series. Choose from distances of 6K, 10K, 20K, 31K and 52K.
All races are held on the 6.5 mile (10.4 kilometer) Sonoran Competitive track loop. The 31K runners will complete 3 loops, while the 52K ultra division will complete 5 loops, passing through the start/finish line after each lap! The Sonoran Loop offers a variety of obstacles to test runners skills. The track consists of steep inclines, swooping turns, technical descents, and rugged terrain.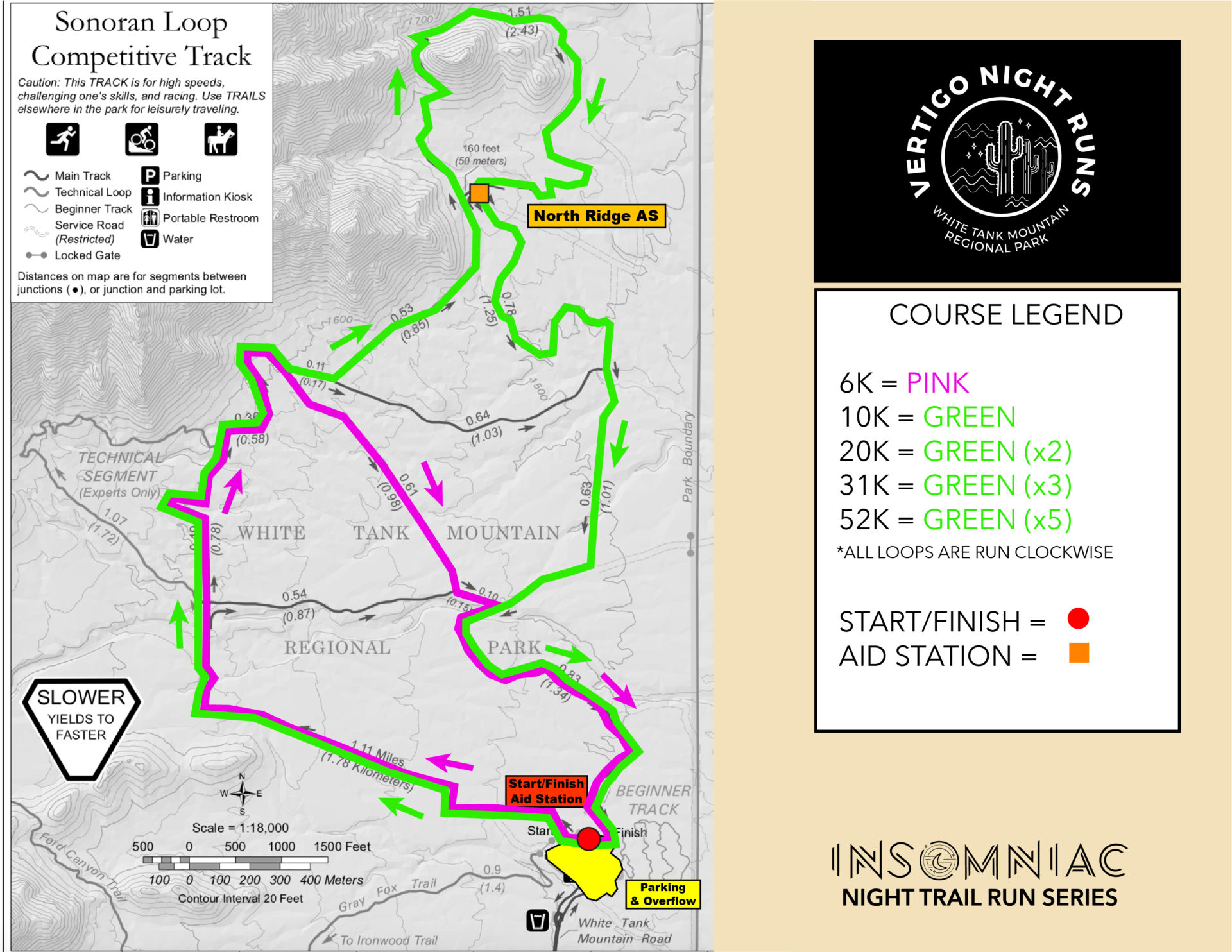 COURSE MAPS & PROFILES
Vertigo 52K – 1760 Feet of Climb / 1760 Feet of Descent

Vertigo 31K – 1197 Feet of Climb / 1197 Feet of Descent

Vertigo 20K – 847 Feet of Climb / 847 Feet of Descent

Vertigo 10K – 501 Feet of Climb / 501 Feet of Descent

Vertigo 6K – 262 Feet of Climb / 262 Feet of Descent

RACE PERKS
Vertigo Branded Race Goodie
Finish Line Photo
Copy of Chip timed race results
Iced coffee bar
Well stocked aid station
Custom Finisher Glass
Double Down Medal Opportunity!
Awards
One of a kind unique artwork awards to top 3 male and female finisher's in each race.
All runner will receive a unique finisher's glass upon completion of the race.
RACE INFORMATION

Race Day Schedule
Please arrive early to park, check in and warm up prior to your run. Restroom facilities are located along the start/finish area.
6:00 PM – Packet pickup / race day registration begin
7:00 PM – 52 Kilometer Start
7:06 PM – Sunset
7:15 PM – 31 Kilometer Start
7:31 PM – End Civil Twilight
7:45 PM – 20 Kilometer Start
8:00 PM – 10 Kilometer Start
8:15 PM – 6 Kilometer Start
11:00 PM – Full Moon 20 Kilometer Start
11:30 PM – Full Moon 10 Kilometer Start
3:00 AM – 52 Km runners must leave on final loop
5:00 AM – Overall cutoff / Race ends
5:15 AM – Begin Civil Twilight
Location
White Tank Mountain Regional Park
Competitive Track
20304 W White Tank Mountain Park Dr.
Waddell, AZ 85355
There will be ample parking at the Competitive Track for everyone to park directly adjacent to the starting line. The main park road dead ends at the Competitive Track.
Parking
Remember the park now charges a $7 park entry fee per vehicle.
Please arrive early and have correct change (cash) available on race evening for a smooth entry process. Carpool to save!
Weather
Expect Hot running conditions at the start with temperatures typically still in the 80's as the night progresses. We will have plenty of ice and water on course to keep you hydrated.
Course Marking
The race courses will be well marked with orange plastic ribbons with black polka dots and reflective medallions. Trail junctions and turns will be well marked with laminated signs. In addition, blue & white checkerboard plastic flagging will be hung to designate non-race or "WRONG WAY" trails. All runners are responsible for understanding the layout of the course. Please familiarize yourself with the course maps on our website prior to race day and/or print a map to bring along with you.
Aid Stations
In addition to a fully stocked aid station at the start/finish line at the Competitive Track Area, there will be one fully stocked remote aid station- North Ridge Aid- located along the Long Loop course that runners will pass by every loop. The Far Side Aid & main aid stations will be stocked with water, ice, electrolyte drinks (Gnarly & Gatorade), salty and sweet snacks, fruit, pb&j, bean rollups, hot food (quesadillas, grilled cheese), and more.
Cutoffs
52 Km Runners must leave for their final Loop by 3:00 AM.
Final cutoff is 5 AM (10 Hours for the 52K).
Crews & Pacers
Pacers are allowed for the 52k starting with the fourth loop (at 41k). Pacers are not allowed for any other distance. Crews are allowed at the race start/finish only.
Drop Bags
We will have an area specified for your personal drop bag at the start/finish area that will allow for easy and quick access.
Camping
Camping is permitted in the competitive track parking lot near the start/finish. Camping permit (doesn't include vehicle park entry fee) is $15 per night and available at park entry booth. All sites in the campground may be reserved online at maricopacountyparks.org
Trail Running and Trash
Please respect the trails and the beauty of the desert by disposing of any trash at one of our aid stations.
Back in 2019: All Insomniac Night trail runs will be CUPLESS. Bring your own or Aravaipa branded reusable cups will be available for purchase!
Trail Etiquette
Remember to always remain on designed trails, no short cutting.
If you decide to use headphones, please be respectful of runners behind you attempting to pass. Also, remove ear buds as you approach aid stations or a road crossing.
This course includes some legit single track. If you are fast and attempting to pass, please alert the runner in front of you before flying past them. Likewise, if you hear a runner approaching you from behind, attempt to find a spot to allow the runner to pass.
As a general rule, when passing a runner, announce, "on your left."
Uphill runners/hikers have the right of way to downhill runners. Remain in control as you descend and respect the other runners.
Everyone is after the same goal here so let's be respectful of each other's races and have fun. Please.
Pets
For the safety of all runners, no pets are allowed on-course at the night runs. Any pets at the race must be on a leash at all times, respect park rules, and be supervised.
Volunteers
If you would like to join our volunteer team, we are looking for help with event setup, aid station, and event breakdown. Volunteer perks include a piece of Aravaipa merchandise or race goody and Aravaipa Race Credits. You can see our current opportunities and signup here: Vertigo Night Runs Volunteer Form.
Vertigo Weekend!

Enjoy mountain biking just as much as trail running or looking for something new to try? Join us for the Vertigo Night Trail Rides the night before your run. 7 mile, 3 hour, and 6 hour solo options, as well as a 6 hour Duo! See the trails whip past at a slightly faster pace and increase your stoke!.
Participate in both the ride and run in the same weekend and earn a unique award.
Check out the Aravaipa Rides website for more information about these events and our registration links.
Results
2019 | Results
2018 | Results
2017 | 52 Km | 31 Km | 10 Km
2016 | 52 Km | 31 Km | 10 Km
2015 | 52 Km | 31 Km | 10 Km
2014 | 63 Km | 31 Km | 10 Km
2013 | 63 Km | 31 Km | 10 Km
Course Records
52 Km | Male – David Roberts – 4:41:49 ('16) | Female – Deserae Clarke – 5:15:52 ('18)
31 Km | Male – Alvin Begay – 2:27:54 ('18) | Female – Lauren Coury – 2:31:50 ('17)
20 Km | Male – Jeremiah Fitzgerald – 1:33:31 ('19) | Female – Julie Henk – 2:01:50 ('18)
10 Km | Male – David Roberts – 41:27 ('19) | Female – Taylor Nowlin – 45:55 ('19)
6 Km | Male – Kaleb Goltiao – 25:25 ('19) | Female – Elena Scaccia – 30:30 ('18)
Old Course
63 Km | Male – Cristian Rios – 6:07:14 ('13) | Female – Jennifer Thompson – 7:35:50 ('13)
PHOTOGRAPHY
We'll see you on the trails!