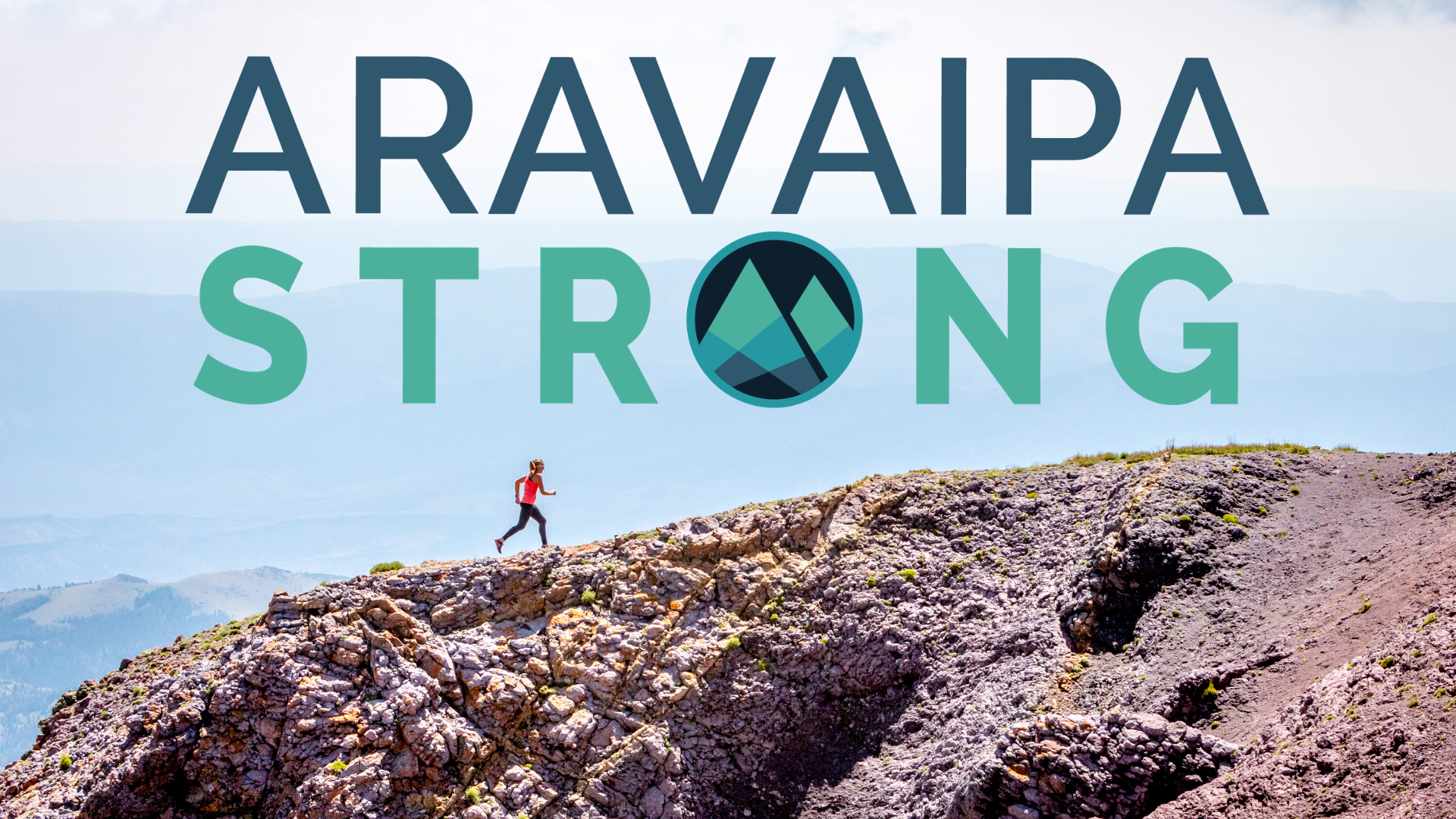 Thank You For Running STRONG!
Watch the Race Recap Below!
---
---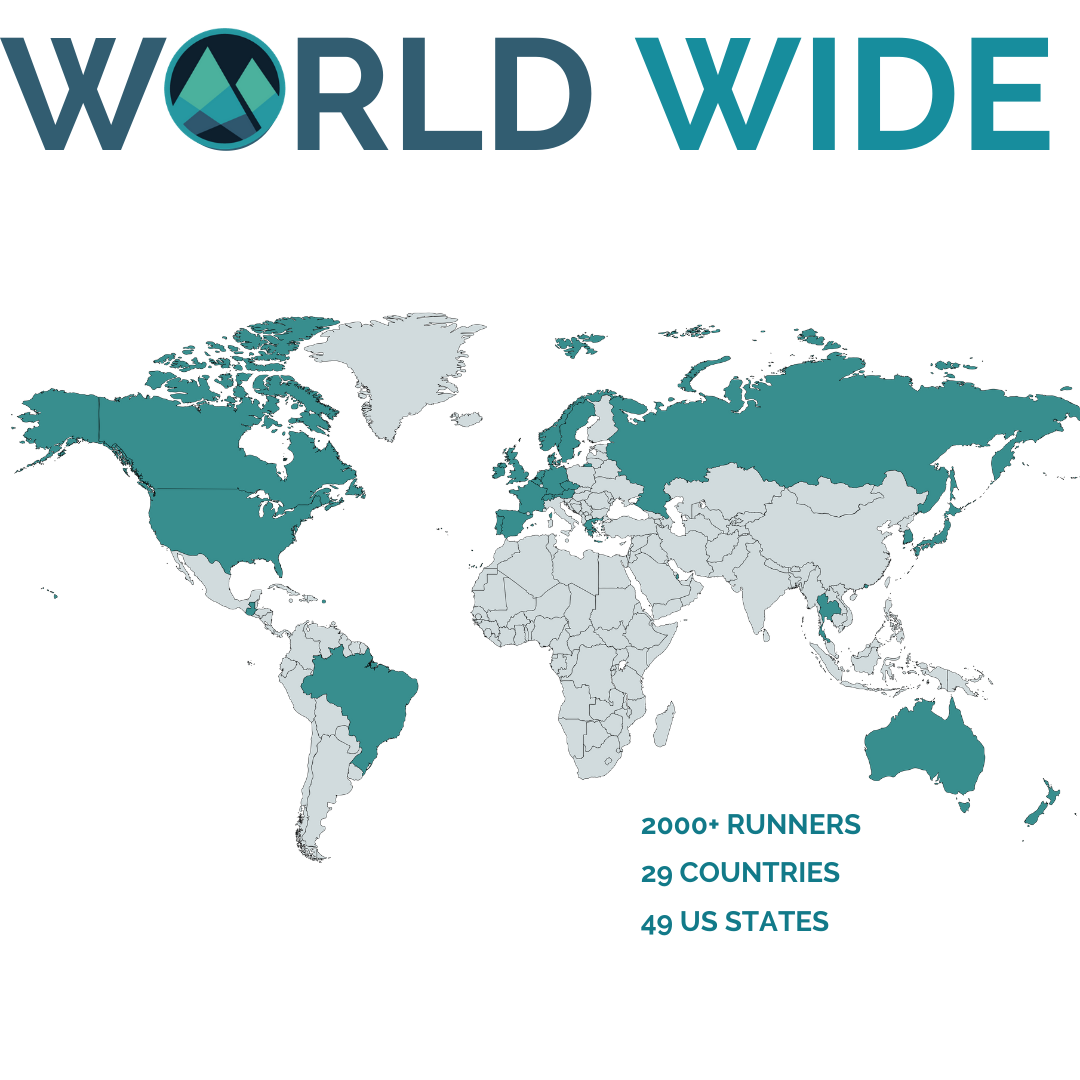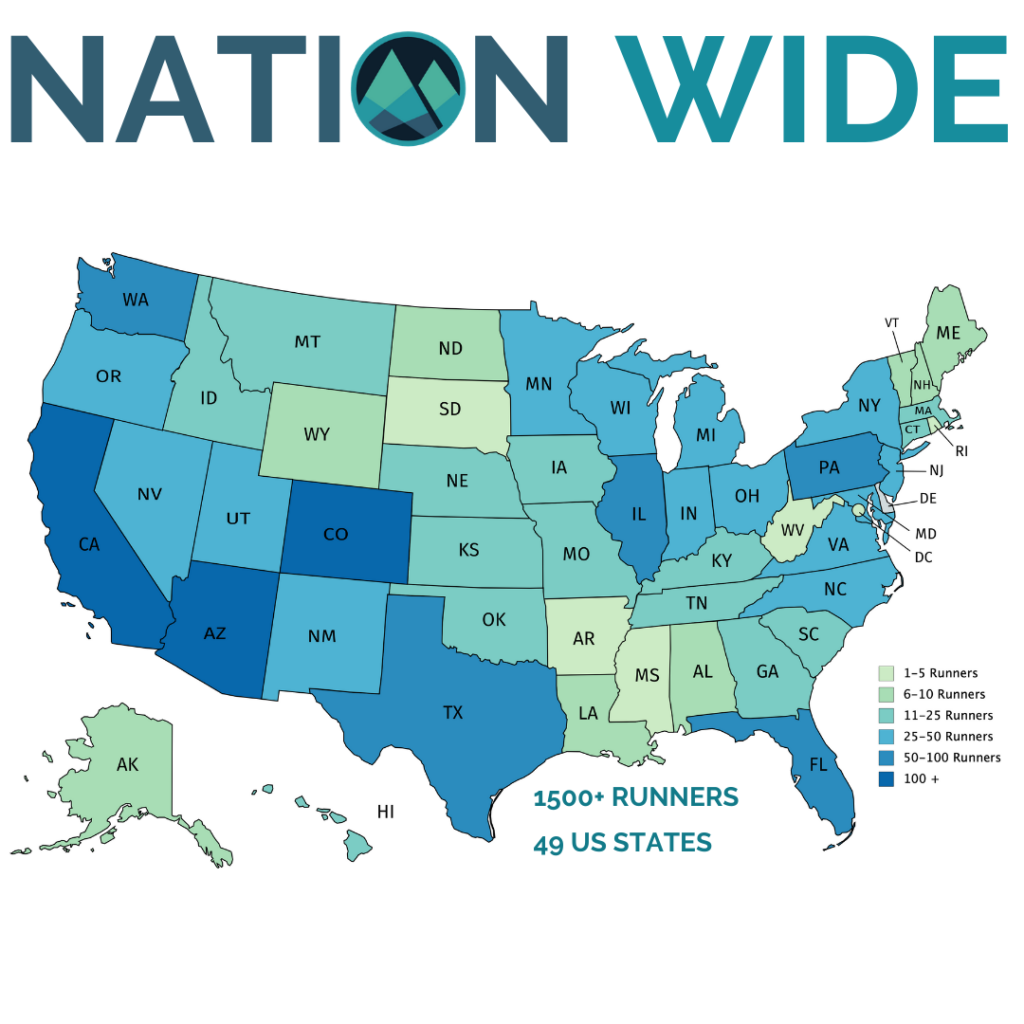 Running Strong Around The World!
This event took place April 17-26, 2020 
---
---
The Aravaipa Strong Virtual Race is a way for the Aravaipa Community around the world to come together as one. Join a community of runners and experience an adventure made possible through online social sharing. Take photos, make videos, conquer mountains, and share your stories with us and with each other during a time of social distancing.
Aravaipa Strong Virtual Race is in direct response to the COVID-19 pandemic. The wide spread pandemic has resulted in multiple cancelations and postponements of our events that have weighed heavy on our small company.
Coming together as a team we want to show each other and our community that we are still dedicated to creating events that are founded in fun, wellness, and love of the outdoors. #AravaipaStrong
Through your participation you will be directly supporting our teams at Aravaipa Running and Aravaipa Artworx.
In addition, we also want to reach further and  help others on a more global scale. With every entry to the virtual race, 10% of proceeds will be donated to the COVID-19 Solidarity Response Fund. Donations here contribute to the WHO-led effort to respond to the pandemic. The United Nations Foundation and the Swiss Philanthropy Foundation have created the solidarity fund to support WHO and partners in a massive effort to help countries prevent, detect, and manage the novel coronavirus – particularly those where the needs are the greatest. For more information or to make your own individual donation, please visit their website. 
---
A Virtual Race is like a traditional race but it takes place in a location and time of your choice. You can walk, jog, or run wherever you may be, and at any time during race week for your chosen distance.
Ever wonder if your go-to training grounds would make a good race? Or maybe you want to explore a new trail? Show us! This is where you get to be creative. Design a loop course around your neighborhood or crush miles of mountain repeats! Run from road to trail, or power up that poor man's treadmill (trash bag and soap)! Wherever and however you want to run the distance, be creative and have fun!
Just like registering for a traditional race, you choose the distance that best suits you. Aiming for that first 5K or looking to take the next step to to ultra? Choose your preferred distance below!
5 KM

10 KM

Half-Marathon

Marathon

50 KM

50 Mile

100 Mile
You can walk, run, skip, hike, shuffle, or sprint your distance; whatever is comfortable for you. As long as it's by foot, you can travel your course at your pace. Take pictures along the way!
FAQ: "Can I take more than one day to complete my distance?"
You can! Example: if you want to sign up for a 100 Mile distance and break it down to 10 miles a day, you can do that! However, the clock starts when you start running the first day and ends upon completion of the distance. So if you run 50 miles in five days--your results reflects total time rather than 'total moving time.'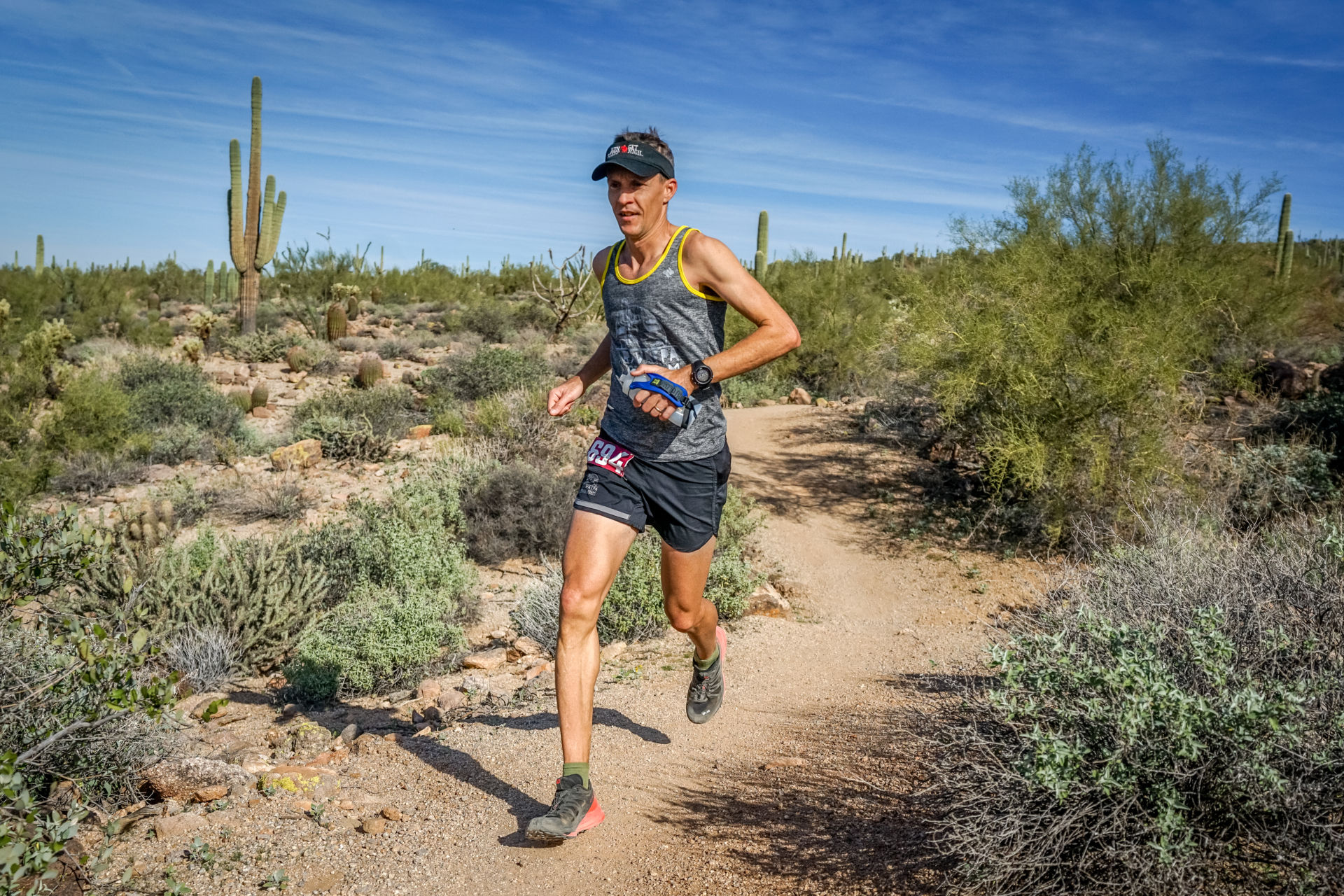 ---
EVENT DATE: April 17-26, 2020
Join our team to run the Aravaipa Strong Virtual Race any time between April 17-26. This allows runners and families flexibility to run when it is most convenient for them. We will share runner posts and stories on our main social media pages throughout the week! We will continue to accept entries through the end of the event, but race packets aren't guaranteed to arrive prior to race day if order is placed after April 5, 2020.
Run "together" as a community
Wherever you choose to run your race, make sure to track it! You can track your run by using a variety of apps on your smartphone like Strava or MapMyRun.  You can also use a GPS watch, or take a photo of a treadmill monitor. 
Posted results to our website
Podium Awards for each distance
Additional awards for creativity
---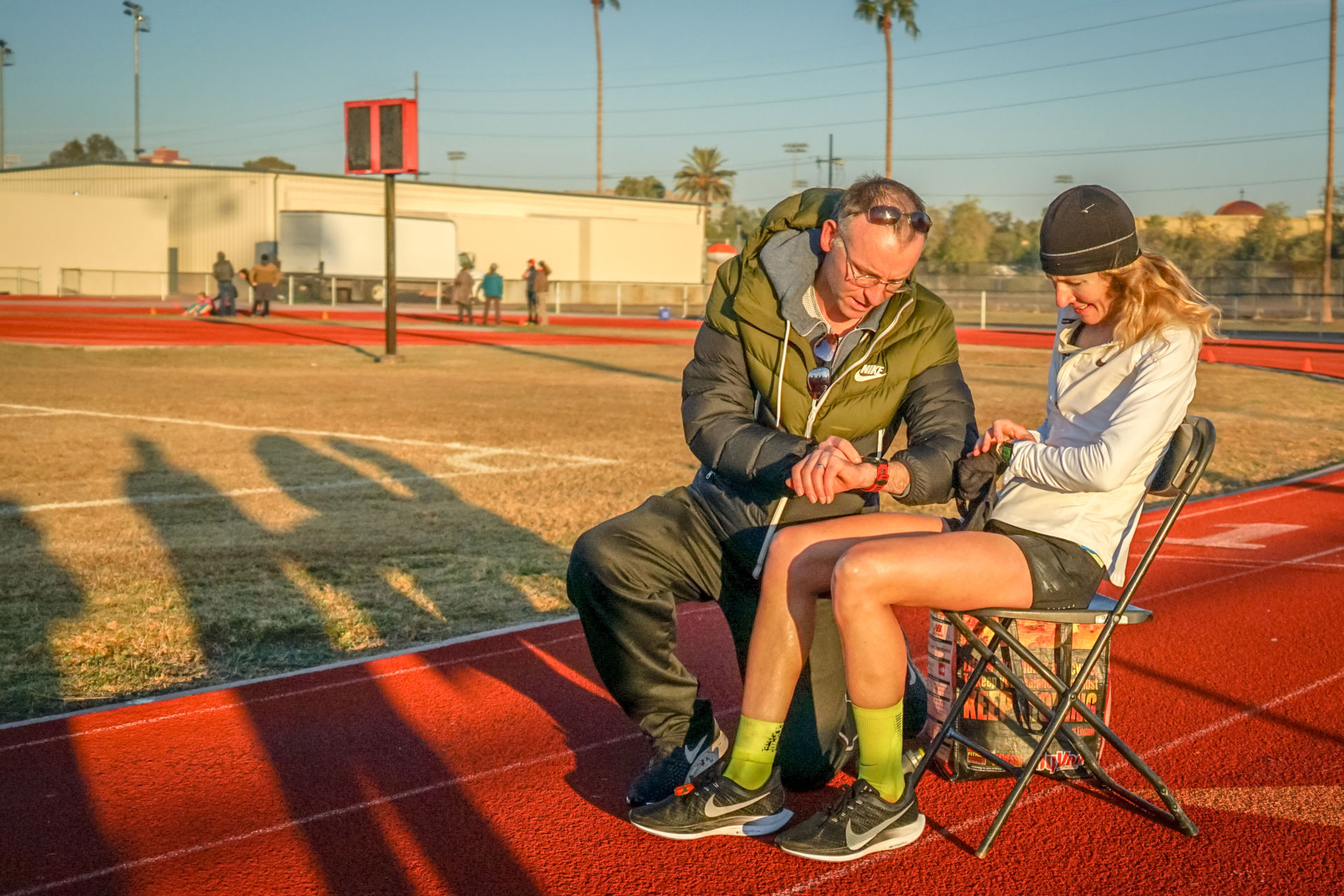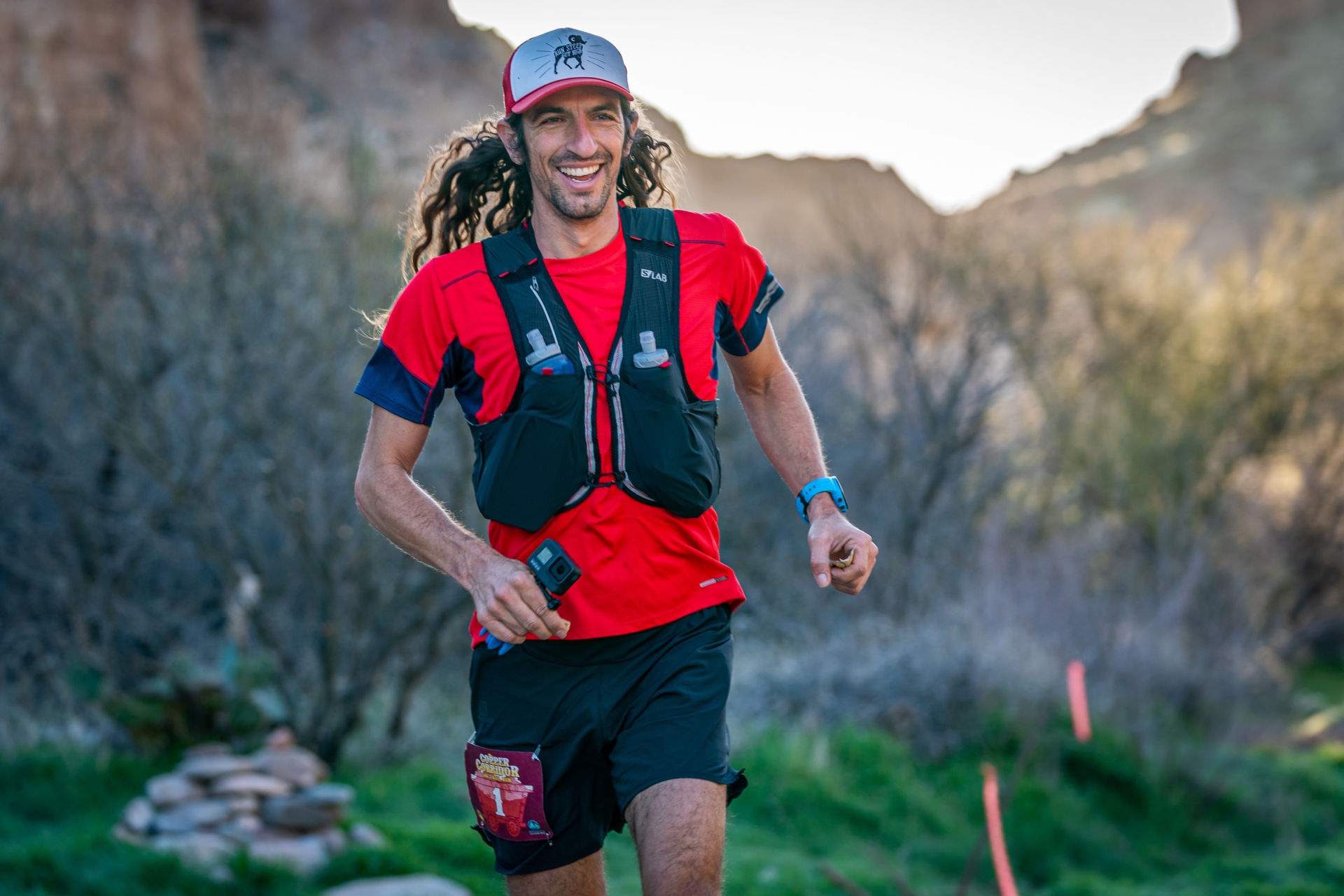 ---
Social networking FTW! When you complete your run, email us your GPS track or photo of your stats. We'll post your result online and send you all the virtual hugs, high-fives and kudos that go along with crossing that finish line! 
Plus share your run adventure with  us via social media by tagging us @AravaipaRunning #AravaipaStrong We'll repost your stories and let others applaud your efforts too!
Runners will have until April 26th to submit their results via email. 
YOU DID THE THING!
Feel free to do a dance that borders on embarrassingly fantastic and celebrate YOU! Our community is a collection of incredible people who lift each other up, dust each other off, and remind us all to keep going. Celebrate each other and our ability to move forward.
---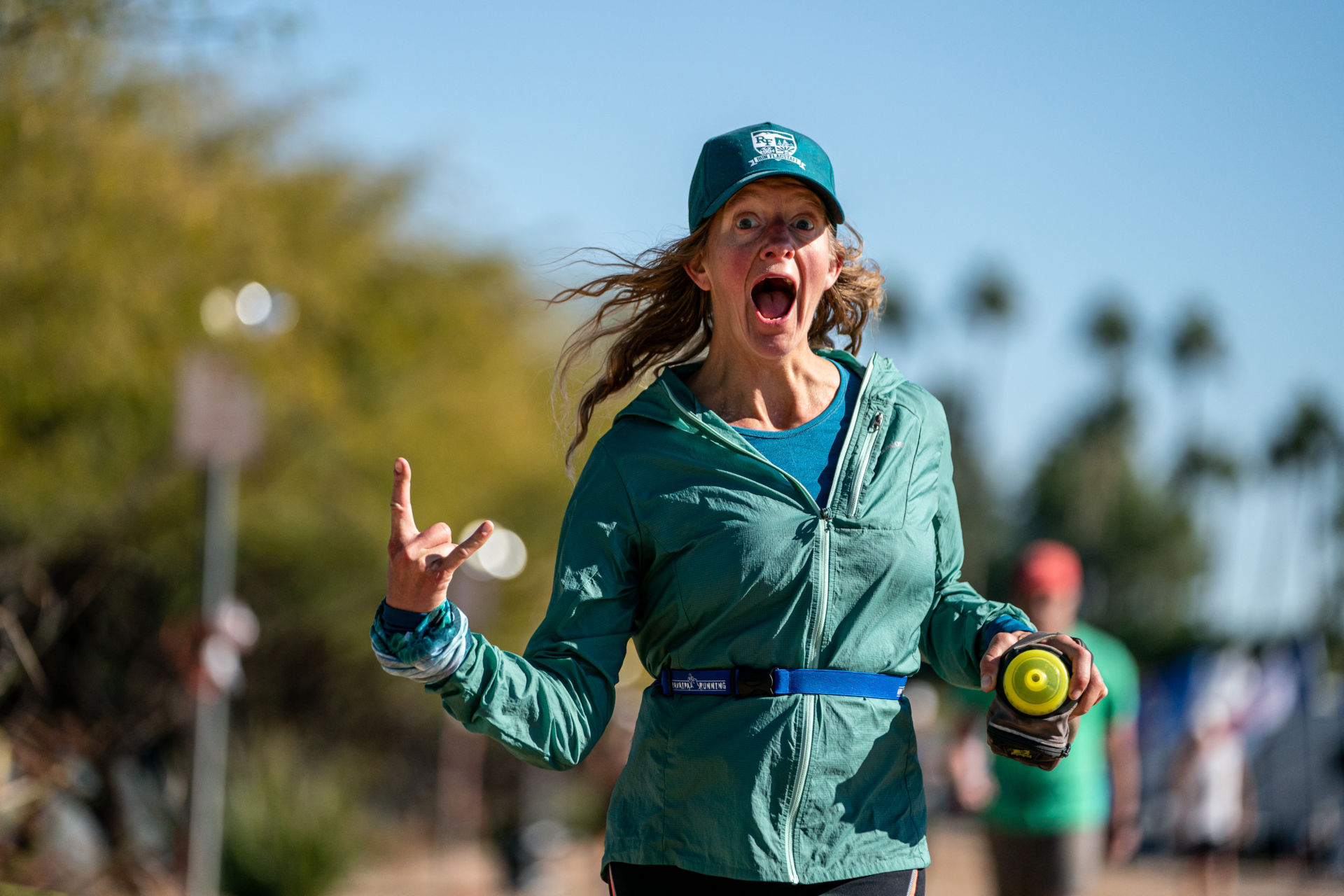 ---
All participants in the Aravaipa Strong Virtual Race will receive a race packet via mail. Runners will receive a race t-shirt, personalized runner bib (name will be printed on bib if ordered before March 27), sticker and custom Aravaipa Artworx finisher Medal. Registration includes all domestic shipping fees. Additional fees for international shipping.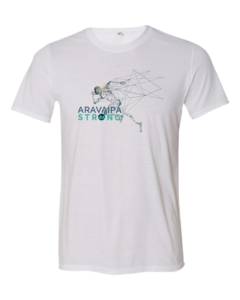 Race T-Shirt
---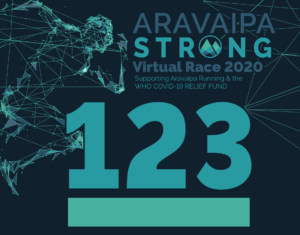 Race Bib
---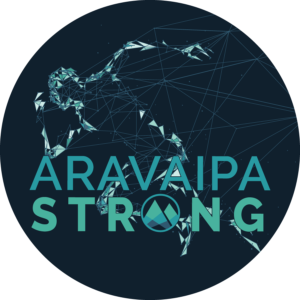 ---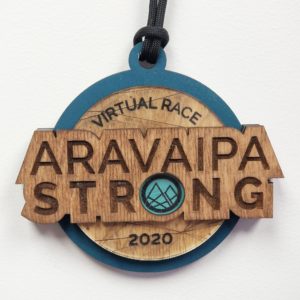 Finisher Medal
---
---
Additional goodies are available for purchase as add-ons to your race packet. These items are designed and created by our Aravaipa Artworx team and purchases of these items directly support our staff.
Shop the Aravaipa Strong Store
---
Item
Price
Virtual Race (Any Distance)
$49*
Upgraded Premium Award
$10
Aravaipa Strong Buckle
$20
Race Hoody
$50
Race Hat
$25
Singlet
$20
Extra Race T-Shirt
$20
Artworx Bottle Opener
$10
Bumper Sticker
$10
Die Cut 5x5 Sticker
$6
*Includes domestic shipping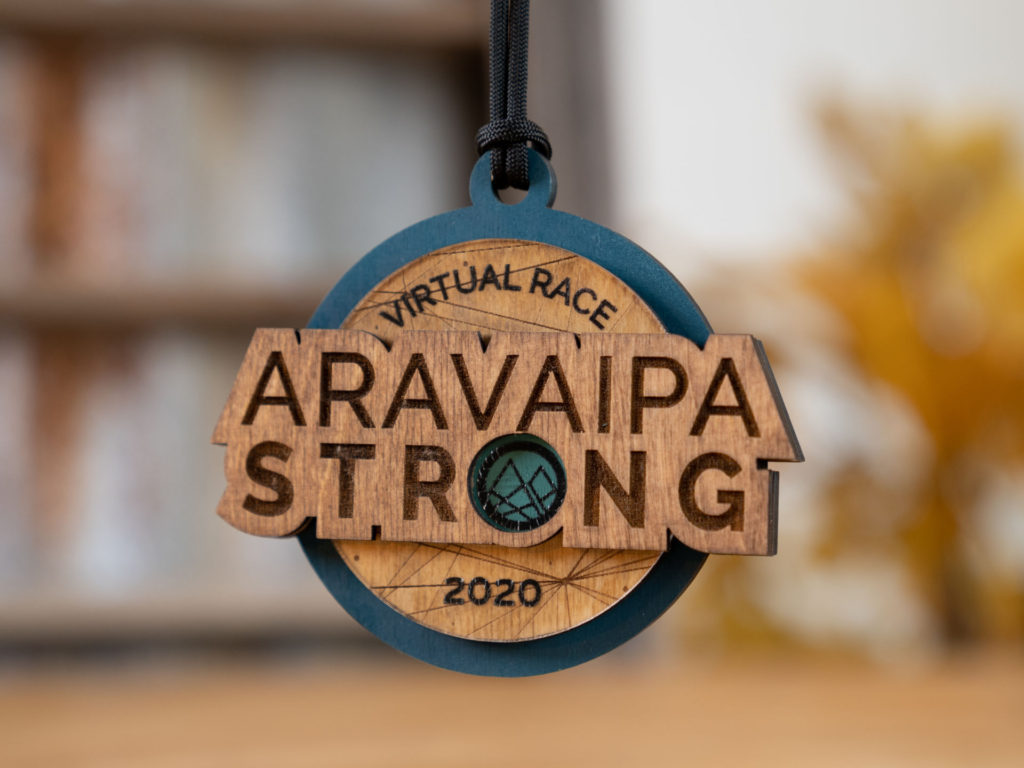 All participants in the Aravaipa Strong Virtual Race will receive a custom finisher medal designed and created by our Aravaipa Artworx Team.
---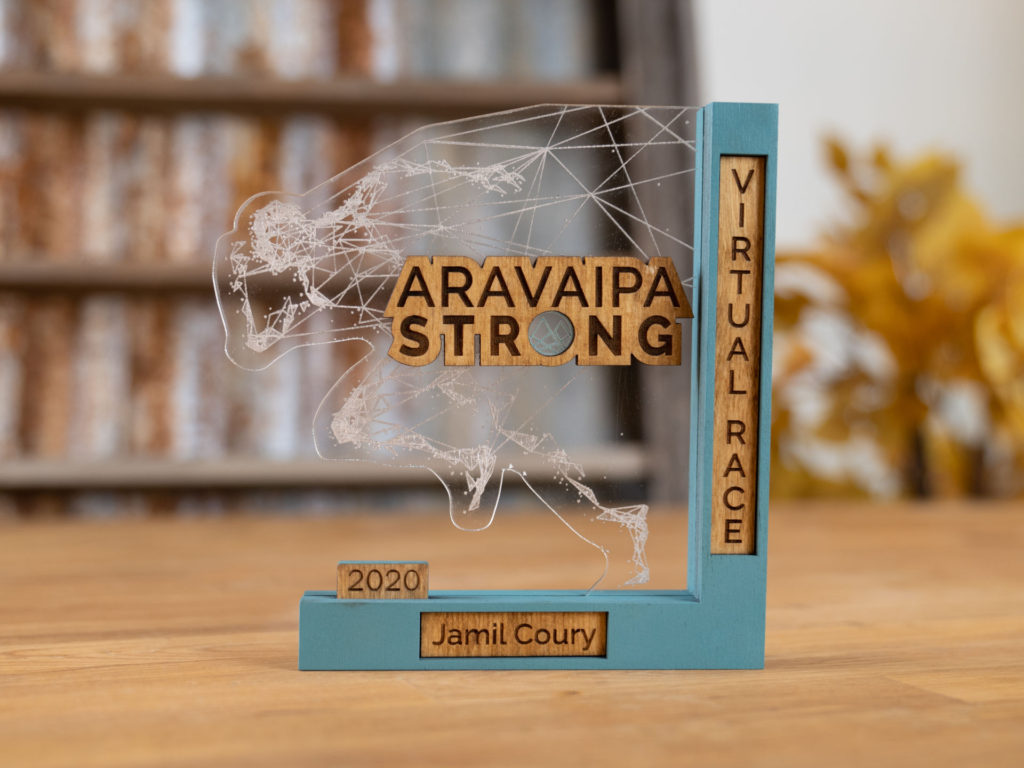 Runners have the option to upgrade to a premium finisher award that is larger and designed to be displayed on a shelf or table top, replacing the base packet finisher medal.
---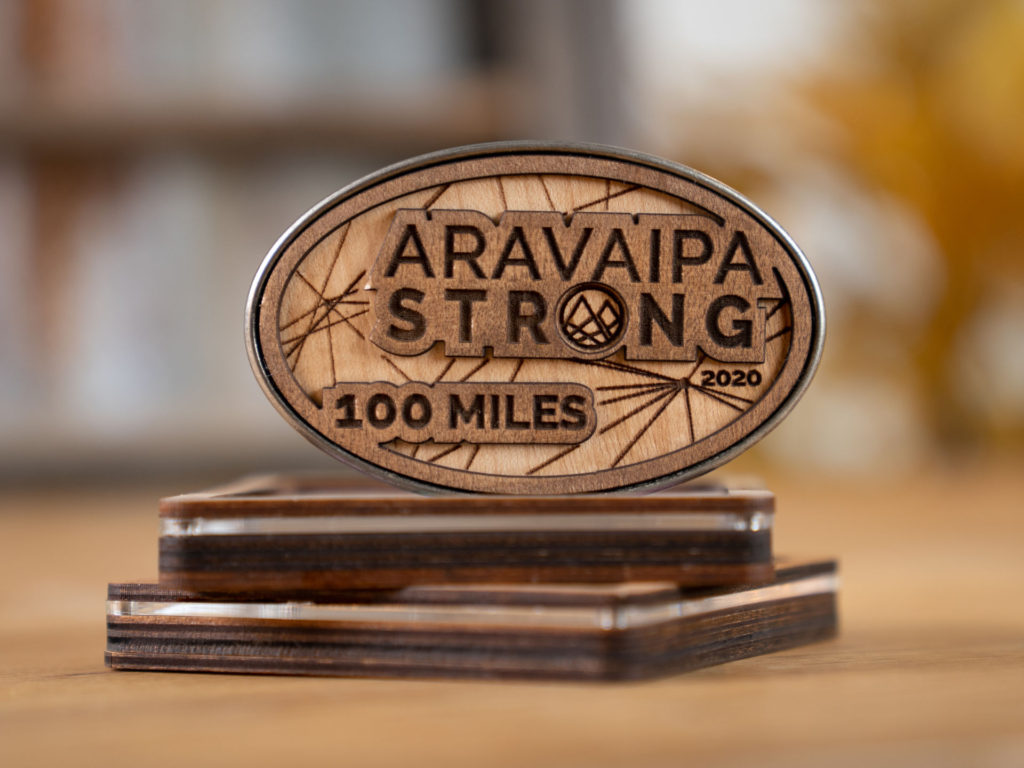 An Artworx Special Edition! Commemorate your run with a shiny new buckle! How far will you run to earn this beauty?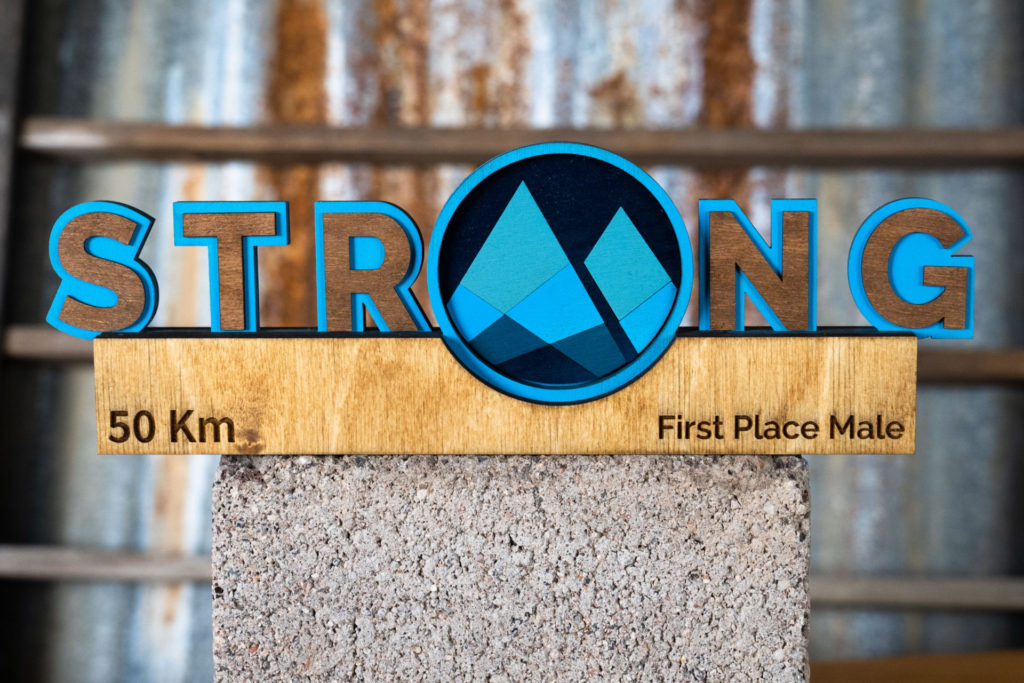 The top three men and top three women in each distance will also be mailed podium awards designed and created by Aravaipa Artworx.
---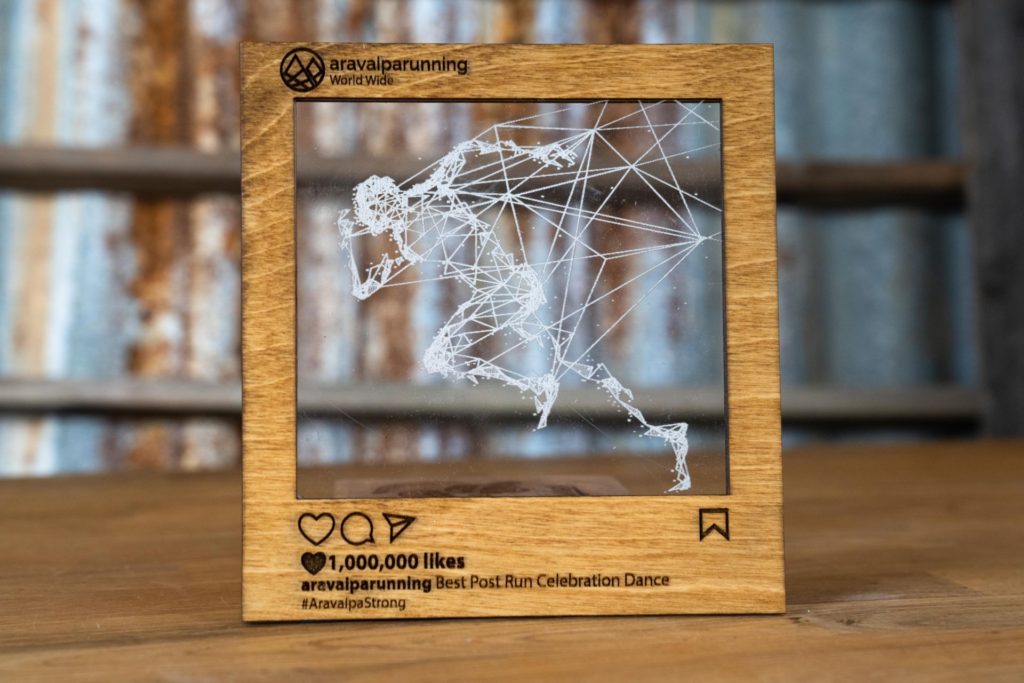 PLUS for a little added fun, try to claim one of these 'extra' awards based on individual creativity! Submissions will be voted on by our Aravaipa Team!
---
Our Aravaipa Artworx creative director Rebecca walks us through the process of the Aravaipa Strong awards.
---
Aravaipa Race Director Jubilee Paige AKA "Jubes" shares some details about how to earn the extra fun awards!
---