Saturday, April 8, 2017
88K | 57K | 31K | 10K
Prescott Circle Trail
Prescott, AZ
5:00 AM – 88 Km Start
7:00 AM – 57 Km Start
8:00 AM – 31 Km Start
9:30 AM – 10 Km Start
UTMB Points *
| | |
| --- | --- |
| 88K | 4 Points |
| 57K | 3 Points |
| 31K | 1 Point |
*These points will be applied for the 2017 UTMB
Finish Line Location
3101 Watson Lake Park
Prescott, AZ 86301
Course Summary
Welcome to the 2nd annual Whiskey Basin Trail Runs! These point to point endurance foot races will take place along the Prescott Circle Trail in beautiful Prescott, Arizona. Featuring a perfect mix of high desert trails, pines and junipers this route takes you completely around the City of Prescott on some of their best trails all while never being more than a few miles from the heart of downtown and Whiskey Row. Reserve a campsite right at the 88K start/finish line for Friday and Saturday nights of the event in scenic Watson Lake Park and join us for a post race bar crawl on the infamous Whiskey Row! The 10K course will also start and finish at Watson Lake Park with an out and back section on the Peavine and Watson Lake Trails taking in some of the beautiful Granite Dells.
88K
Elevation Gain: 5,978 Feet | 1,822 Meters
57K
Elevation Gain: 4,285 Feet | 1,306 Meters
31K
Elevation Gain: 883 Feet | 269 Meters
Weather
Expect beautiful race day conditions with an average high of 67 degrees and average low of 37 degrees. Forecast for Prescott, AZ
Bib/Shirt Pickup
Friday, April 7, 2017
Packet Pickup 3:00-6:00PM
The Hike Shack
104 N. Montezuma
Prescott, AZ 86301
(928) 443-8565
Saturday, April 8, 2017- Race Day Pickup
4:00-9:00AM
Watson Lake Park
Aid Stations
Aid stations every 4 to 9 miles including water, electrolyte drink, sweet snacks, salty snacks, and fruit. Please plan to run with at least one bottle of water. The 10K course will have one aid station that runners hit twice (approximately mile 2 and mile 4).
88K
Mileage
57K
31K
10K
Notes
Cut Offs
Watson Lake Start
0.0
–
–
–
88K Start
–
Pioneer Aid
5.8
–
–
–
Crew
–
Williamson Valley Aid
9.8
–
–
–
No Crew
–
Iron Springs Aid
16.4
–
–
–
Drop Bag, No Crew
10:00 AM
Thumb Butte Day Use
–
0.0
–
–
57K Start
–
Copper Basin Aid
25.2
6.2
–
–
Drop Bag (88K only), No Crew
12:30 PM
White Spar Aid
31.1
12.1
–
–
No Crew
2:15 PM
Goldwater Lake
–
–
0.0
–
31K Start
–
Goldwater Aid
35.5
16.5
0.5
–
Drop Bag, Crew (hike-in)
–
Badger Mountain Aid
44.9
25.9
9.9
–
No Crew
6:30 PM
Sundog Aid
48.5
29.5
13.9
–
Drop Bag, No Crew
–
Watson Lake Finish
54.4
35.4
19.4
–
Finish
9:00 PM
Race Perks
Gender specific cut race shirt
Chip timed race results displayed at finish line
Scenic and challenging courses
Well stocked aid stations every 3.6 to 12 miles
Post race food & socializing
Finisher Medal 57K, 31K, 10K
Finisher Buckle for 88K
High-Altitude Training: One of our Awesome Sponsors 
The High-Altitude Training Institute offers 3-day, 7-day and 14-day running camps in the beautiful trails of Northern Arizona. Based in Prescott, our team of experienced trainers will guide you through the most breathtaking landscapes of Prescott, Flagstaff, and Sedona. Best of all, you take advantage of these amenities while capitalizing on the benefits of high-altitude acclimatization in the HATI's running camp! With our additional coaching services and custom training plans, our goal is to help you reach your potential. High-Altitude Training will be sponsoring some training runs on the course leading up to the race. Follow our Whiskey Man Series Facebook page to stay up to date on those training runs.
Crews & Pacers
Crews are welcome to support runners at the finish line, Pioneer Park and Goldwater Lake. Goldwater Lake has a $2 parking charge and will require that crew hike a 1/2 mile to meet runners at the aid station.
Pacers are allowed for the 88K only starting at Goldwater Lake aid station (mile 35.5). Pacers will need to pay $2 to park at Goldwater Lake and hike a 1/2 mile to meet their runner on the course.
Awards
Awards to the top 3 male & female finishers at each distance.
All finishers will receive a finisher award.
Volunteer Helpers
If you would like to join our volunteer team, we are looking for help with event setup, aid station captains, aid station helpers, timing, photography, videography, social media, course sweep and event breakdown. Volunteer perks include a piece of Aravaipa merchandise or race goody and Aravaipa Race Credits. You can see our current opportunities and sign up here: Whiskey Basin Volunteer Form
REGISTRATION
Entry Fees
| | | | | |
| --- | --- | --- | --- | --- |
| | Until 1/6 | Until 3/10 | Until 4/4 | After 4/4 |
| 88KM | $151.69 | $157.10 | $162.52 | $184.19 |
| 57KM | $108.35 | $113.77 | $119.19 | $130.02 |
| 31KM | $75.84 | $81.26 | $86.68 | $92.09 |
| 10KM | $43.34 | $48.76 | $54.18 | $65.01 |
*Prices include applicable sales tax based upon location (8.35% Prescott, AZ)
Save $10 with our no-shirt option! Shirts guaranteed on race day if ordered by 3/10, otherwise shirts will be sold on race day if available.
Entrant Limit
500 Runners Total
Registration Options
Online registration closes on 4/4 at 11:59PM. Registration will be available after online registration closes at all packet pickup locations and race day as long as we have not reached our capacity.
Cut-Offs
10:00 AM – Iron Springs Aid Cut-off
12:30 PM – Copper Basin Aid Cut-off
2:15 PM – White Spar Aid Cut-off
6:30 PM – Badger Mountain Aid Cut-off
9:00 PM – Overall Cut-off at Watson Lake
**Please reference the aid station chart above for distances for each race at these aid stations**
COURSE INFORMATION
Courses
Course Map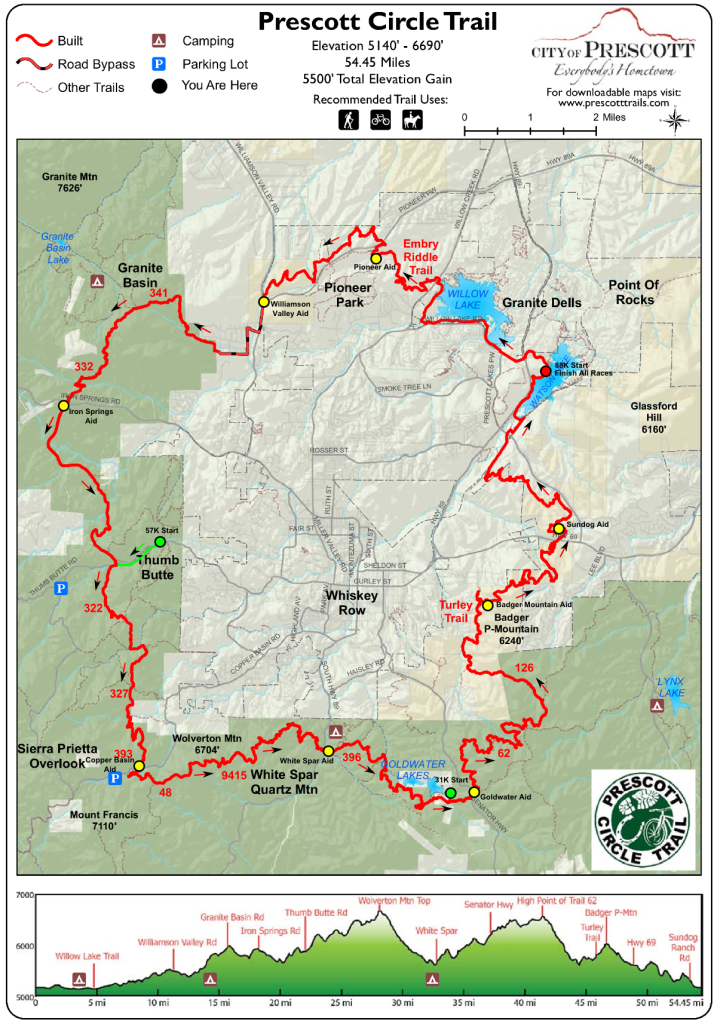 Map of the entire Prescott Circle Trail
Elevation Profile

GPS Files 
*Note on GPX & KML files: Right click and select "Save link as…" to download files.
GPX files may be opened by downloading the demo version of TopoFusion for free. KML files may be opened in Google Earth.
RESULTS
Race Day Tracking
Live updates will be available race day on ultracast.
Course Records
88K | Male – 8:23:51 – Catlow Shipek ('17) | Female – 10:19:27 – Adela Salt ('17)
57K | Male – 4:59:30 – Anthony Kunkel ('17) | Female – 6:46:33 – Lora Liu ('17)
31K | Male – 2:17:46 – Ruairi Moynihan ('17) | Female – 2:42:42 – Kelly Wolf ('16)
10K | Male – 41:55 – Matthew Muncha ('16) | Female – 42:25 – Sara Trane ('17)
Results
2017 | 88KM | 57KM | 31KM | 10KM
2016 | 88KM | 57KM | 31KM | 10KM
PHOTOS
To capture both your pain and euphoria along the way there will be professional photographers out on the course. With SweetM Images you get photographers who are also runners and understand what your race photos mean to you!
RACE DAY INFORMATION
Race Day Schedule
Please arrive early to park, check in and warm up prior to your run.
Portable restroom facilities will be located at the start line.
Timeline
4:00 AM – Packet pickup / race day registration begin at Watson Lake
5:00 AM – 88K Start
5:30 AM – Begin Civil Twilight
5:56 AM – Sunrise
6:00 AM – 57K Shuttle Bus leaves Watson Lake
7:00 AM – 57K Start at Thumb Butte Day Use Recreation Area
7:00 AM – 31K Shuttle Bus leaves Watson Lake
8:00 AM – 31K Start at Goldwater Lake
9:00 PM – Overall cut-off at Watson Lake / Races End
9:30 AM – 10K Start at Watson Lake
10:00 PM – Night out at Whiskey Row in downtown Prescott!
Park Entry Fee
Remember the park charges a $3 park entry fee per vehicle. Please arrive early and have correct change available for a smooth entry process. Carpool to save! (This does not apply to people who paid for camping – your parking is included). This fee goes directly back to the park system to help maintain the city parks.
Trail Running & Trash
Please respect the trails and the beauty of the forest by disposing of any trash at one of our aid stations.
Race Timing
We will be utilizing a chip timing system at this event to record your time at the finish. You will be provided with a timing chip attached to the back side of your race bib. It is important to not crease, or fold the the timing chip to ensure your finish time is read. Additionally, you will be required to check in to all aid stations by prominently displaying your bib number for volunteers to record. If you drop from the race you must notify race management.
Drop Bags
A drop bag will be allowed at Iron Springs Aid, Copper Basin Aid, Goldwater Aid and Sundog Aid.
Aid Station Helpers
We cannot produce these trail runs without the help of our amazing volunteer team. You can even help and run on race day. If you would like to join our volunteer team, we are looking for help with event setup, aid station captains, aid station helpers, timing, photography, videography, social media and event breakdown. Volunteer perks include a piece of Aravaipa merchandise or race goody and Aravaipa Race Credits. You can see our current opportunities and sign up here: Whiskey Basin Volunteer Form
Course Markings
The race courses will be well marked with orange plastic ribbons with black polka dots. Trail junctions and turns will be well marked with colored laminated signs. Please pay attention to these signs at each junction as there are multiple race distances and race courses! In addition, blue & white checkerboard plastic flagging will be hung to designate non-race or "WRONG WAY" trails. All runners are responsible for understanding the layout of the courses. Please familiarize yourself with the course maps on our website prior to race day and/or print a map to bring along with you.
Parking / Start Area
The finish line for all races and parking for shuttle buses will be at Watson Lake Park.  88K runners will also start at Watson Lake Park. For those running the 57K or 31K, there will be a shuttle bus available or you can be dropped off by a crew member. Vehicles are not allowed for the duration of the race at either Thumb Butte Day Use area (57K Start) or Goldwater Lake (31K Start).
Hotel
N/A
Camping
We are excited to offer camping options at Watson Lake for the Whiskey Basin Trail Runs. Watson Lake Park has some amazing amenities which should make for a really great weekend including:
Two boat launches
Picnic ramadas
Restrooms
Showers for campers
Horseshoe pits
Barbecue grills
Playground equipment
Frisbee golf course
Picnic tables
Fishing (license required)
The camping area opens Friday, April 7 and we have reserved spaces through Sunday, April 9. A camping site consists of one RV and one tent or two camping tents and cost is $35 for the weekend. These are all numbered and will be assigned once you purchase a camping site through race registration. There are a total of 35 camping sites and will be on a first come first serve basis through the registration process. We will send out campsite assignments after online registration closes (emails will go out the Wednesday before the race) and will have further details for you at that time.
Directions to Watson Lake Park
Address
3101 Watson Lake Road
Prescott, AZ 86301