Saturday, February 3, 2018
50K | 35K | 22K | 12K
Cave Creek Regional Park, Cave Creek, AZ
50 Km – 7:00AM
35 Km – 7:30AM
22 Km – 8:00AM
12 Km – 8:30AM
Elephant Mountain is the sixth race in the Desert Runner Trail Series
Location
Group picnic area (Ramadas 2 & 3) within Cave Creek Regional Park, Cave Creek, AZ.
Course Summary
The 50K and 35K courses feature a trip out of Cave Creek Regional Park along the Maricopa Trail to Spur Cross Ranch and back, finishing with a loop through Cave Creek Regional Park. The 12K course stays within Cave Creek Regional Park and features the Go John and new Quartz trail.
Weather
Forecast for Cave Creek, AZ
Bib/Shirt Pickup
Thursday, February 1
Packet Pickup 5:00-7:00PM
Group run 5:30-6:30PM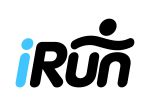 iRun Phoenix
4730 E. Indian School Rd. #125
Phoenix, AZ 85018
(602) 368-5330
-or-
Friday, February 2
Packet Pickup 5:00-7:00PM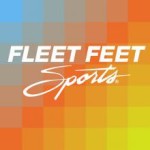 Fleet Feet Scottsdale
18261 N Pima Road #E135
Scottsdale, AZ 85255
(490) 907-6699
-or-
Saturday, February 3
Race Day Pickup 6:00-8:15AM
Cave Creek Regional Park
Aid Stations
Aid stations every 2-5 miles including water, electrolyte drink, sweet snacks, salty snacks, and fruit. Please plan to run with at least one bottle of water. Aid Station Helper Sign-Up Form

Race Perks
Gender specific race shirt (Men's & Women's styles)
Chip timed race results displayed at finish line
Scenic and challenging course on desert trails
Well stocked aid stations every few miles
Post race food (bagels, fresh fruit) & socializing
NEW: Cupless Events
In an effort to continually lessen our race footprint, we are expanding our cupless events to the Desert Runner Trail Series. We will have UltrAspire reusable cups available at registration and on race day or feel free to bring your own! To check them out or purchase one directly, visit our website HERE.
Crews & Pacers
Crews are welcome to support runners at the start/finish line at the Ramadas 2 & 3 as well as at Spur Cross Aid Station (12 mile / 30 minute drive).  Pacers are permitted on the final 12Km loop for 50Km runners.
Awards
Awards to top 3 male & female finishers at each distance.
All finishers will receive a finisher award.
Points earned in the Desert Runner Trail Series
Volunteer Helpers
If you would like to join our volunteer team, we are looking for help with event setup, aid station captains, aid station helpers, timing, photography, videography, social media, course sweep and event breakdown. Volunteer perks include a piece of Aravaipa merchandise or race goody and Aravaipa Race Credits. You can see our current opportunities and sign up here: Elephant Mountain Volunteer Form
Charity Beer Garden
For the 2017-2018 Desert Runner Trail Series Aravaipa Running will be working with the Southwest Wildlife Conservation Center (SWCC) to bring awareness to their cause. Proceeds from the beer gardens at each event will go directly to SWCC. The Beer Garden is being sponsored by a local brewery: Huss Brewing. More information available on our blog.
REGISTRATION
Entry Fees*
| | | | | |
| --- | --- | --- | --- | --- |
| | Until 11/10 | Until 1/5 | Until 1/30 | After 1/30 |
| 12KM | $37.20 | $42.52 | $47.83 | $58.46 |
| 22KM | $42.52 | $47.83 | $53.15 | $63.78 |
| 35KM | $47.83 | $53.15 | $58.46 | $69.09 |
| 50KM | $74.41 | $79.72 | $85.04 | $95.67 |
Save $10 with our no-shirt option! Shirts guaranteed on race day if ordered by 1/5, otherwise shirts will be sold on race day if available.
*prices include tax
Entrant Limit
300 Runners
Entrants List
Registration Options
Online via Ultra Signup
Mail-In Entry
Online registration closes on 1/30 at 11:59 PM. Registration available after at packet pickup and race day.
Cut-Off
9 hours for the 50km (4pm).  All 50km runners must be leave on their final loop by 2pm (7 hours into the race).
COURSE INFORMATION
Courses
All runs take place on single track trails and dirt roads in Cave Creek Regional Park, the Maricopa Trail, & Spur Cross Ranch Conservation Area.  Expect typical desert trail conditions including rocks, sand, cactus and gravel.
Course Photos
Course Maps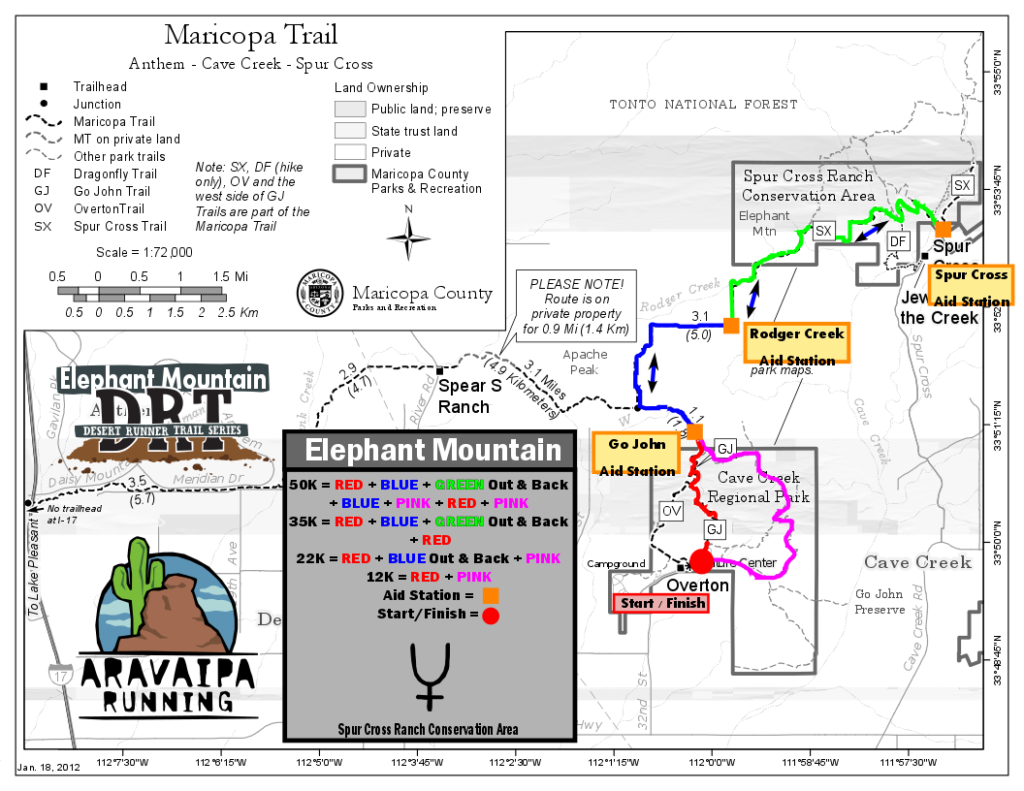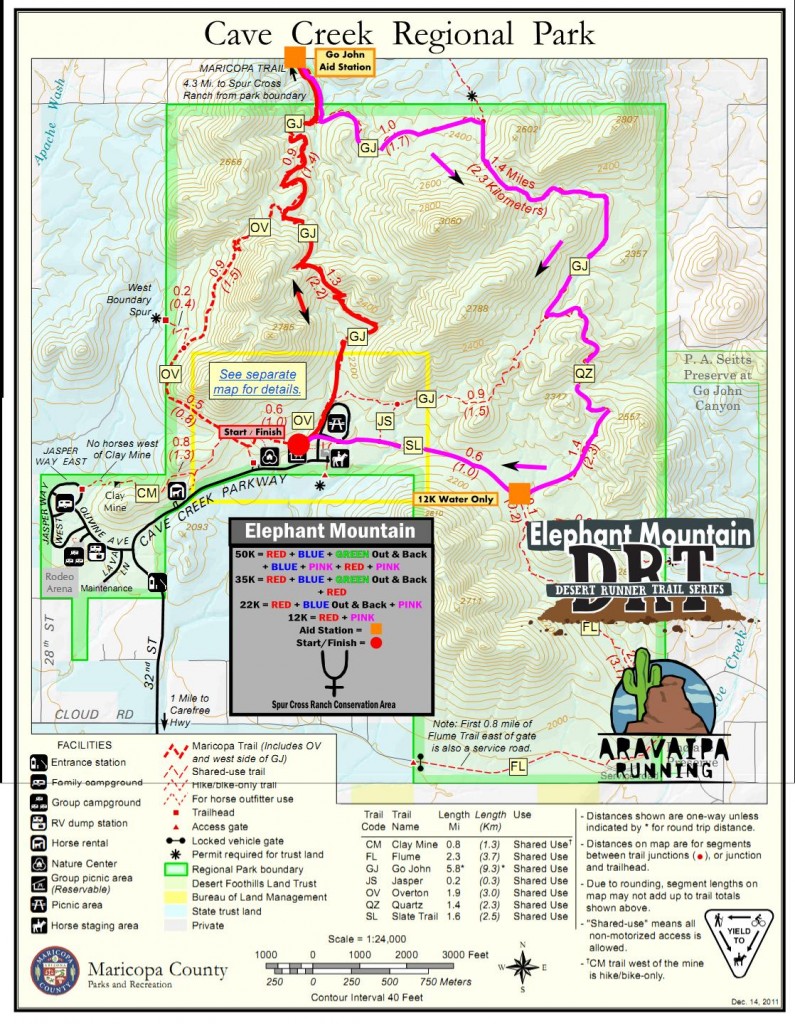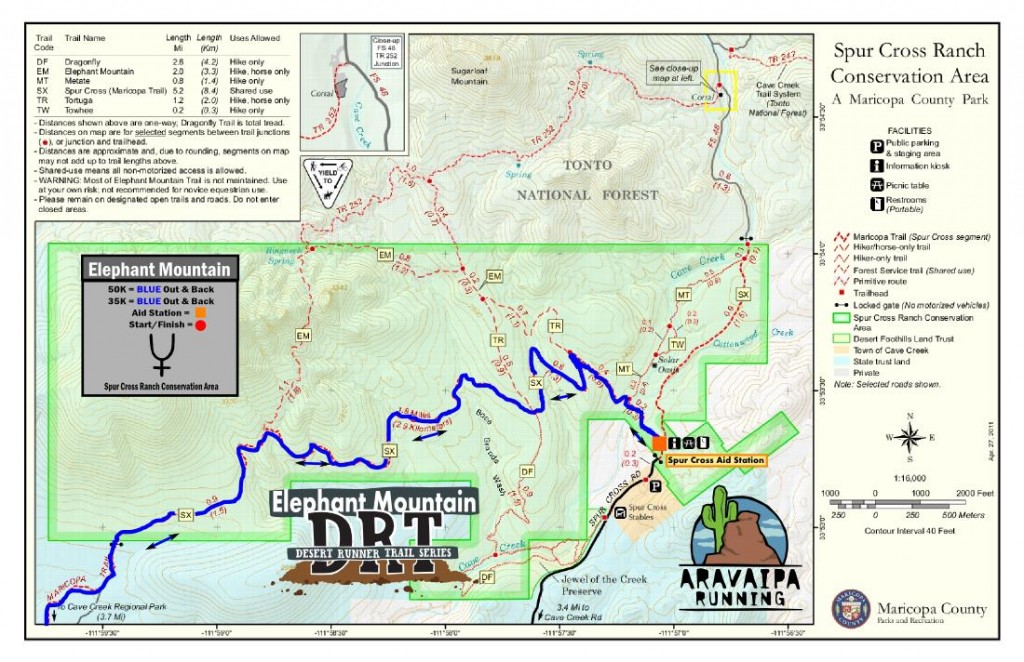 Elevation Profiles
Course Detail (Maps, Elevation Profiles, GPS Tracks)
50K | Elevation Profile | GPX | KML
35K | Elevation Profile | GPX | KML
22K | Elevation Profile | GPX | KML
12K | Elevation Profile | GPX | KML
*Note on GPX files: Right click and select "Save link as…" to download GPX files. GPX files may be opened by downloading the demo version of TopoFusion for free.
Course Records
50 Km | Male –  Travis Swaim – 4:12:231 ('17) | Female – Kristina Pham – 5:10:39 ('15)
35 Km | Male – Joshua Trevino – 2:26:55 ('13) | Female – Gudrid Espenscheid – 3:06:35 ('14)
22 Km | Male – Rob Decot – 1:41:30 ('15) | Female – Ivana Jourdon – 1:52:37 ('14)
12 Km | Male – Jules Miller – 54:04 ('14) | Female – Bree Bielenberg – 1:02:40 ('13)
2017 | Aravaipa Photo Gallery | SweetM Images 
2016 | Aravaipa Photo Gallery | SweetM Images 
2015 | Aravaipa Photo Gallery
2014 | Aravaipa Photo Gallery
2013 | Aravaipa Photo Gallery
RACE DAY INFORMATION
Race Day Schedule
Please arrive early to park, check in and warm up prior to your run. Restroom facilities are located at the start line at a permanent park facility.
6:00 AM – Packet pickup / race day registration begin
6:56 AM – Begin civil twilight
7:00 AM – 50 Kilometer Start
7:22 AM – Sunrise
7:30 AM – 35 Kilometer Start
8:00 AM – 22 Kilometer Start
8:30 AM – 12 Kilometer Start
2:00 PM – 50 Km runners must leave on final loop
4:00 PM –  Overall cutoff / Race ends
Park Entry Fee
Remember the park charges a $6 park entry fee per vehicle. Please arrive early and have correct change (cash) available on race morning for a smooth entry process. Carpool to save!
Trail Running & Trash
Please respect the trails and the beauty of the desert by disposing of any trash at one of our aid stations.
Race Timing
We will be utilizing a chip timing system at this event to record your time at the finish. You will be provided with a timing chip attached to the back side of your race bib. It is important to not crease, or fold the the timing chip to ensure your finish time is read. Once you cross the finish line, your results will be displayed on our"Ultracast" display screen with your finish time, place and distance completed.
Drop Bags
A drop bag will be allowed at the Spur Cross Aid Station for the 50km and 35km runners. Please place these in the designated area at the race start to be transported to the Spur Cross Aid Station. Drop bags will be delivered back to the start/finish line after the Spur Cross Aid Station closes.
Crews
Crews are allowed at the race start/finish as well as at the Spur Cross Aid Station in Spur Cross Ranch Recreation Area.
Crew directions from Cave Creek Regional Park to Spur Cross Ranch Conservation area (13 miles / 30 minute drive). Google Map & Directions
Cave Creek Regional Park

37019 North Lava Lane

Cave Creek, Arizona 85331
| | | |
| --- | --- | --- |
| | 1. Head north on N Tonalite Dr towardMountain | |
| | | 361 ft |
| | 2. Continue straight onto Mountain | |
| | | 0.2 mi |
| | 3. Turn right onto E Cave Creek Pkwy | |
| | | 0.9 mi |
| | 4. Continue onto N 32nd St | |
| | | 1.7 mi |
| | 5. Turn left onto Carefree Hwy | |
| | | 2.8 mi |
| | 6. Turn left onto N Cave Creek Rd | |
| | | 2.6 mi |
| | 7. Turn left onto N Spur Cross Rd | |
| | | 0.2 mi |
| | 8. Turn right onto E Grapevine Rd | |
| | | 157 ft |
| | 9. Take the 1st left onto N Spur Cross Rd | |
| | | 4.0 mi |
| | 10. Slight left | |
| | | 0.3 mi |
| | | |
| --- | --- | --- |
| | Spur Cross Ranch Conservation Area | |
Aid Station Helpers
We cannot produce these trail runs without the help of our amaing volunteer team. If you are interested in helping with Elephant Mountain, we have opportunities to help with setup, registration, aid stations, finish line, course sweep and breakdown. All volunteers will receive an Aravaipa Running shirt and a discount on a future race entry!  You can even help and run on race day. Sign Up Here
Course Markings
The race courses will be well marked with orange plastic ribbons with black polka dots. Trail junctions and turns will be well marked with colored laminated signs. Please pay attention to these signs at each junction as there are multiple race distances and race courses! Course signs will correspond with your race's color (12K = Blue, 22K = Green, 35K = Yellow, 50K = Red). In addition, blue & white checkerboard plastic flagging will be hung to designate non-race or "WRONG WAY" trails. All runners are responsible for understanding the layout of the courses. Please familiarize yourself with the course maps on our website prior to race day and/or print a map to bring along with you.
The start/finish line is located at the Group Picnic Area. Overflow parking will be available at the horse staging area parking lot  or around the Tonalite Drive Loop approximately 1/4 mile from the start/finish area.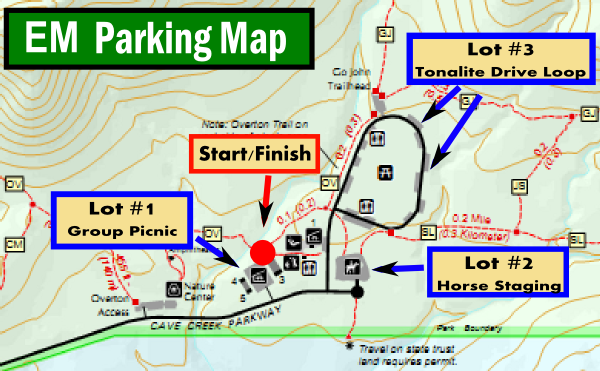 Camping
Cave Creek Regional Park offers a campground with 44 individual sites. Each site has a large parking area to accommodate up to a 45′ RV and is a "Developed Site," with water and electrical hook-ups, dump station, a picnic table, a barbecue grill, and fire ring. Cave Creek Regional Park provides immaculate restrooms with flush toilets and hot water showers. All sites in the campground may be reserved online at http://www.maricopacountyparks.org/cave-creek.
Camping Fees
Directions
From central Phoenix, take I-17 north to Carefree Hwy (SR 74). Exit Carefree Hwy. and travel east to 32nd St. (7 miles). Turn north on 32nd St. to the Cave Creek Regional Park entrance.

Address
37019 N Lava Ln
Cave Creek, AZ 85331
Video Credit: Ed Gildersleeve