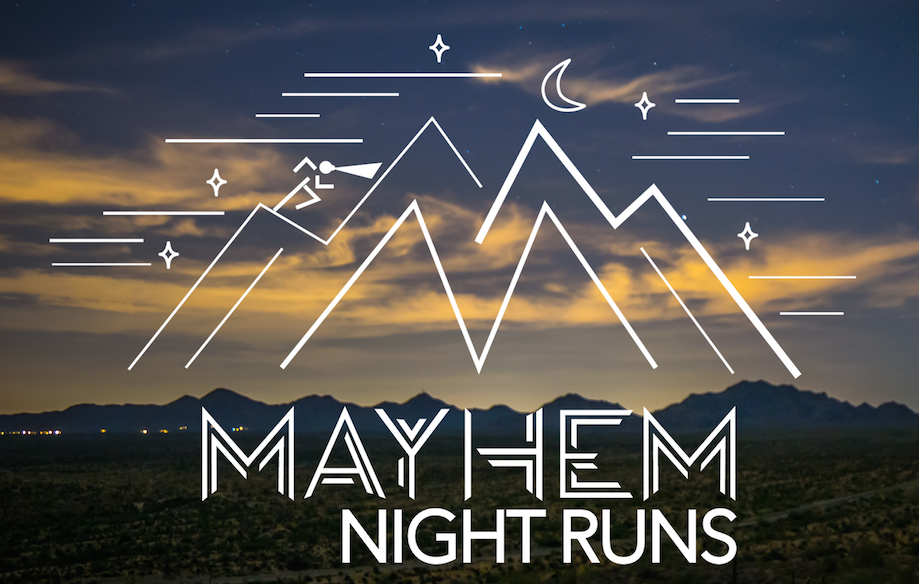 DECEMBER 2, 2017
25 Km | 10 Mile |5 Mile
Fountain Hills, AZ
6:00 PM – 25 Km Start
6:15 PM – 5 Mile Start
6:30 PM – 10 Mile Start
Location
McDowell MOuntain Regional Park – Competitive Track
16300 McDowell Mountain Park Dr.
MMRP, AZ 85268
Phone: (480) 471-0173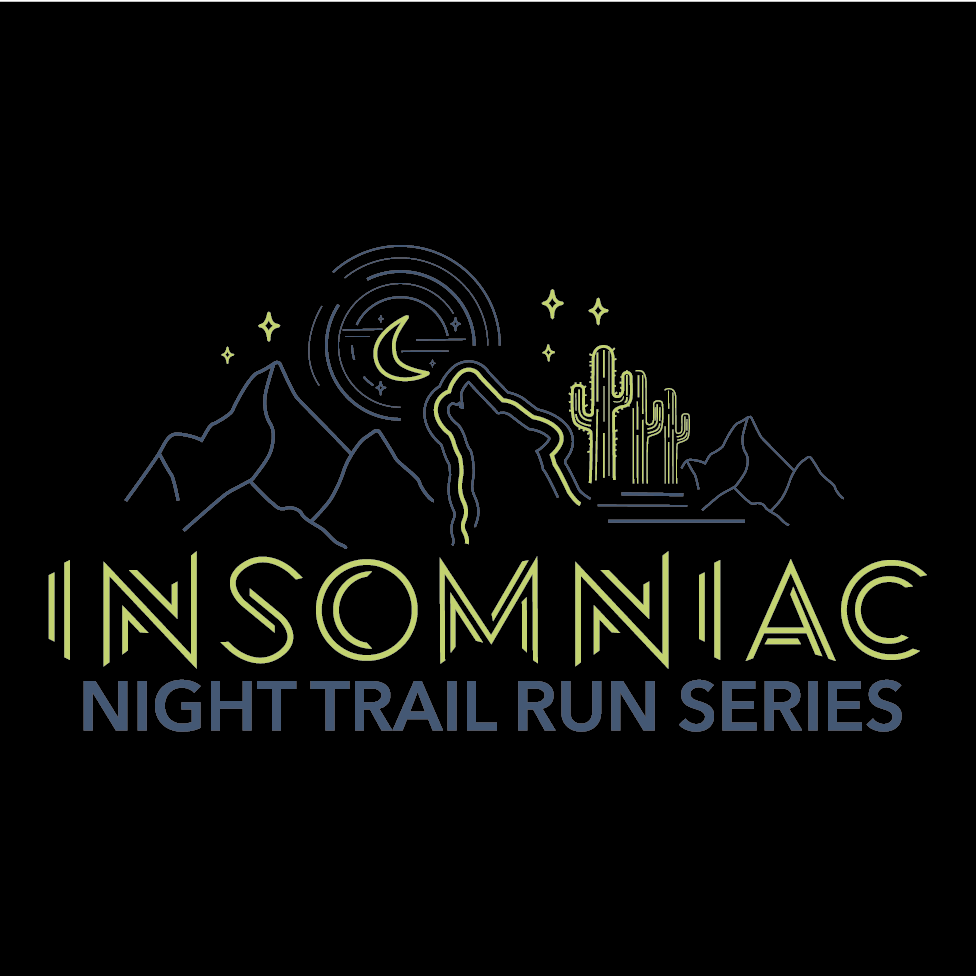 Course Summary
It's happening! Our McDowell Mountain Frenzy Trail Runs has it's own corresponding night race. New in 2017, our Mayhem Night Runs will complete our Insomniac Night Series! We have set the course up to run the opposite direction of it's day counterpart, providing our runners a new and unique trail experience into the cool December nights!
Weather
Expect cooler conditions during the evening with temperatures typically in the 60's and low's that could dip into the 40's as the night progresses. Please be prepared for "cold" Phoenix conditions during the night. We will have plenty of ice and water but highly recommend that you bring clothing that keeps you warm.
Packet Pickup

Thursday, November 30
Packet Pickup 5:00-7:00PM
Group run 5:30-6:30PM
iRun Phoenix
4730 E. Indian School Rd. #125
Phoenix, AZ 85018
(602) 368-5330
———————————-
Friday, December 1
Packet Pickup 5:00-7:00PM
Fleet Feet Scottsdale
18261 N Pima Road E 135
Scottsdale, AZ 85255
(480) 907-6699
——————————
Saturday, December 2
Race Day Pickup 5:00-6:00 PM
McDowell Mountain Regional Park – Competitive Track
16300 McDowell Mountain Park Dr.
MMRP, AZ 85268
Aid Station
There will be one full aid station- Gate Aid- plus a water-only aid station located along the course that runners will pass by every loop. The aid station will be stocked with water, ice, electrolyte drinks, salty and sweet snacks, fruit, pb&j, bean rollups, hot food (quesadillas, grilled cheese), Mas Korima Korimalitas, and more.
Crews & Pacers
There is NO pacing allowed at the event. Crew is welcome to setup at the start/ finish in designated areas to help assist their runner.
Volunteers
If you would like to join our volunteer team, we are looking for help with event setup, aid station, and event breakdown. Volunteer perks include a piece of Aravaipa merchandise or race goody and Aravaipa Race Credits. You can see our current opportunities and signup here: Mayhem Night Runs Volunteer Form.
Race Perks
Mayhem Branded Race Goodie
Chip timed race results
USATF Sanctioned Event
Well stocked aid station
Custom Finisher Glass
Double Down to win a unique Finisher Medal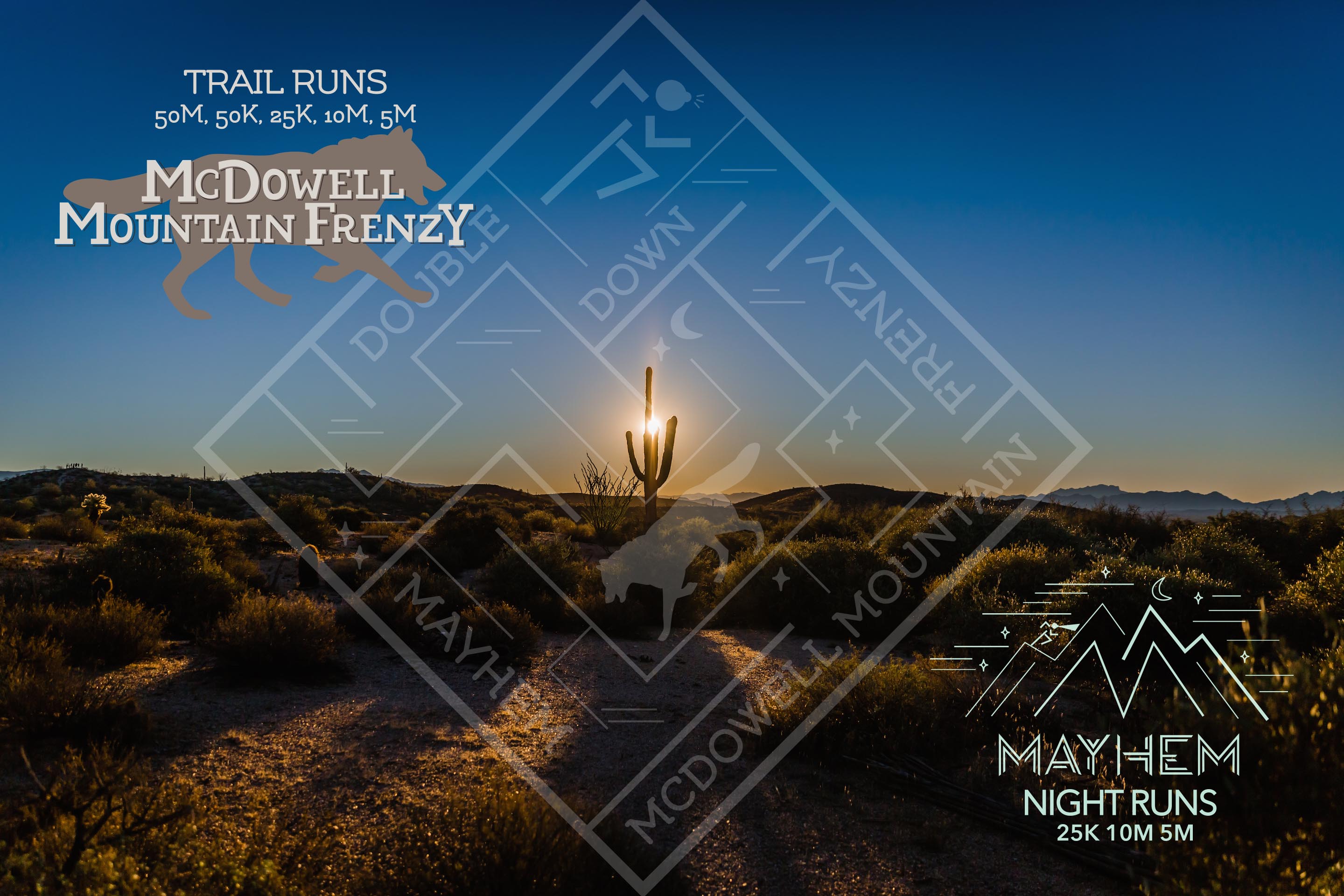 Entry Fees*
| | | | |
| --- | --- | --- | --- |
| | Until 11/1 | Until 11/28 | Race Week |
| 25 Km | $53.15 | 58.47 | $63.78 |
| 10 MIle | $42.52 | $47.84 | $53.15 |
| 5 MIle | $37.21 | $42.52 | $47.83 |
*Prices include Tax
Entrant Limit
200 Runners
Registration Options
Online via Ultra Signup
Online registration closes on 11/28 at 11:59 PM. If spots are available, registration will be available at packet pickup and on race day.
Course Records
25 Km | Male – Jay Jump 1:59:42 ('17) | Female – Brianna Grigsby 2:17:33 ('17)
10 Mile | Male – Geoffrey Foote 1:40:58 ('17) | Female – Marisa Jenkins 1:59:39 ('17)
5 Mile | Male – Fernando Teston 48:48 ('17) | Female Sarah Roberts 56:19 ('17)
Results
2017 | Results
RACE DAY INFORMATION
Race Day Schedule
Please arrive early to park, check in and warm up prior to your run. Restroom facilities are located along the course just west of the start/finish area.
Timeline
5:00 PM – Packet Pickup/ Race Registration Begins
5:19 PM – Sunset
5:46 PM – End Civil Twilight
6:00 PM -25 Km Start
6:15 PM – 5 Mile Start
6:30 PM – 10 Mile Start
11:00 PM – Race Ends/ Final Cutoff
Moon Phase
Waxing Gibbous – 98% Illumination
4:59 PM – Moonrise
5:53 AM – Moonset
Location
Parking
Parking is $6 at the entrance booth. There is ample parking in the Competitive Track parking lot.
Drop Bags
We will have an area specified for your personal drop bag at the start/finish area that will allow for easy and quick access.
Course Marking
The race courses will be well marked with orange plastic ribbons with black polka dots and reflective medallions. Trail junctions and turns will be well marked with laminated signs. Blue signs will be placed on the 10 Mile loop while the 5 mile loop will have yellow signs. In addition, blue & white checkerboard plastic flagging will be hung to designate non-race or "WRONG WAY" trails. All runners are responsible for understanding the layout of the course. Please familiarize yourself with the course maps on our website prior to race day and/or print a map to bring along with you.
Camping
For overnight camping outside the race, McDowell Mountain Regional Park offers 76 individual sites for tent or RV camping. Each site has a large parking area to accommodate up to a 45′ RV and is a "Developed Site," with water and electrical hook-ups, dump station, a picnic table and a barbecue fire ring. All restrooms offer flush toilets and showers. The south loop of the campground also offers handicapped-accessible restrooms. All sites in the campground may be reserved online at maricopacountyparks.org
Trail Running and Trash
Please respect the trails and the beauty of the desert by disposing of any trash at one of our aid stations.
NEW in 2017: All Insomniac Night trail runs will be CUPLESS. Bring your own or Aravaipa branded reusable cups will be available for purchase!
Hotels
We are excited to partner with the We-Ko-Pa Resort & Conference Center conveniently located just a few miles away from our McDowell Mountain Frenzy & Mayhem Night Runs this year. You can book directly with the resort by visiting their site here! A limited number of rooms are available for our runners at $99/night with the resort fee waived. Book your room now if you need lodging for the race!
Course Map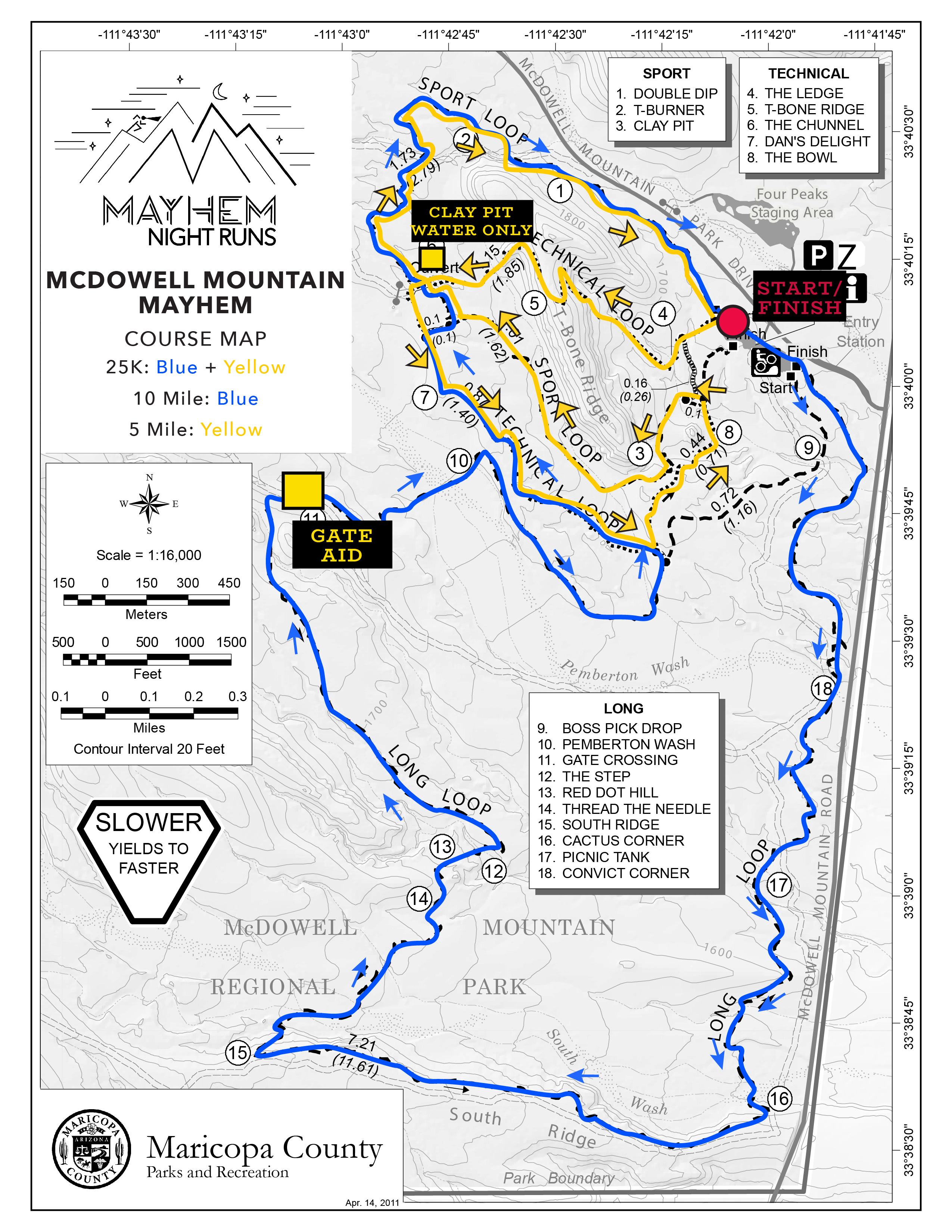 We'll see you on the trails!