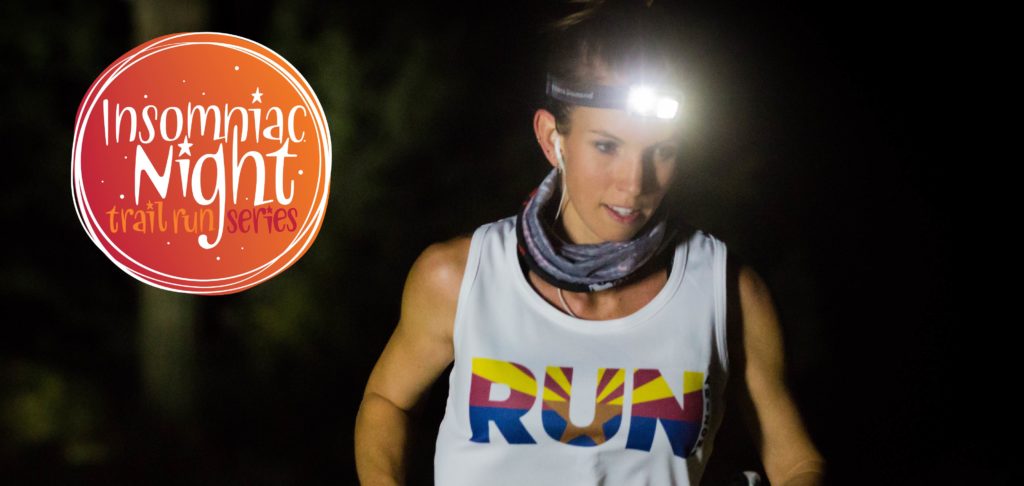 The Insomniac Night Trail Run Series consists of eight runs throughout the Maricopa County Regional Parks plus one at Fort Tuthill County Park in Flagstaff. The series runs from April through November. It's our way of escaping (some of) the summer heat while continuing to race at distances ranging from 5 kilometers to 75 kilometers and dusting off that sweet headlamp. While some of the trails in the Insomniac Night Runs share a few of the same trails as the Desert Runner Trail Series, we have made sure nearly all of the running you'll do for this series is different from the day time counterpart.
NEW in 2017, we have added Insomniac Series Passes to save you some money, win some extra schwag, and explore more of the great trails around the valley–all at night! Check out the series pass below!
In addition to the current race perks, a unique Insomniac finisher medal will be awarded to anyone who completes five of the eight races within the entire Insomniac Night Trail Run Series!!
We are also excited to announce that all of our Insomniac Series Trail Runs will be CUP FREE! We have teamed up with UltrAspire to offer Aravaipa branded reusable cups that will be available for purchase during registration and on race day or feel free to bring your own!
2017 SERIES CALENDAR
April 29-30, 2017 — SINISTER
9KM, 27KM, 54KM @ San Tan Mountain Regional Park
Register
May 20-21, 2017 — ADRENALINE
10KM, 27KM, 54KM @ McDowell Mountain Regional Park
Register
June 9, 2017 — BLACKOUT
6KM, 13KM, 27KM @ Fort Tuthill County Park in Flagstaff
Register
June 24-25, 2017 — HYPNOSIS
8KM, 23KM, 54KM @ Estrella Mountain Regional Park
Register
August 5-6, 2017 — VERTIGO
10KM, 31KM, 52KM @ White Tank Mountain Regional Park
Register
September 9-10, 2017 — JAVELINA JANGOVER
7KM, 25KM, 50KM, 75KM @ McDowell Mountain Regional Park
Register
October 14, 2017 — THRASHER
5KM, 11KM, 30KM @ Cave Creek Regional Park
Register
November 18, 2017 — PUNISHER
5KM, 10KM, 30KM @ Usery Mountain Regional Park
Register
SERIES PASSES
We've included the five core Insomniac trail runs that fall during the hottest parts of the Phoenix summer into a Series Pass this year. Choose from the short series (Jitters Pass), middle distance (Vigil Pass) or ultra distance (Delirium Pass).
If you are looking to build up to your first ultra marathon, we are also offering the "Evolution Pass" that will begin with the Sinister 9K in April and culminate with the Jangover 50K in September! Whether you're looking for an excuse to "drop down" in distance to see what you can do, or looking for that extra push to get you into your first 50K, the Evolution Pass is perfect.
Finishers of all five races within each respective pass will earn an exclusive Insomniac custom finisher medal! If you happen to miss one of these "series" races you can substitute one of our other insomniac events (Blackout, Thrasher or Punisher) to still earn the Insomniac medal.
**Each pass includes a 20% discount for early bird pricing which will end on April 25, 2017**
Races
Sinister
4/29
Adrenaline
5/20
Hypnosis
6/24
Vertigo
8/5
Jangover
9/9
Series Total
Jitters Pass
9 Km
10 Km
8 Km
10 Km
7 Km
$148.84
Vigil Pass
27 Km
27 Km
23 Km
31 Km
25 Km
$191.36
Delirium Pass
54 Km
54 Km
54 Km
54 Km
50 Km
$255.12
Evolution Pass
9 Km
10 Km
23 Km
31 Km
50 Km
$187.12
*Race entry fee does not include $6/vehicle Maricopa County Regional Park entry fee due at the gate on race day

How to Register
We have online registration available through Ultrasignup.com or you can print and mail your entry form along with a check. Series registration closes April 25.
REGISTER ONLINE NOW
MAIL-IN FORM
We are also offering our NEW Aravaipa branded reusable cup from UltrAspire for $5.32 and a Black Diamond Spot (300 Lumens) with this package for an additional $31.89 (regularly priced $39.95+tax)
RACE PERKS
Race branded goodie (ex- shirts, visor, arm sleeves, sports bag, etc- see event specific website for details)
Finisher glass to all participants
Scenic, challenging, well marked courses
Well stocked aid stations manned by great volunteers
Iced Coffee Bar
A race distance for all abilities at each event
Post race food & socializing
+Finishers of five of the eight Insomniac Series Night Trail Runs will receive a unique medal!
NEW Cup-less Events (Aravaipa branded reusable cups will be available for purchase or bring your own!)
*Fine Print: When registering for the Insomniac Night Trail Run Pass options (Jitters, Vigil, Delirium, Evolution), there is no refund for missing one or more races in the series, whether notified before or after the event. Additionally, the option to substitute one or more of the three races not included in the pass is solely for the finisher medal within the Insomniac series and requires additional entry to that respective race. For more information visit our FAQ page.